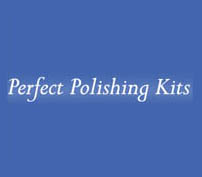 salesppk

hotmail.co.uk
Phone: 01827 7 [Reveal]
Fax: 01827 717 606
Metal Polishing Kits | Wood Polishing Kits
You have reached Perfect Polishing Kits, we are one of the countries leading suppliers of Polishing Supply Consumables, Wood Polishing  & Metal Polishing Kits. As a company we have been around for 8 years but are backed by our manufacturing company "Central Polishing Supply" that have been established for over 26 years.

As a collective we have a wealth of knowledge and experience within the industry and are a British manufacturer with over 90% of our products manufactured here in the UK.

Perfect Polishing Kits are a supplier to the metal finishing industry, our reputation is built on our ability to provide Metal Polishing Kits that get the job done and perform to high standards, when it comes to this industry, there is not a problem we can not solve.

It is not just to the metal industry we supply polishing kits, we are also a leading uk supplier of Glass and Wood Polishing Kits, visit our website to view our range.



What We Offer:
Metal Polishing Kits
Mops
Polish
Adaptors & Machines
Felt Bob Kit
Glass Polishing
Bench Grinders
Restoration Kits
General Purpose Kits
4"
6"
8"
10"
12"
Polishing Composition
Abrasive Polish
Bars of Polish
Round Bars of Polish
Tripoli Polish
Drill Adaptors
Spindles
Polishing Machines
Bench Grinders
New and Used Machines
Please click the link located at the top of the page to go through to our website, there you will find further information on all of the Metal Polishing Equipment & services we have to offer. If you have any questions we are contactable via phone or email and are happy to answer any enquiries you may have.
www.perfectpolishingkits.com
Related Products and Services