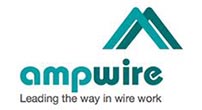 sales

ampwire.co.uk
Phone: 0161 62 [Reveal]
Fax: 0161 620 7251
Welcome to AMP Wire Ltd
AMP Wire are recognised as the UK's leading manufacturer of all types of wire & wire mesh products.

Our product range includes:
Wire mesh lockers

Wire mesh cages and enclosures

CCTV cages and camera guards

Single depth radiator guards and double depth radiator guards

Electric heater guards - floor standing and wall mounted

Machine guards and fan guards

Wire mesh baskets – point of sale, shopping baskets, medical baskets
We can manufacture any type of protection cage, guard, basket or locker out of wire mesh for you to your exact specification. All you need to do is ask.

AMP Wire provide options on service and design through bespoke or major batch call off supply requirements so you can be sure we can meet your needs.  All products are available in a variety of finishes to suit any working environment including locations in harsh climatic conditions. We are proud of our reputation built upon repeatable customer satisfaction. Our success has been built on delivering quality and service to our customers.

AMP Wire products are exported across the world for wide ranging use in all sectors. From Industrial and Commercial use to applications in the Leisure sector for example, Sports facilities, Training grounds and Hotel Spas. Wire guards and Wire Lockers are increasingly used in Airports, Supermarkets, Private & Public Hospitals and many other public facilities.

AMP Wire products are particularly suited to applications where health and safety is paramount such as Schools, Colleges, Food preparation plants, Construction and Civil Engineering projects.
Wire Mesh Lockers
AMP wire is the preferred manufacturer of the UK Ministry of Defence (MoD) for wire mesh lockers.

Other high profile customers include the NHS, Local Education Authorities, Royal National Lifeboat Institution (RNLI) and Her Majesty's Prison Service (HMP).

You can have a wire locker made specifically to your requirements or order one of our standard range of:

One tier lockers

We can also supply a robust padlock so you can secure the contents of your locker.
Radiator Guards
Radiator Guards
AMP Wire designs and manufactures RADCover wire mesh radiator guards and covers to prevent accidental contact with the hot surface and without causing a loss of efficiency from the radiator.

As well as having the facility to make bespoke radiator guards you can view our range of single depth radiator guards and double depth radiator guards.
Electric Heater Guards
AMP Wire manufactures electric heater guards, covers and grilles to fit all the major brands of heaters:

Our floor standing heater guards and wall mounted heater guards provide combine safety with maximum heat output. Many schools, nurseries and care and retirement homes have purchased our heater guards in the past and we have had recent enquiries from doctors surgeries, local authorities and housing associations.
Machine Guards
The AMP Wire team is fully conversant with current HSE machinery guarding legislation and has a comprehensive knowledge of designing and applying guarding solutions to most machinery and moving parts.

We have produced a wide variety of machine and fan guards over the years, including:

Wire Mesh Drive Guards

Wire Mesh Coffin Guards

Wire Mesh Shaft Guards

Wire Mesh Inlet Guards

Wire Mesh Agricultural Guards

Wire Mesh Run & Standby Guards

Wire Mesh Anti-Spark Guards

Bespoke machine guards and fan guards can be manufactured to detailed engineering drawings. We are happy to offer advice and suggestions to help you get the best result, so contact us to discuss your requirements.
CCTV Cages and Camera Guards
Our CCTV Cages and camera guards can also be used for external security lights, motion detector (PIR) sensors and smoke sensors. AMP's wire mesh security cages are suitable for wall-mounted, freestanding stanchion or mast fixings.

Our camera cages come in either 25mm or 50mm pitch mesh and can either be hinged or unhinged depending on your requirements. The standard cage sizes are designed for the most popular CCTV camera but we can cater for bespoke needs.
Mesh Cages and Enclosures
Our wire mesh cages and security enclosures offer secure protection against theft and vandalism. Each cage has a hasp and staple fitted to allow a padlock to be fitted. They can be used indoors or outdoors to store a wide range of goods, chemicals, bins and other materials.

The wire mesh offers visibility of contents and access for water from sprinkler systems to penetrate in the event of an emergency.

Our expert team of engineers will ensure your cage or enclosure is designed for quick and easy assembly on site. A number of colour options are available for you to choose from.
Wire Mesh Baskets
A wire mesh basket has many storage applications in the commercial, industrial and healthcare sectors and at AMP Wire we can design them to carry, transport, protect or store almost any item.

Here are just a few examples of the types of baskets we have manufactured for our customers:

Shopping baskets

Medical baskets

Point of sale display baskets

Chemical baskets

Education baskets

Commercial dishwasher baskets
Cloakroom furniture
AMP Wire can manufacture a range of products for your locker room, changing room, or cloakroom for schools, leisure centres and sports clubs.

Our cloakroom furniture range consists of:

Storage bench seats – suitable for shoes

Timber is available in either Ash or Maple and the metal in our usual range finishes.
Point of sale dump bins and display stands
AMP has manufactured point of sale stands and bins for some of the biggest names in retail to house brochures, leaflets, magazines and cards. Your stand can be either floor standing or wall mounted.

We can incorporate different types of materials such as metals, wood and plastics and include graphics and signage packages to suit your own individual needs.
Security Cages
AMP can design and manufacture a wire mesh cage to protect a whole host of safety and security products including:

PIR Guards for PIR sensors and motion detectors

Light Guards for emergency lights, external security lights and fluorescent tubes

Beacon Covers for beacons, alarms and sounder protectors

Smoke Alarm Covers for round ceiling fitted alarms and beam type smoke detectors

Clock Covers, which can also be used as a bell cover in schools, gyms and factories
Please visit our website for more information
Related Products and Services

0

stars based on

0

customer reviews
Write a review
Opening Hours
Monday
08:00 to 16:30
Tuesday
08:00 to 16:30
Wednesday
08:00 to 16:30
Thursday
08:00 to 16:30
Friday
08:00 to 15:30
Saturday
Closed
Sunday
Closed