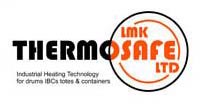 sales

drumheating.com
Phone: 01440 7 [Reveal]
Fax: 01440 713 344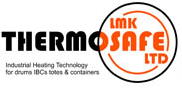 LMK Thermosafe Ltd
LMK Thermosafe Ltd provide effective, fast and efficient solutions to drum and container heating applications - the world leader in design and manufacture of induction heaters and flexible heating jackets, supplying more than 40 countries. Our products have been designated as the drum heater of choice in many multi-national companies, for individual drum heating applications as well as replacements for multi-drum ovens.

We hold stock of our range of Flexible Heating Jackets for drums from 25L up to 1000L IBCs. The jackets simply wrap around the container, clip together and the fully adjustable thermostat can be set to the desired temperature. They are highly insulated to reduce heat-loss and increase efficiency.

High power and chemically resistant versions are available as well as a bespoke service for custom vessels and containers. Everything is designed and manufactured on-site in our Haverhill factory.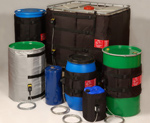 LMK Thermosafe has recently introduced a number of innovative products and accessories to their energy efficient range of drum and container heating products. These include powerful additions to the proven and market leading Hazardous Area ("Ex") certified THERMOSAFE® Induction Heaters and completely new ATEX certified flexible heating jackets. These products allow plant engineers individual control of their drums & containers with minimal set-up times & maintenance costs.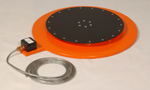 The THERMOSAFE® uses a single induction coil to directly heat the wall of steel drums and containers by an alternating magnetic field. This means there is no heat transfer by conventional and inefficient radiant elements. As there are no hot elements, the heater remains cooler than the drum being heated. No long-term service or maintenance is required.


The THERMOSAFE® is IP66 hose-down rated and is suitable for use in hazardous areas (zones 1 and 2), certified to both ATEX and IECEx standards.

A recent and useful addition to LMK's range of hazardous area products is the rigid THERMOSAFE® Top Hat. Designed to minimise heat loss and increase the efficiency of the heater. The addition of a THERMOSAFE® Top Hat has been shown to significantly reduce the time required to heat containers.


The Faratherm Induction Base Heater is also fully ATEX and IECEx certified and is the culmination of a number of year's research and development. It is designed to be safely used underneath most drums, and also in conjunction with a Top-Hat or THERMOSAFE® Induction Heater. The combined effect is a significant improvement in total melt times for difficult solids such as waxes and synthetic resins, whilst still keeping surface temperatures within certified limits.

For heating 1000L IBC tanks in a Hazardous Area LMK has the Inteliheat jacket. These ATEX Zone 1 and 2 rated jackets are constructed with patented technology using carbon rich semi-conducting heating membranes, safe operating conditions are maintained even in the presence of potentially explosive gases.

LMK Thermosafe's Digiheat Base Heater can be used for drums up to 205L in safe areas. Top plate temperatures can be set and clearly displayed on the integral microprocessor temperature controller. This allows the user to set a precise temperature at any point between 0-145°C. The base heater can be used with or without our other drum heaters and accessories.
Contact a member of our team with any questions
Related Products and Services