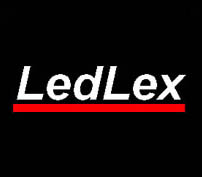 Phone: 08455 1 [Reveal]
Fax: 08455 192 491

LedLex - LED Exterior Lighting / LED Garden Lighting
LedLex are UK manufactures and suppliers of high quality, high performance LED lighting products like LED Exterior Lighting and LED Garden Lighting. We manufacture these products with traditional philosophy, that the are designed to last and give high lighting performance.

Lighting your home, business and garden is easy with LedLex as we provide high quality LED products that cater to all your indoor and outdoor lighting needs. LedLex's entire LED ranges of interior, exterior and garden lights are manufactured at our facilities in Rugby.

We are a professional LED company, meaning that we are able to offer our customers a service beyond sales. Our members of staff is some of the few in the country who are professionally qualified in LED lighting, who have vast expertise of installation, maintenance and lighting effects. These skills make it possible to offer our customers a
unique free design and consultation service.



What separates LedLex form other LED manufacturers is that we use the best quality LED, that produce bright, clean, light. The versatile nature of LED lighting means that you can create the perfect atmosphere using warm or cool tones or even colour changing diodes. LedLex has a strong range of modern, traditional and garden lighting all of which can be seen on our website or on our CD catalogue which is available on request. In addition to manufacturing our own products we also manufacture period light fittings for garden lighting, and distribute commercial interior and exterior fittings from Italian manufacturers Side Lighting.

LedLex staff are contactable for any queries you have about our products via phone or email. Orders are placed by either email sales@ledlex.com or fax (number listed above). To view our full product range please visit our website www.ledlex.com
Some Products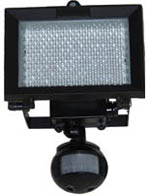 Security 270
With 270 LED's, this sophisticated security floodlight will replace a 300W tungsten halogen floodlight. Using only 18W of power the Security 270 will replace a 300W floodlight. LED's have a very long life and can be switched on and off over 100,000 times without detriment to their performance. LED's start almost instantly, performing better than other low energy security lights.

Security 270 is available with or without a PIR depending on preference. The PIR can be adjusted for ambient light level and time on. Security 270 also has a version without PIR for situations requiring external switch. Combined with a strong lighting performance making the unit a very useful aid to home security.230V AC operation for easy installation

LexBar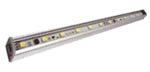 Indoor Led lighting bar for mounting under kitchen units, under shelves and above units. Available in a number of lengths. LexBar is easily inter-connectible and comes with a variety of accessories for fitting and wiring. 24 V operation. Supplied with flat and 45 deg fixing clips.

Steely Range
This range of up/down wall lighting is made of 316 marine grade stainless steel, making it corrosion and rust proof. Available in two of bulb variations: GU10 or LED. Our LED version uses powerful 10W light engine.

Eyes
Waterproof, powerful and diminutive. Eyes are a versatile product, fitted with protection glass and AISI 316 stainless steel. Making them waterproof yet powerful. This quality product has been designed to be durable and attractive, emitting warm white, white or blue light depending on preference. Available in three versions: single LED 1.2 W, single Led 2 W or three LED's 1.2 W. With a large range, Eyes is suitable for many applications internally and externally.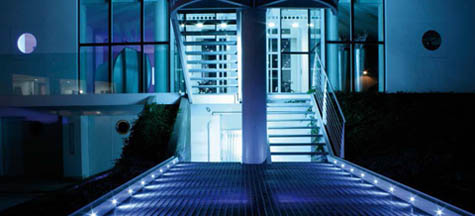 Mini Double LED
A powerful 13W up/down LED range. The mini double LED combines high brightness output with being highly energy saving. It can be used for either interior or exterior lighting purposes, as it is powder coated with pre-treatment, making it durable enough to withstand the toughest weather conditions.
A powerful 13W up/down LED range comprising tubular and square versions. The Mini Double LED combines high brightness output with being highly energy saving. It can be used for either interior or exterior lighting purposes, as it is powder coated with pre-treatment, making it durable enough to withstand the toughest weather conditions. Mini Double LED has a choice of colours, white, black or grey and a choice of LED colours, warm white 2900K and White 5000K. It is a very compact unit with dimensions of 200mm tall by 80mm wide and is powered using mains voltage
Please Visit Our Website For More Information
Related Products and Services