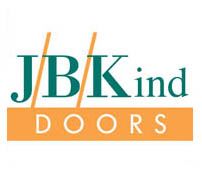 info

jbkind.com
Phone: 01283 [Reveal]
Fax: 01283 554182
Welcome to J/B/Kind Doors
JB Kind is proud to offer a wide choice of internal and external wooden doors, with door designs to suit every taste and budget. Innovation, quality and affordability are key at every level within JB Kind and each door within our 'Doors in Vogue' brochure is carefully selected by our door experts. To view the UK's premium door collection, Click Here to download our current brochure.

JB Kind doors are suitable for virtually every conceivable type of project from residential to commercial, suiting both the public and private sectors. Visit the door gallery on our website for examples of the different projects that have benefited from JB Kind's doors.
Image Showcase (mouse over images to enlarge)
Internal doors
Contemporary to traditional, J. B. Kind offer a large number of different interior door designs. Grooved, flush or panelled, in a variety of different timber veneers and finishes, allows clients flexibility in their door choice. Oak doors are always a favourite and JB Kind offers a variety of models to suit all tastes and budgets.

External doors
Having an attractive entrance door makes a real statement and welcomes visitors to a property. Oak exterior doors exude quality and prestige. JB Kind offer a range of attractive wooden external doors in both traditional and modern designs. Our 'Therm-L' exterior door range is compliant to Part 'L' of the building regulations, perfect for the environmentally conscious.

Fire Doors
Fire doors are an important component for most construction and renovation projects. Virtually every door range within J B Kind's 'Doors in Vogue' brochure is offered as a fire door option. Supported by fire test evidence to BS 476 Part 22 standards, providing clients with added assurance on the doors performance.

Door Sets / Door Kits
JB Kind's 'Contract Door Solutions' offers Architects, Specifiers, Builders & Developers the opportunity to enhance their projects with the latest in door set / door kit design. JB Kind offer individual and creative designs that cannot be found anywhere else at incredible prices. Those with a forward thinking approach can really make a statement with their doors, whilst ensuring economy of budget.

Bespoke Doors
If you can't find what you are looking for within our standard stock door ranges, then why not consider our Bespoke door solutions. Choose from a plethora of different door designs and then select your preferred timber veneer. Flexibility on size, glazing and fire door options, allows clients to tailor make their order to individual specification.
www.jbkind.com
Related Products and Services