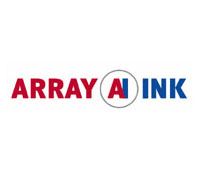 sales

arrayink.com
Phone: 01733 8 [Reveal]
Fax: 01733 892 691
Welcome to Array Ink - Original HP Industrial Ink Supplies
Array Ink Europe Ltd specializes in the supply of HP Industrial Inks for high-resolution industrial inkjet systems. Offering HP original, proven quality inks either in 42ml cartridges or 370ml bulk supply versions, Array Ink Europe guarantees prompt supply across Europe at the best prices.

Based in Europe, with European experience and European time zone operation, Array Inks Europe supplies the full range of HP Industrial Inks for the HP TIJ (Thermal Inkjet) 2.5 technology enabling print on a wide of range of paper stocks and some plastics.


The ink range includes:

HP45a: HP's original black ink for all porous papers

Versatile: C8842a, a truly 'black' black ink for printing on porous papers all the way through to glossy stocks.

Solvent Black: IQ2392, designed for industrial printing use, the IQ2392 inkjet cartridge uses an innovative solvent-based pigment ink formulation that successfully prints at high resolution on glossy substrates such as aqueous acrylic coated media.

Fast Dry: C6195a, is the ink for those printing almost exclusively on glossy sticks

Dye Based: Q2344a, HP1918 Dye-Based Black Print Cartridge is designed specifically to support intermittent industrial printing on a wide variety of substrates: coated and uncoated papers, labels and specialty media. This cartridge achieves excellent decap times for intermittent printing conditions, and produces optimal image quality, print speed, and dry time.

Bulk Ink: C6119a, for large printing jobs, this is your most economical source for black ink! HPs Bulk Ink holds 370 ml of their regular HP45a black ink – equivalent to 9 cartridges. If you need a lot of black ink and don't want to worry about cartridges running out during a job, this is your best bet!

UV/IR Invisible: Q7485a, UV/IR invisible ink system—enables businesses to produce customized documents without the need for unsightly visible codes. If you are interested in security and personalization of your documents, and you want the best possible appearance at the same time, HP's invisible ink is the answer! HP invisible ink combines IR and UV components for machine reading of codes printed on even the brightest paper stocks.

Spot Colour: Red, Blue, Green and Yellow, high-density spot colours. Ink characteristics are similar to those of versatile so ideal for all your production needs. C6168a, C6170a, C6169a, C6173a.

In addition we offer a range of products to extend and enhance the lifetime of cartridge and bulk supply products.

Tech Wipes: Lint Free Cloths for cleaning cartridges to extend cartridge print quality and lifetime. In packs of 100.

Capping Clips: Individual clips to cap part used cartridges. Keeps open cartridges sealed from air and dust, prolonging cartridge lifetime when cartridges are only used from time to time. In packs of 10.

Capping Station: Allows you to safely store and seal cartridges between production runs. Provides a safe, clean environment for storage of part used cartridges. Highly recommended for Bulk and Speciality Inks.

Your Guarantee

• Industrial HP ink jet cartridges at the lowest prices
• Original HP cartridges; no refills
• For use in all common print and mail applications based on Hewlett Packard technology
• All stock printing from absorbent paper to glossy stock and plastics
• Fast delivery within 24 hours possible
• Easy credit card payment
• Credit Accounts Available
Some of the Models we have to offer:

C8842A
1918
45A
51645AE
51645AE
C6119A
C6119A
C6128A
C6168A
C6169A
C6170A
C6173A
C6195A
Capping Clips
Capping Station
HP 1918
HP 4240 Pigment Black
HP 4250 Versatile black
HP 4260 pigment black
HP 45A
HP 51645ae
HP 51645AE
HP Black Ink
HP Black Pigment
HP Black Pigment 4240 Cartridge
HP Black Pigment 4240 Printhead
HP Black Pigment 4250 Printhead
HP Black Pigment 4260 Cartridge
HP Black Pigment 4260 Printhead
HP Blue
HP bulk
HP C6119A
HP C6119A
HP C6128A
HP C6168A
HP C6169A
HP C6170A
HP C6173A
HP C6195A
HP C8842A
HP Dye Based
HP Fast Dry
HP Green
HP Industrial Ink
HP IQ2392A
HP IQ7467
HP IQ7468
HP M4000 Printhead Cleaner
HP original ink
HP Q2320A
HP Q2321A
HP Q2344A
HP Q7456A
HP Q7457A
HP Red
HP Red Franking Ink
HP solvent
HP Solvent Black
HP Versatile
HP Versatile Black Bulk
HP Yellow
IQ2392A
IQ7467
IQ7468
Q2320A
Q2344A
Q7456A
Q7457A
Tech Wipes
Please visit our website to view our full product range
Related Products and Services