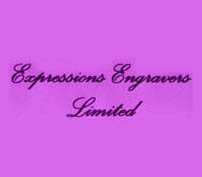 expressionsengravers

btconnect.com
Phone: 0871 28 [Reveal]
Welcome to Expressions Engravers Ltd
Founded in 2008 - Expressions Engravers Ltd has many years of experience with Computerised Engraving Systems. Our Engravers have over 15 years of experience in this market. We supply high quality brass and plastic signs. Also identity tags to the trade throughout the world. The business distributes a wide range of brass and plastic signs that are made to order, which can also be made to our customers own requirements.
Our ID tags and discs have grown to be probably one of the largest ranges in the market today. All stock items can be despatched same day. Our ranges of tags include our own award winning range of Glitter tags available in numerous colours and shapes.
Image Showcase (mouse over image to enlarge)
Other Products:
We also carry ranges of tags in brass, aluminium, stainless steel, gold plate, rhodium plate, flag designs, K9 by Igloo, collar tags & comical design range. We also offer an engraving service for colleges, film studios, jewellers, department stores, hardware stores, pet shops kennels, veterinary surgeries and many other major businesses. We can also produce a wide range of badges in many colours, sizes and designs.

Glitter Tags
K9 Tags
Id Tags
House Signs
Brass Discs
Silver Tags
Dog Tags
Pet Tags
Dog Discs
Pet Id
Cat Tags
Cat Discs
Bench Signs
Paws
Bones
Heart
Brass Bone Tags
Brass Heart Tags
Brass Round Tags
Brass Kennel Tags
Brass Tudor Rose Tags
Glitter Bone Tags
Glitter Heart Tags
Chrome Tags
Chrome Dog Tags
Chrome Pet Tags
Chrome Bone Tags
Chrome Dog Discs
Chrome Heart Tags
Door Signs
Nickel Plate
Nickel Tags
Nickel Discs Collar Tags
www.expressionsengravers.com
Related Products and Services
Union Flag Bone Expressions range

Brass Office Sign any wording can be engraved

Blue Glitter Paw

Round Blue Glitter with Paw

Golden Retriever Photo Tag

25mm Pink Glitter with Dog

Light Blue Enamelled with Milk Carton

Gold Plated Pendant with photo engraved

Green Glitter Heart 12 other colours in range

Pink Glitter Bone in copper or nicklel finnish

0

stars based on

0

customer reviews
Write a review
Key Contacts

Mr MIKE COLEMAN
DIRECTOR
Tel: 08712 887277
Email: expressionengravers

btconnect.com

Mrs JULIE COLEMAN
DIRECTOR
Tel: 08712 887277
Email: expressionengravers

btconnect.com
Payment Methods
BACS
Cash
Cheque
Maestro
MasterCard
Visa
Visa Debit
Opening Hours
Monday
10:00 to 17:30
Tuesday
10:00 to 17:30
Wednesday
10:00 to 17:30
Thursday
10:00 to 17:30
Friday
10:00 to 17:30
Saturday
Closed
Sunday
Closed