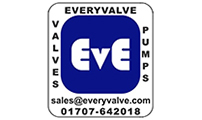 sales

everyvalve.com
Phone: 01707 6 [Reveal]
Fax: 01707 646 340
EVERYVALVE Established for some 25 years
Image Showcase (Mouse over images to enlarge)
85 Of Manufactured products are our OWN under the name of `EvE` in UK.

Industries served are
Chemical, Engineering, Contracting OEM, Councils and many others including overseas markets.

Valve sizes
From 3mm to 1000mm can be supplied in most materials such as:
 
Metals
Plastics

Steel
SS
Brass
Gunmetal
Cast Iron

PVC
PP
ABS
HDPE
PVDF
Types of valves supplied
Gate, Globe, Check, Ball, Butterfly, Relief, Needle, Penstock, Knife, Reducing, Sustaining, Solenoid, Actuated - Pneumatic & Electric versions. Specials are considered as are package lots.
Pumps Versions
Submersible, Centrifugal, Drum & Hand type in SS and plastics materials.

Hose Fittings
PP, Nylon & SS from 3mm to 150mm.
Pipe fittings
PVC, PP, in plain or threaded form for industrial uses.

Metal fittings also supplied to order.

Agencies for
BD, KRAFT & TEFEN are IRRITEC, ASV stocked and supplied as

Part of the product range with other products of LVF, T.T, NEWAY, FLU VALVE, STARLINE, LANGLEY, SPEARS, VALTERRA, SAFI, PRODUCTS & NOCCHI

Import, Export of valves are activities that the company occupies itself for the major part of its business from the range as illustrated in its technical catalogue and website at www.everyvalve.com of 44 pages giving useful data and price guidance. Extra data is available to special order. Serious enquiries are welcomed in our factory premises for a prompt reply.
Agencies Offered – Export/Import Worldwide Required. Applications welcomed
Related Products and Services