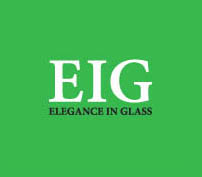 sales

eing.co.uk
Phone: 01530 2 [Reveal]
Fax: 01530 249 122

Welcome to Elegance In Glass - Glass Manufacturers UK
Our reputation for beautiful and appropriate glass design comes from 20 years of experience. We have developed and expanded our decorative glass processes and products over the years to include sandblasted/etched glass, diamond bevel clusters, bonded three-dimensional glass products, solar control, privacy and security window films, fused glass and replication of traditional stained glass panels making us one of the leading Glass Manufacturers in the UK.

Our Glass is not just for residential property but also used in many commercial settings as widely varied as company offices, airports, hotels, shops, restaurants and clubs. We have produced thousands of decorative glass panels for both private and commercial clients often through architects and interior designers.
Image Showcase (click images to enlarge)
We offer the following
Domestic Windows and Fanlights
We offer a large variety of standard stained and decorative glass designs for the home as well as a bespoke service for that special feature window!
Domestic Doors and Screens
For all doors, partitions and screens we have an extensive choice of designs available in stained, sandblasted, bevelled and lead only glass.
Religious Glass Panels
We produce modern and traditional designs for all religious organisations.
Commercial Glass Panels
When designing and producing glass panels for commercial use we offer standard designs that can be used in any business, however in order to incorporate company branding we offer a full bespoke service.
Etched Glass Panels
Exceptional detail and imaging, etched/sandblasted glass not only looks great in the home but also works well in commercial premises.
Processed and Bonded Glass
We can supply a full range of processed glass and specialise in bespoke bonding of two and three-dimensional shapes.
Visit our website now for more information on all of our services
Related Products and Services