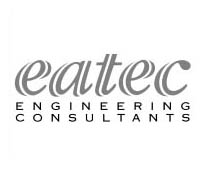 bwilliams

eatec.co.uk
Phone: 01454 3 [Reveal]
Fax: 01454 332 249

Eatec Ltd is an independent UK engineering consultancy which specialises in analysis, assessment and testing services for clients who are engaged in the development of new products, resolution of engineering problems, or undertaking research.

The founding members of Eatec have been active in the engineering consultancy field since the beginning of the 1980's, and have developed extensive experience in finite element analysis (FEA), noise, vibration and shock measurements and the development of bespoke simulation and visualisation software.

The services provided by Eatec are described below:

Finite Element Analysis - Design Assessments & Optimisation


Eatec has extensive experience of undertaking design analyses to confirm that products meet national/international standards and customer specifications. The majority of the projects are undertaken using finite element analysis (FEA), although hand and Mathcad calculations are also performed as appropriate.

The analyses range from complex highly non-linear problems to simpler linear studies. Many of our projects involve optimisation of proposed or existing designs with the objective of improving performance or reducing mass, space requirements or manufacturing costs.

The types of design assessments performed by Eatec include:
Stress Analysis

Fatigue Life Calculation

Dynamic Analysis

Thermal Analysis

Failure Investigations

As a result of its analysis and testing expertise, Eatec provides an efficient approach to the investigation of in-service failures, and the identification of changes required to ensure a design performs satisfactorily.

Examples of the types of failures investigated by Eatec include:

Excessive vibrations and/or noise

Fatigue failures

Overloaded structures

In most cases, Eatec works with the client to identify the design changes required to resolve the problem. However, in some projects, Eatec's findings have been used to support a claim against a supplier or third party.

Noise & Vibration Monitoring

Eatec specialises in monitoring levels of noise and vibration and assessing the results against national and international standards. Monitoring can be short term where the environmental inputs are constant, or over an extended period where some transient activity is in progress such as construction or demolition.

Eatec configures each monitoring exercise to the particular requirements of the investigation. Typical projects involving monitoring have included:

Pipeline monitoring to identify sources of flow induced vibration

Noise and vibration levels in offices close to demolition works

Assessing noise and vibration levels near railways for planning approval

Monitoring transport shock and vibration of goods in transit

Shock & Vibration Testing

Eatec has special expertise in configuring and performing shock and vibration tests to investigate all types of dynamics problems, both in the UK and worldwide. Eatec's shock and vibration testing services include structural integrity assessments, resonance investigations, vibration isolation, checks for vibration compliance and dynamic problem solving.

Simulation Software Development

In some cases standard CAE packages are not capable of simulating particular phenomena or behaviour in an efficient way. To address these situations, Eatec produces bespoke software packages which are specifically tailored to the client's requirements. Projects have ranged from simple Excel macros, through to highly complex design and simulation packages.
Visit our website to find out more information
Related Products and Services