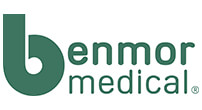 info

benmormedical.co.uk
Phone: 0333 8 [Reveal]
Fax: 0333 8009001
Benmor Medical has been Supporting Bariatric Care since 1996 and was the first company in the UK specialising in bariatric patient handling equipment.

Benmor Medical quickly established itself as a leading company for the rental and sale of bariatric patient handling equipment and introduced the complete bariatric rental package, enabling a bariatric bed, hoist, commode, wheelchair and chair to be rented as one package.

At Benmor Medical, we pride ourselves on our outstanding 24/7 customer service and a willingness to go the extra mile to find the best solution for both patient and carer.

Image Showcase (Mouse over images to enlarge)

Company Information

At Benmor Medical, we pride ourselves on our outstanding 24/7 customer service and a willingness to go the extra mile to find the best solution for both patient and carer.

Our rental technicians are on call 24/7 and travel the length and breadth of the country to ensure we can provide the best service possible and this service is available to anyone who needs us.

Aurum Bariatric Expandable Bed
The Aurum Expandable Bariatric Bed is one of only a few width adjustable beds available for the bariatric patient. This feature enables the bed to accommodate the largest of patients when expanded yet still be used as a standard hospital bed when there is no bariatric requirement. This bariatric bed will cater for patients up to 414kg/65st in weight and when used in conjunction with our width adjustable Dynamic Air Mattress, can greatly reduce the risk of pressure sores and other skin related problems associated with bariatric patients.

Aurum Riser/Recliner Chair
The Aurum Bariatric Riser Recliner Chair has been specifically designed to accommodate all shapes and sizes of bariatric patient. Each chair is custom made to suit individual patients. Seat height, depth and width are all bespoke with a wide range of possibilities. Pressure relieving gel can be specified in the seat cushion along with pressure relieving Vyflex vinyl on the seat and back rest to combat pressure sores and discomfort. The overall build quality of the chair is exceptional and key areas have been strengthened with protective strips. In addition to this, we use a hard wearing vinyl to cover the outer surfaces of the chair to ensure the chair will cope with everyday use in a hospital environment where other bariatric chairs may wear down and need replacing.

Benmor has developed its own width expandable bariatric bed 'The Aurum Expandable Bed'. The bed can be used with patients up to 65 stone/413kg and is available with or without an integral scale system for accurate patient weighs at the touch of a button. This bed is available for sale or rental complete with a choice of foam or dynamic air mattresses.

We have also developed our own range of bariatric riser/recliner chairs 'The Aurum Riser/Recliner' which are specifically for hospital use and incorporate easy cleaning and hoist compatibility. The chairs have also been upgraded with hard wearing beading and sturdy handles for easy transportation and an ability to cope with the stresses of daily use in a hospital environment.

Another new addition to our range is the Libero mobile hoist. The Libero hoist is a great alternative to large gantry hoist systems and with a 63st/400kg weight limit, the Libero is perfectly capable of lifting as much as even the strongest gantry hoists. The Libero hoist also has a powered drive wheel which is operated through a throttle on the handle. This eliminates the strain of manoeuvring a hoist with a large patient therefore greatly reducing the risk of back injuries for carers.

Benmor has recently introduced a range of low beds aimed at both the acute and community sectors. Together with new hoists, chairs and the new Aurum range we now offer a comprehensive line up of bariatric equipment to suit any situation.

We can offer a variety of lifting and handling options from Hoists and Wheelchairs to Walking frames and Walking aids, Transfer/Slide sheets and Boards to Slings and Rota stands, Limb support and Commodes together with a whole range of other equipment to suit your specific needs.

Feedback is always appreciated at Benmor as we are always looking at ways we can improve our products and services for the benefit of both patient and carer. Because of this, we have built strong relationships with our clients to ensure we can use their ideas and suggestions to offer the right products for every situation.

Our team of Sales Managers and Rental Technicians are available to demonstrate, train and advise clients and users on all aspects of our equipment. We talk to the market and listen to your suggestions and together we aim to provide outstanding, robust, functional equipment that cares for the special needs of a bariatric patient.

Our clients are mainly from the NHS and Community sector where the Benmor name has become synonymous with Supporting Bariatric Care.
Related Products and Services