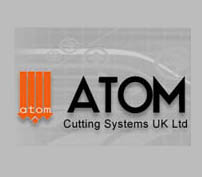 john.howe

atom-uk.com
Phone: 01933 3 [Reveal]
Fax: 01933 359 399
Welcome to Atom Cutting Systems UK Ltd
Welcome to ATOM Cutting Systems UK we were established in 1964 and since then it has been designing, producing and distributing cutting systems for industrial applications with more than 150,000 machines now installed worldwide.
Our range of cutting machines are are the greatest available all of which are quality built and reliable. We offer a wide range of different machine types perfect for different cutting applications.
Below are some of the products and services we can offer you:
Die Cutting Machines

Profile Cutting Machines

Belts, Blades & Boards

CAD/CAM Plotters

Water Jet Services

Machine Servicing

Reconditioning

Consultation
For more information about us or the products and services we have to offer, please visit our website or contact a member of our team with any questions you may have.

Please visit our website now
Related Products and Services