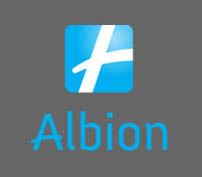 sales

albion-manufacturing.com
Phone: 01767 6 [Reveal]
Fax: 01767 683 157
Welcome To Albion Design and Fabrication Limited
Albion Design and Fabrication Limited designs, develops and manufactures display, queue management and audio-visual support systems for a wide variety of retail, exhibition, education, property marketing, work place and other applications.

Cable and rod display systems
The Albion range of cable and rod display components includes 1.5 mm and 3 mm cable and 6 mm and 10 mm rod kits for floor to ceiling and wall mounting. Graphics and product display configurations (including shelving) are provided by comprehensive ranges of panel and shelf grips. Cables and rods are manufactured in stainless steel whilst panel and shelf grips are finished in anodised aluminium.

Sign stand offs and panel supports
Albion's range of through hole panel supports (sign stand offs) and side grip panel supports enables wall mounting of display pockets, signs and leaflet holders.

Poster pockets and leaflet holders
Albion has extensive acrylic fabrication facilities and manufactures a full range of poster display pockets and leaflet dispensers. These complement its cable and rod display and sign support systems to provide a complete display solution.

Free standing displays
Albion's Freestanders extend the application of cable and rod systems to situations where a freestanding or fixed to the wall display is the preferred solution.

LED Illuminated shelving and graphics Panels
Utilising Albion's 6 mm rod system, the new LightShelf™ shelving and LightSlim™ panel display products provide long life/low energy solutions to a variety of product and graphics display needs.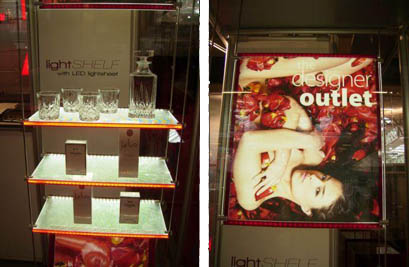 Frameless stretch fabric graphics displays
With the Albion Frameless graphics display system only the merest hint of a fine aluminium edge is visible. Either ceiling hung, wall mounted or freestanding, the printed fabric graphic is held in place by a stitched keder (semi-rigid border) pushed into the groove of the extruded aluminium frame.

Easi-Fix displays
Easy Fix displays use the unique Grip-Flex® technology to hold either Dibond, acrylic pockets or Foamex at any angle to construct signs, poster or product displays in a variety of configurations. Whether freestanding or wall mounted, Easy Fix displays provide for quick and easy changes of content without tools or special training.

Developed for a major UK supermarket chain for the frequently changed information on its corporate and social responsibility (CSR) boards, Albion's MuraTECH graphics display system is based on Easi-Fix wall mount flexiboard components.

Queue management systems
The Albion Pathfinder range offers a choice of flexible belt, fixed beam or rope stand designs meet a wide range of queue management furniture needs. Message holders and merchandising panels can be added to produce a bespoke solution.

Café banners
Albion's range of café banners incorporate the 'quickTECH' system that provides an easy to put up, put away and store means of separating smoking and dining areas.

Audio visual mounts & furniture
Albion designed and manufactured mounts and furniture for audio visual equipment set new standards for technical innovation and aesthetic appeal.

Marketing suites
Albion has the full multi-disciplinary design, development and manufacturing capability to create and fit out winning marketing suites for home builders. Albion works with developers nationwide.

Sign-Ware
Manufactured in Germany, Sign-Ware is an advanced modular solution for mounting and tensioning large format graphics for anything from a single banner to an exhibition stand or wrapping an entire building.

Sign-Ware is distributed in the UK exclusively by Albion.

Custom fabrication
For anyone looking for an individual approach to a display requirement, Albion's Custom Fabrication department offers an expert design service and brings together the skills of acrylic, metal and timber fabrication to transform a customer's vision into reality.

Installation projects
As well as being a major supplier of graphics display and product presentation systems, Albion designs manages and implements major fit-out and refurbishment projects and has contracted with many department stores, fashion retailers and supermarkets throughout the country. Albion has Approved Safe Contractor status recognised throughout the industry.

Manufacturing facilities
Founded on a core of CNC machines, Albion's manufacturing facilities extend to metal fabrication (laser cutting and welding), joinery, acrylic fabrication, and light assembly. Many Albion products use a combination of these materials and technologies. The Albion site at Sandy, Bedfordshire has full ISO 9001.2008 accreditation.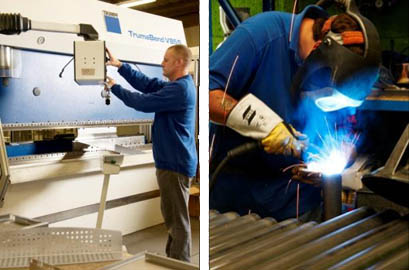 Contact our team via email or phone to find out more
Related Products and Services

0

stars based on

0

customer reviews
Write a review
Opening Hours
Monday
08:30 to 17:30
Tuesday
08:30 to 17:30
Wednesday
08:30 to 17:30
Thursday
08:30 to 17:30
Friday
08:30 to 17:30
Saturday
Closed
Sunday
Closed