Businessmagnet Apps
Browse the UK's ultimate B2B directory

on the move, store contacts, email suppliers quickly, all from any device with an internet connection
more info
Activity Feed
iTraka Monitoring
Businessmagnets very own statistics monitoring tool will enable you to monitor the effectiveness of your campaign.


iTraka Monitoring
Now you can monitor and correlate each and every enquiry generated by your Businessmagnet listing. Our revolutionary and exclusive iTraka tool provides the most comprehensive response tracking capability offered by any Directory.
Analysing Performance
One of the most important ways to improve your advertising is to measure the responses generated. Unfortunately this can be very difficult, however Businessmagnet has developed a unique monitoring system that enables their advertisers to measure the effectiveness of their advertising campaign. iTraka is the most sophisticated monitoring system of any B2B directory in the UK and effectively communicates activity that occurs with your advertising campaign.

At the foot of your advert you will find a link that directs through to your very own statistics page generated by iTraka. A selection of tabs will be present depending on what data is available and has been recorded. The data is represented both graphically and statistically in a table format.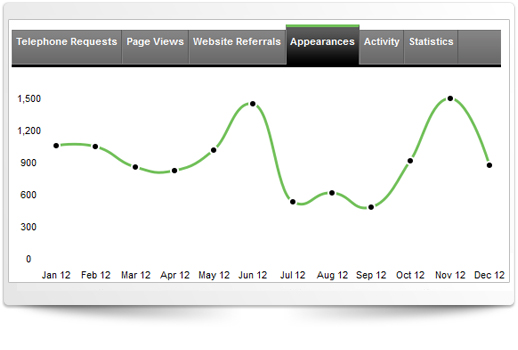 Find out more about how Businessmagnet can help you.


Call 0870 350 7767