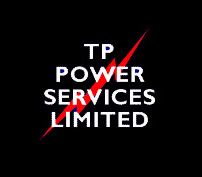 sales

tppowerservices.com
Phone: 01509 [Reveal]
Fax: 01509 889445
T.P. Power Services is a professional transformer manufacturer organisation with ISO9001-2000 Lloyds quality assurance, delivering the added value of a dedicated personal service. Whatever your needs, we have a plethora of experience working on commercial, industrial and national grid sites up to 400kV/1000MVA.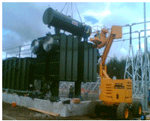 Truly unique in our ability to offer a fully integrated service at all electrical site voltages, delivering reliable solutions for the design, manufacture, installation, testing, commissioning, maintenance, repair or replacement of all your power equipment. T.P. Power Services is an approved supplier of many regional electricity and power contracting company thanks to our cost-effective, flexible and reliable power solutions. We aim to restrict disruption to your power solution or site by carrying out projects in-house or on-site at your convenience.

Transformer Manufacturer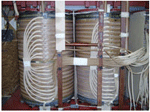 As a leading Transformer Manufacturer we offer a bespoke transformer design, manufacture, installation and commissioning service to CDM specifications thanks to our specialist electrical engineers with over 30 years experience. T.P. Power Services delivers a solution that promises to maximise your plants power efficiency, delivering extra when you need it and minimising waste power when you don't. Our services include:
• Bespoke Transformers – design and manufacture up to 132kV/100MVA
• Transformer Refurbishment – Simple rejuvenation or complete re-engineering
• Stock Transformer – refurbished / new as a cost-effective alternative
• Specialist Transformers – Air-cooled / Cast Resin / Earthing / Flameproof and more
• Transformer maintenance – cooling systems, radiators, tapchanger, metering, etc.
• Commission and Installation of transformers to CDM regulations

Control Systems & Switchgear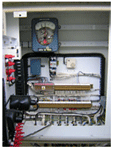 A comprehensive service covering all ancillary and auxiliary installations for you control system, protecting valuable equipment from faults or power surges up to 400kV/1000MVA.

Solutions include mechanical or electrical control systems that are fully compartmentalised in a variety of housings, IP65 ingress protected, bespoke AC switchboard design, DC Battery backup and more. T.P. Power Services offers a variety of systems as independent services or as part of a full substation design package.

We provide bespoke design, installation, testing and commissioning of switchgear; providing gas-insulated or oil-filled equipment depending on site requirements. We offer switchgear testing to monitor, detect and rectify any problems as a cost-effective alternative before breakdown and replacement – protecting your facilities power infrastructure to give you peace of mind.

Maintenance

We provide maintenance services for all site equipment as an ad-hoc service or long-term contractor on sites up to 400kV/1000MVA, including; regional electricity companies, national grid, industrial and commercial sites. T.P. Power Services specialise in the following transformer maintenance services:
• Transformer rewinding, installation and commissioning
• Cooling Systems: Oil processing / conditioning / radiator replacement / breathers, etc.
• Transformer inspection and repair: bushings, metering, radiators, conservators, etc.
• General Maintenance and refurbishment: testing, sealing, painting, etc.
We also provide maintenance solutions for all other site equipment plus auxiliary cabling; striving to deliver a cost-effective service to reduce long-term maintenance and repair costs, extending your equipments working life whilst maximising efficiency and avoiding expensive replacement. Maintenance safeguards your power systems infrastructure to reduce the potential for mechanical or electrical breakdown of your equipment.

High Voltage Site Services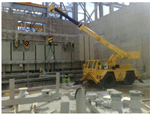 T.P. Power Services offers a complete range of high voltage site services up to 400kV/1000MVA, designed to give a complete solution that guarantees to have your plants equipment running as efficiently as possibly, with minimal disruption to your site and power provision. We can offer these services thanks to a wealth of experience gained working for the national grid and electricity companies. Our services include, where applicable, the testing, maintenance, installation, commissioning, repair or replacement of:

• Tapchangers – On Load, Off Load, mechanical, electrical, thyristor
• Oil Processing – Including its testing, filtration or replacement on-site, or prevention via the installation / replacement of breather's or hydran's
• Testing & commissioning – available for all site equipment with certified equipment
• HV Cable services – including the excavation, installation, jointing, testing and termination if required
• Power Factor Correction – maximising operating efficiency and reducing the chances of electrical breakdown, whilst also providing annual savings on your energy bills

Specialist Services


Continual investment in our engineers training and development has created our specialist service solutions. We offer a fully integrated range of services that can be carried out on mining, petrochemical, oil, gas, offshore and renewable energy sites, including oceanic equipment in docks.
Our Specialist services are as follows:

• Wind Farms - specifically working with national grid and industry leaders to provide a service for clients focused on this renewable energy source
• Oil and Gas – Specialist training of design and project engineers to produce and maintain electrical equipment and sites within such hazardous environments.
• Substation design - investment in resources to design bespoke substations up to 400kV/1000MVA, including fenced, indoor or special purpose buildings / housings / enclosures
• Off Shore Services – valuable experience and training for a variety of specialist sites, combining maximum safety regulations with quality assurance.

Additionally...

Consultation: We offer a stand-alone consultation service for national grid, industrial and commercial power solution. Over 30 years experience in the industry, and a wealth of knowledge from close market sectors, means we can consult you on the right choices no matter what your site requirements may be. T.P. Power Services has been consultants for multimillion-pound projects on local and international levels, delivering an informative and reliable service.
Related Products and Services