Ultimately Superior...
Than all of our competitors. A bold statement, but true - the trusted Businessmagnet directory has been totally re-developed with 100's of new features to help you connect with new clients or suppliers faster than ever.
Businessmagnet Apps
Browse the UK's ultimate B2B directory

on the move, store contacts, email suppliers quickly, all from any device with an internet connection
more info
Activity Feed
Rack International
Place pointer

here

to reveal number
Rack America has provided storage and handling solutions to some of the biggest and best companies in the world.

From design concept, to manufacturing and commissioning, we manage every aspect of your project from start to finish. We've been providing these services since 1991, so you can rest assured you are working with seasoned professionals who will understand your needs and exceed your expectations.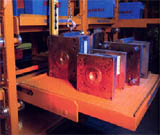 Glide-Out racking is easily handled by one person and is equipped with an automatic locking system for operational safety. Its modular design means that it can be added to or adjusted as required, and consists of a starter bay and extension bays.
See it in action here: http://rackinternational.com/glideout.php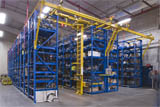 The Stak Adjustable Shelf Racking System gives better storage density and space utilization than conventional fixed beam pallet racking by reducing the vertical space requirements of stored items. This racking system allows for easy storage and safe retrieval of work-in-progress projects, pumps, motors, gearboxes, or tools.
See it in action here: http://rackinternational.com/stak_asr.php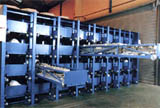 The Extractor has been specifically developed to safely store those long, hard-to-handle products such as extrusion and calibration equipment or raw materials, such as steel bars and sections, jigs and fixtures. Available cradle sizes range from 2 to 6 meters deep and from 400mm to 1 meter wide. Extractors are available in both standard and double entry configuration.
See it in action here: http://rackinternational.com/Extractor.php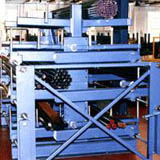 The Canti-triever range of racking has been specifically designed to handle long steel bar sections and components. This is a modular system, and may be adjusted or extended as requirements change.

See it in action here:
http://rackinternational.com/canti_triever.php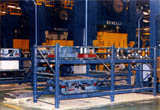 The Janmak Ro-Ro is designed for the storage of press tools, mould tools, dies etc. It is used in conjunction with a die cart - C/W scissor lift to horizontally load - to unload tools from machine to rack and from rack to machine. The Janmak Ro-Ro system is modular and may be adjusted or extended to meet changing requirements.

See it in action here: http://rackinternational.com/janmak.php

Rack America is a worldwide organization committed to customer service and engineering excellence. Equally, our distributors and agents throughout the world have a thorough understanding of our product range and offer a personal, friendly service backed by the ability to offer technical, innovative ideas and solutions.

Rack America's customer base includes leading industry names such names as:

Airbus, Alcan, Anglia Windows, BAE Systems, BOSE, Berry Plastics, Boeing, Bosch Automotive, British Aerospace, Calasonic Chrysler, Caradon Group, Custom Molds, DBM Reflex (Canada), Dow Plastics, Du pont, Dyson, EAS, Enerpac, Ford, GKN, General Motors, Grainger, Halkey Roberts, Halliburton, Honeywell, Hulkey Roberts, Husky, Hydro Automotive Structures, Instron, Intralox, Jaguar Cars, Kennerly Spratling, Kerr Group, Kraft Food, Larfarge, Leviton, Listowell (Canada), Lloyds British Testing, Longview Fibre, MK Electric, Metaldyne, Molecular Bioproducts, Mono Pumps, Moss Plastics, NAS Oceana, Nestle, Omnipure, Panduit, Pelican Products, Permacell Automotive, Pitney Bowes, Plymobile, Proctor and Gamble, Reckitt and Coleman, Rehrig, Rexroth, Rolls Royce, Salter Labs, Sirte Oil, Southco, Thyssenkrupp Automotive, U.S. Marine Corp., Ultra Electronics, Victaulic, W.R. Grace, Wadal Plastics, Wavin Plastics, Xerox, Yuasa Battery and Zytek.

Find us online at http://rackinternational.com
Products and Services
Payment Type
These are the payment types we accept
Payment Terms
Our payment terms