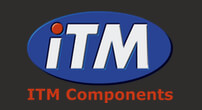 techsales

itm-components.co.uk
Phone: 01202 8 [Reveal]
Fax: 01202 871 052
Welcome to ITM Components
ITM Components for Connectivity – Professional AV, Video & KVM Switching Solutions, Extenders, Digital Signage, Environmental Monitoring, Interface & Communication, Industrial Embedded PC & Fibre Optics Systems.
Audio/Video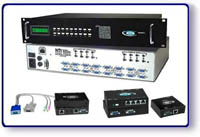 Professional AV Presentation Solutions
Audio and Video Routing Systems
Audio/Video Matrix Switches
Composite & VGA Video Switches
A/V Matrix Switchers
Fibre Optic A/V Matrix Switches
Video Switches
Video Splitters
CAT5 Video Extenders
Video Scalers

ITM Components has an extensive range of Video Switches, Splitters, Extenders and Scalers.

Video Matrix Switching systems interface and route multiple video sources – computers, cameras, DVD players to many remote outputs such as displays, monitors, projectors, and speakers. Outputs can be routed to different destinations, either using coax video cables or inexpensive CAT5/5e/6 cable. VGA & Audio Matrix Switchers are ideal for applications and use in classrooms, training and conference rooms.

Video DVI Extenders
Video Extenders and DVI Extenders allow video extension between computer systems and display devices up to 300 meters. Fibre Optic Video Extenders can be used to cover distances over 2000 Meters.


DVI & HDMI Video Matrix Switches.
DVI (Digital Video Interface) switches enable HD digital signals to be switched between computers and video and displays. Due to the high signal integrity of DVI transmission it has been used widely in the video routing in home theatre installations. As the HDMI (High Definition Multimedia Interface) switchers also carry the audio signals, in many cases HDMI is becoming the preferred choice for professional A/V and home theatre solutions.

Fibre Optic Matrix Switches.
Fibre Optic Matrix Switchers are designed for complete, end-to-end digital A/V signal transmission for routing over fibre optic cable. They are available in sizes from 8x8 up to 72x72 and 144 x 144, and support up to 4.25 Gbps digital switching. Also they are compatible for use with fibre optic transmitters and receivers for transmission over long distances.
KVM Switches & KVM Solutions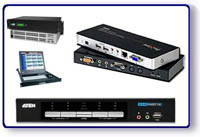 KVM Switches
KVM Matrix Switches
KVM over IP
USB KVM Switches
KVM Extenders
Fibre Optic KVM Extenders
KVM via CAT5
KVM Rackdrawers
KVM LCD Drawers
KVM Splitters
KVM Sharers

ITM Components range of KVM Switching products provide solutions ranging from simple KVM switches for SOHO (small office home office) allowing effortless control of computers and peripheral devices, to highly sophisticated KVM matrix switching over IP networks/web-based systems controlling large server installations and data centres. Allowing effective management of IT infrastructure from anywhere in the world.

1 user control of 2 or 4 computers
Desktop KVM switches allow access of 2 to 4 computers from a single keyboard, video and mouse (KVM ) console. These are ideal for high-tech workstations and the small home/office environment. USB and PS2 KVM switches are compact, robust and can be interfaced to VGA or DVI monitors for superior video quality.

4 user control of 32 computers
The Unimux High density VGA, USB KVM matrix switches allow up to 4 users to individually command or simultaneously share up to 32 USB computers. Access USB computers (PC, SUN, MAC ) using USB keyboards and mice and multiscan VGA monitors.

KVM Rackdrawer
Rackmount USB + PS2 KVM Drawer combines a Rackmount LCD monitor, Keyboard and touchpad mouse in a space saving 1RU industrial strength drawer. Available for 15" and 17" LCD flat panel VGA or DVI monitor.
Extenders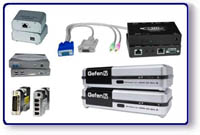 USB Extenders
Audio/Video Extenders
VGA Video Extenders
VGA Splitter Extenders
DVI Extenders
HDMI Extenders
HDTV Extenders
Components Video Extenders
Fibre Optic Extenders
KVM Extenders
Firewire Extenders

ITM Components offers a wide range of extenders covering many types of commercial and industrial applications. Extenders are used to transmit computer and video signals over short and long distances without the use of expensive and sometimes heavy cables.

VGA Extenders
VGA Extenders transmit VGA video signals up to 1000ft away from a computer using low cost CAT5/5e/6 cable. Each video extender consists of a local unit that connects to a computer and also supplies video to a local monitor and a remote unit that connects to a monitor. Models support high resolutions up to 2048x1536 and are available with audio and RS232 options.

KVM Extenders
KVM Extenders allow a keyboard, video and mouse (KVM) console to locate up to 300 meters away from a computer or KVM installation. Fibre Optic KVM Extenders can be utilised to cover distances to over 2000 Meters
Environmental Monitoring Systems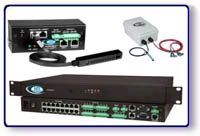 Temperature Sensing
Temperature Monitoring
Humidity Sensor
Humidity Monitoring
Water Leakage
Power Monitoring
Motion & Vibration
Intrusion Alarms
Smoke Detection

ITM offer a range of environmental monitoring systems from our simple 2/4 input low cost enviromux-mini to the 16 channel SEMS model for Web monitoring and management of larger server rooms and data centres.

Server environmental monitoring systems
Server environmental monitoring systems monitor critical environmental conditions, such as temperature, humidity, water presence, power, intrusion, and smoke. When a sensor goes out of range of a programmed limit or threshold, the system will notify by email message, LEDS, alarm, siren, or voice phone on land line or GSM modem.
Fibre Optics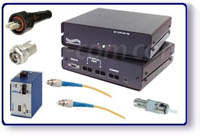 Fibre Optic Extenders
Fibre Optic Converters
Fibre Optic Matrix Switches
Fibre Optic Analogue Digital IO
Fibre Optic Distribution Amplifiers
Fibre Optic Adapters and Couplers
Fibre Optic Connectors
Fibre Optic Video Audio Telephone
Fibre Optic Cables and Patch Cords
Fibre Optic Ethernet

ITM's fibre optic products feature popular Extenders, fibre optic cable, fibre optic connectors, attenuators, splitters and fibre optic termination enclosures.

Fibre Optic Extenders
Our Fibre Optic Extenders offer a perfect solution for extending and managing control systems, touch screen or digital signage applications at great distances. The DVI RS232 sends DVI, RS232, and IR signals up to 1000 feet using a single CAT5 and single SC fibre. RS232 and IR signals are transmitted over a single CAT5 cable while the DVI signal is transmitted over a single SC fibre.
Interface & Communications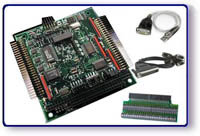 USB Serial
USB Digital I/O
USB Analogue
PC104 Serial
PC104 Digital I/O
PC104 Analogue
PCI Serial
PCI Digital I/O
PCI Analogue
Distributed I/O
Watchdog
Ribbon Cables & Adapter Boards

ITM Components Interface and Communications products provide an extensive range of analogue input, analogue output, digital, serial communication, and isolated I/O boards and solutions. Also complete systems, integration services and enclosures with a quick turn around custom projects, including software. Products are designed for use with PC/104, PCI, Low Profile PCI, EBX, EPIC, USB, Ethernet, and ISA buses as well as distributed and wireless I/O.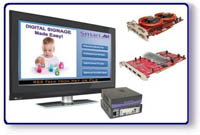 High Definition Digital Signage
HD Digital Content to any Audience
Signage Pro
Signage Pro HD
Signware player
Presenter Pro
Presenter Pro HD
Wall Systems

ITM Components provide flexible Digital Signage and Video Wall Systems that are scalable to meet the requirements of any user.

Solutions can range from one display up to thousands of displays located any where in the world. Video Wall systems deliver High Definition video on up to 64 screens. User-friendly software makes "complicated" productions a simple task.
Please Click Here to see our other advert for:

Cables, Connectors, Adapters, Couplers, Fibre Optics, Wireless Antennas, LAN Amplifiers, NEMA Enclosures and Lightning Protectors.
Related Products and Services

0

stars based on

0

customer reviews
Write a review
Payment Methods
American Express
BACS
Cash
Cheque
Direct Debit
MasterCard
Online Bill Payments
Paypal
Visa
Visa Debit
Opening Hours
Monday
09:00 to 17:00
Tuesday
09:00 to 17:00
Wednesday
09:00 to 17:00
Thursday
09:00 to 17:00
Friday
09:00 to 17:00
Saturday
Closed
Sunday
Closed