Todays Opening Hours
Thursday : 8:30 - 5:30
closed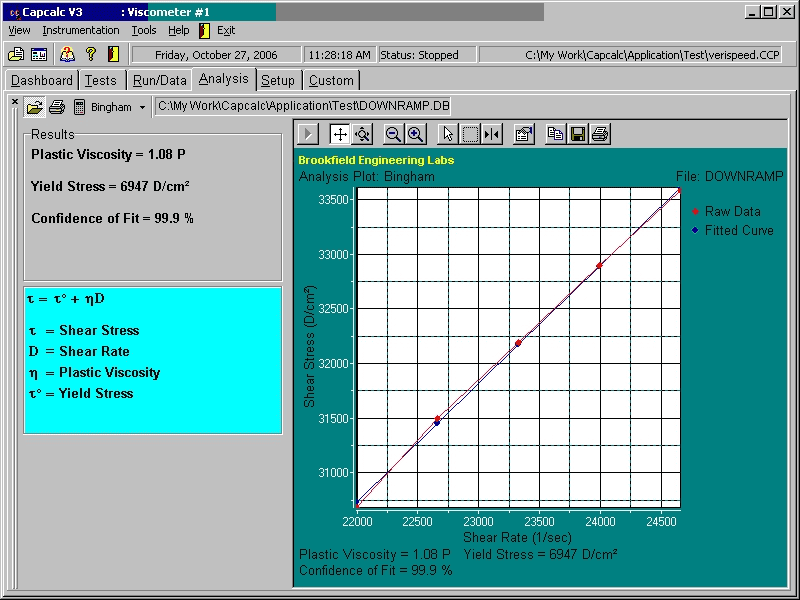 Pre-purchase sample testing and consulting to after-sale repair

Brookfield Ametek has been providing world class solutions for Viscometers and Rheometers for over 80 years and now offers one of the most comprehensive ranges of products and services to cover applications such as laboratory flow testing, processing, texture analysis, powder flow and fluid testing.

When you use a Brookfield product you know you're in safe hands because you'll be joining the many thousands of users worldwide who have chosen only the best for their equipment needs.

Brookfield offers a wide range of services to support their product portfolio from pre-purchase sample testing and consulting through to after sales, educational programs, calibration, on-site repairs and ball bearing retrofits.

Services
Calibration and Certification
To ensure optimum performance of your laboratory instruments Brookfield Ametek recommends an annual Calibration & Certification Service which can either be performed on site or at our repair department or an authorised Brookfield dealer.

We will inspect for wear and make any necessary adjustments to the internal mechanisms, replace pivot supports and pointer shafts if required and straighten spindles.

We will then carry out the calibration of your instruments and provide certification to say your equipment is working within Brookfield specifications.

This certification is traceable to the National Institute of Standards and Technology.
Sample Testing
From our state of the art laboratory Brookfield is able to offer a whole range of detailed testing services.

These testing services include simple evaluations and recommendations, profiling to determine the properties of your sample, dispute resolutions and multiple sample testing which expands the capability of your laboratory by utilising our services to accomplish testing work on a timely basis.

To view our Testing Services Brochure Click Here
Repairs
Again Brookfield will always recommend an annual calibration and certification service and if your equipment needs repair we can provide you with a full service to get your equipment working to its optimum performance.

Our service department can perform a cleaning and adjustment service including mechanisms, pivot supports, pointer shafts and spindle straightening.

Your viscosity standard fluids should also be replaced on an annual basis and replacements can be ordered when scheduling your service.
On-Site Services
If you have equipment that needs servicing or repairing, or even if you can't afford the disruption of sending your instruments back to us then don't worry because Brookfield Ametek can send a service technician to your site!

To save you time and money our trained technicians will come to your site and can carry out minor repairs, calibration and retrofits as well as offering a detailed report of what services were exactly performed.
Training
At Brookfield Ametek we truly believe that to get the very best from your viscosity measurement applications you need to get the best training and that's exactly why we offer a range of training programs with instructors that focus on what you need to make your measurements make sense.

Courses we have to offer include:

...• Practical course on Viscosity Measurement
...• Applied Viscosity Test Methods
...• Practical course on Texture Analysis

Who better to learn from than the world leaders in viscosity measurement equipment?
Retrofits
The new and more durable ball bearing suspension system from Brookfield Ametek can now be purchased as an option for new viscometer and rheometers.

This new system can also be fitted into your existing instrument and is used to replace the traditional pivot point and jewel system. It has been specifically developed for use in busy work area and heavy duty applications.
Methodology Consulting
The success to any quality control is in the design of effective viscosity test methods.

Brookfield Ametek offers a complete Methodology Consulting Service whereby one of our consulting engineers can visit your site and review and recommend appropriate testing methods for your specific materials.

These methodology consulting services have been created to cover relevant shear rates, shear stresses, temperature and time sensitivity issues so you can rest assured we will work with you to define acceptable viscosity behaviour.
Products
Brookfield Ametek offers one of the most comprehensive ranges of Viscometer and Rheometer equipment for laboratories and on –line process control applications including:

...• Viscometers
...• Rheometers
...• Texture Analysis
...• Powder Flow Testing
...• Viscosity Standards
...• Accessories
...• Software

This is only a small sample of the wide range of products and services provided by Brookfield Ametek so to find out more please visit the main website, thank you.

Alternatively for more information on our products please visit our other listing Here
www.brookfieldengineering.com
Related Products and Services
Capcalc

Wingather

EZ-yield

RheocalcT Software

TexturePro CT

Texture Pro

Rheovision

RHEO3000

PG Flash

Viscosity Testing

Powder Flow Analysis Testing

Testing Set Strength of a Gel

Testing Springiness and Firmness of Bread

Testing Burst Strength of a Blister Pack

Flexibility/Elasticity Testing

Compression Testing

Tensile Testing

0

stars based on

0

customer reviews
Write a review
Events & Shows