Todays Opening Hours
Saturday : Closed
closed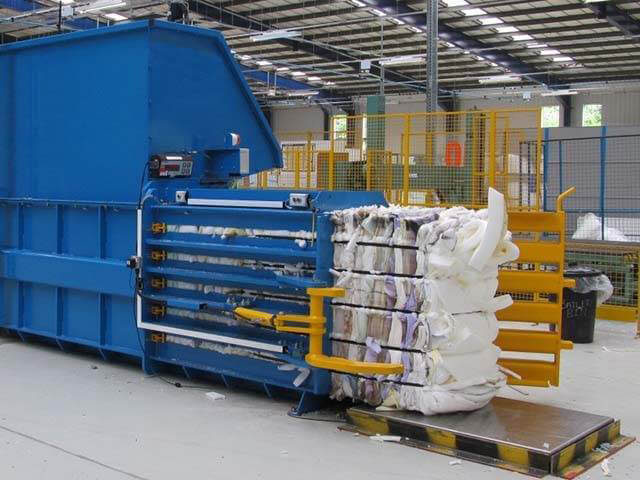 Vertical, Horizontal Balers & Compactors for Sale.

You have reached Kenburn Waste Management - We are a leading supplier of waste handling machinery and consumables. We supply equipment from highly regarded European manufacturers with a superior range of waste compactors, vertical and horizontal balers. We stock both new and refurbished machines, which are available to rent or buy.

Free site audits to assess your requirements are available on request and we will ensure that Risk Assessments and Method Statements are available to you for each installation.


Kenburn is Celebrating
its 30th Anniversary

Vertical Balers:

A wide range of demands for waste handling are covered by an extensive range of both vertical which are simple to operate and are designed with safety in mind. Waste is transformed into solid blocks of material that can be recycled and transported easily, saving your business space, time and money.

These freestanding machines have a vertically mounted press ram. The baler is typically fed by hand, with each finished bale being ejected from the chamber once made. Vertical balers have a relatively small footprint so are easy to site and the cross cylinder design on the Europress Balex Baler range allows the overall height of the machine to be substantially reduced.

Europress Balex Balers

Balex balers are heavy duty, well-engineered machines, designed and manufactured in Finland. They are equipped with cross cylinders and have a fast cycle time. They are very quiet in operation and their low height, makes it very easy to position them in most environments. They are ideally suited for baling a wide range of materials including cardboard and plastics. Switching between waste streams is made easy because the user can switch between two modes of operation, one for cardboard and the other for plastics.

Balex balers comply fully with EN16500, a 2015 European standard prescribing high levels of safety for all newly manufactured vertical balers. The standard encompasses the design and manufacture of the baler, together with the information about how the machine is used safely.

All Balex Balers are supplied with a two year warranty.

Refurbished Balers
Kenburn supplies a selection of refurbished balers from Bramidan's Basic and X-Series ranges. Without compromising on quality, the Basic Series Balers provide a cost effective solution for the less intensive user, whilst their highly effective press force produces dense bales. Bramidan's X-Series Vertical Balers are heavy duty machines, and their cross cylinder design ensures stable compression and a low overall height. Bramidan's Multi Chamber Balers are ideally suited to and very effective in handling multiple waste streams such as cardboard and plastics, which means that waste can be segregated but baled in the same machine.

Horizontal Balers

Horizontal balers are an ideal solution for handling large volumes of packaging materials or waste. The operator can manually bind the bales, or this can be achieved automatically by the machine. Kenburn Select horizontal balers are highly reliable, efficient machines with outstanding build quality.

Industrial Waste Compactors

There are a number of different types of waste compactors in the Bergmann range of dry and wet waste compactors that are designed to suit a range of materials and requirements. Portable and static waste compactors hold much waste than a skip, meaning far fewer collections.

Portable Waste Compactors
Bergmann and Avermann Portable compactors are either chain-lift (skip lift), or roll-on/roll-off and the container is taken to a waste site to be emptied.

Static Waste Compactors
The Kenburn Select Static Compactor crushes waste in containers and whilst the compactor stays on your site, the container is taken away for emptying. We can help you identify the most suitable waste compactor to meet your needs. Designed and manufactured in Great Britain for Kenburn, these machines represent excellent value for money. They are well built, solid and simple in function.

Bergmann Jumbo Roll Packers
On this compactor a rolling drum with teeth is used to tear and compact bulky materials in open containers..

Bergmann Roto Compactors
These are very versatile machines, using a revolving drum to tear up almost any materials, producing sacks of waste for easy disposal.

Bergmann Wet Waste Compactors
These are Portable waste compactors and are specially designed to trap moisture content, whilst minimising odours and spillage.

Talk to us about the range of new and refurbished waste compactors for sale, available to purchase or rent.

More About Us:

After Sales Service
We will ensure that you receive excellent after-sales support to help you get the most from our waste management systems. Kenburn has a nationwide team of engineers equipped to install, service and repair the vertical balers, horizontal balers and waste compactors. We supply and carry out certified customer operator training. We can also repair and service balers and compactors produced by other manufacturers. Our engineers carry CCNSG Health and Safety Passports.

Consumables
We supply a comprehensive range of consumables that you can use with all of our waste handling products. We supply baling wire, strapping (baler tape) and rope suitable for all our vertical balers, together with the wire required for use on horizontal balers. We stock round and square format Roto Compactor bags in either regular or heavy-duty strengths. For general usage, we also supply racks and rack-bags. We carry an extensive stock of consumables and orders can be despatched same-day.

Training
We will provide certified training for up to six staff when we install your machine and can provide additional training at any time if you need to train new staff or provide your team with refresher training.

Contact Us
We have put together an extensive range of products, services and consumables to meet your waste management requirements and can find a solution for you to take account of your budget, the volume and range of material you need to manage and the size of your business. Our new and refurbished waste balers and waste compactors are available for you to buy, lease or rent. To find out more, call us by requesting the number above, submit an enquiry form or visit our website.

Company Videos

| | |
| --- | --- |
| | |
| Bergmann MPB Wet Waste Compactor | Bergmann PS8100 Waste Compactor |
| | |
| Bergmann Jumbo Roll Packer | Bergmann APB Waste Compactor |
| | |
| Balex Balers | Europress Factory |

www.kenburn.co.uk
Related Products and Services
Kenburn Select KH50 LF Horizontal Baler

Baler Twine

Compactor Sacks (Bags Standard)

9mm Baling Strap

Rewound Coils of Wire

Baling Wire - Cut & Loop

Bergmann APB 607 Portable Compactor

Europress Balex 50 Baler

Europress Balex 30 Baler

Baler Rope and Tape

Europress Balex 10 Baler

Bergmann Jumbo Roll Packer

Europress Balex 20 Baler

Kenburn Select Static Compactors

Bergmann MPB 906 Wet Waste Compactor

Kenburn Select Horizontal Waste Balers

Bergmann 1400E Roto Compactor

16mm Baling Strap

Kenburn Select KS250 Static Compactor

Kenburn Service

Bergmann Roto Compactor PS 8100

5

stars based on

8

customer reviews
Write a review
By TheJyates ,
Absolutely great service. We purchased a reconditioned cardboard baler and the machine has been completely overhauled with new electricals and components. Gordon and Jane have been excellent to deal with all the way through. Now making money out of cardboard which we used to pay to dispose of. Win! Thanks for all your advice and help.
Was this review useful?


By Peter Grant , Stockeld Park
As part of our existing environmental policy and our commitment to on-going improvements within the Park's operations department we wanted to ensure that none of our recyclable cardboard waste ended up in landfill. As one of North Yorkshire's premier family attractions our shop and kitchen generate large volumes of waste cardboard which we were previously throwing into a skip and being charged for disposal. We contacted Kenburn Waste Management who visited the Park and with a brief no obligation waste survey recommended their Europress Balex 10 baler would be the ideal solution. What gave us even more reassurance that this was the right machine for us was the fact it came with a full two year parts and labour warranty as opposed to the more usual 12 month warranty." Installing a baling machine has made an enormous difference to Stockeld Park and we're now obtaining revenue for a waste product we previously had to pay to be taken away so it's a win – win scenario.
Was this review useful?


By Andrew Littlejohns , Princesshay
The overall service from the time of the initial enquiry to the actual delivery was first rate and quick. The baler itself is working brilliantly and is so quiet compared to our other baler. We have no hesitation in recommending the services provided by Kenburn Waste. We would encourage any company interested in improving their waste management operation or replacing any existing equipment to consider using their services.
Was this review useful?


By John Mahan , Just Paper Tubes
Over the last fifteen years, we've been delighted with both the service provided by Kenburn, as well as the performance of our Bramidan baler. When we were ready to replace the machine, we only ever considered buying a Bramidan baler from Kenburn.
Was this review useful?


By Neil Dowds , Pincroft Dying and Printing Company Ltd
We've been extremely impressed with not only the performance of the compactor we've had for many years, but also with the after sales service that Kenburn offer in terms of support and maintenance. Our old compactor has performed reliably for as long as I can remember thanks to the excellent service we've received from Kenburn, but like with any capital equipment nothing lasts forever. When we needed to replace the machine, we didn't even bother talking to other suppliers due to the excellent relationship we've had with Kenburn. They know us and what we do and most importantly are aware of the volumes and types of waste streams we generate.
Was this review useful?


By Phil Chaloner , Pennine Accute Hospitals Trust
I would like to thank your engineers, as well as you and your team for the excellent service you have provided during the last twelve months.
Was this review useful?


By Sean Collinson , Rettenmaier UK
"We purchased a bale press recently from Kenburn and I wanted to say "Thank you" for the superb service we received. From originally selecting the item from your website, down to the installation and induction of the product to my staff, the level of customer services we have received is amazing. I will not hesitate to use your company again in the future and I would highly recommend your company."
Was this review useful?


By Adam Wigglesworth , Aylett Nurseries
"Over the past ten years Kenburn has supplied us with waste compactors and service. The compactor is excellent and well made and we have found it to be a reliable peice of equipment. The service and response from your company and staff has been very professional. We continue to stay with you as we get excellent value for money and deal with trustworthy people."
Was this review useful?


Key Contacts
Gail Foxcroft
Director
Tel: +447795468102
Email: gail.foxcroft

kenburn.co.uk
Payment Methods
Visa
Cash
Visa Debit
Cheque
BACS
MasterCard
Paypal
Direct Debit
Opening Hours
| | |
| --- | --- |
| Monday | - 08:30 to 17:00 |
| Tuesday | - 08:30 to 17:00 |
| Wednesday | - 08:30 to 17:00 |
| Thursday | - 08:30 to 17:00 |
| Friday | - 08:30 to 17:00 |
| Saturday | - Closed |
| Sunday | - Closed |