Todays Opening Hours
Thursday : 9:00-5:00
closed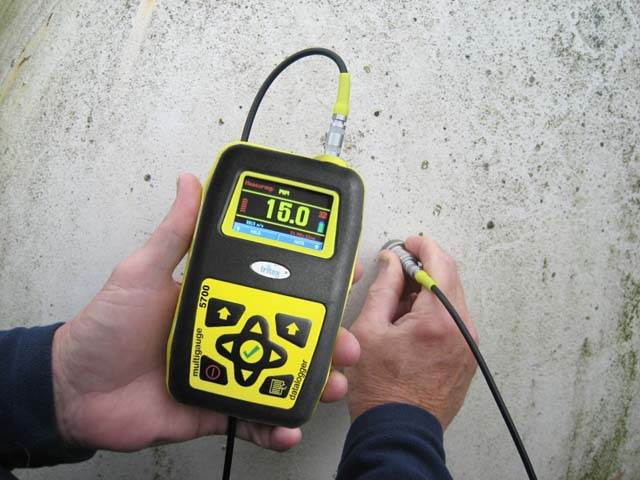 Ultrasonic & Underwater Thickness Gauges
Tritex NDT are manufacturers and suppliers of Ultrasonic Thickness Gauges.

Our range of Multiple Echo Ultrasonic Thickness Gauges are used extensively to measure the thickness of metals from one side only without the need to remove any protective coatings. They are also used to check corrosion levels on various equipment such as tanks, underwater equipment and pipelines.

At Tritex NDT we have used our wealth of experience and unique understanding of this technology to develop a range of products for a wide range of applications. It is only by understanding the problems and challenges clients face in these situations that enables us to provide them with the best possible solution.

Tritex technicians have applied this knowledge to designing and manufacturing a range of ultrasonic products that can be used to check and measure metal thicknesses without the need for coating removal which can sometimes result in costly replacements.

Products

All Tritex Multigauges are manufactured to comply with BS EN 15317:2007 which covers the verification and characterisation of ultrasonic thickness measuring equipment.

Products include:

Multigauge 3000
Multigauge 3000 Underwater is simple, and robust and designed for most common underwater thickness gauging applications.

To find out more Click Here

Multigauge 3100
The Multigauge 3100 Surface Display Unit can be used with the Multigauge 3000 and offers a display at the surface to indicate the measurements the diver below is getting by either a class surveyor or supervisor.

To find out more Click Here

Multigauge 4000
The Tritex Multigauge 4000 ROV is designed to be mounted onto all types of work class ROVs and is available in two models, for different depth levels.

To find out more Click Here

Multigauge 5500
The Multigauge 5500 Waist which mounts onto a belt or chest harness to allow hands free use.

To find out more Click Here

Multigauge 5600
Our Multigauge 5600 Hand Held ultrasonic thickness measuring device provides on screen user information such as probe frequency and battery remaining time.

To find out more Click Here

Multigauge 5700
The Multigauge 5700 Datalogger has all the same features of the Multigauge 5600 but with the added advantage of storing measurements within the gauge. Templates can be created to store readings in a grid, string or combination of both, allowing complete versatility for many applications. Data is transferred from the gauge to the PC using a wireless RF transceiver. Intuitive menus ensure setup is extremely easy whilst the bright LCD display can be used in all light conditions.

Multigauge 5650 Surveyor Thickness Gauge
The multigauge 5650 is designed for small craft and ship surveyors. To cover all requirements the 5660 is capable of single echo, echo to echo or multiple echo.

Multigauge 5750 Surveyor Datalogger
The 5750 model is a simple and robust ultrasonic thickness gauge designed for small craft and ship surveyors. It has multiple echo modes to suit all requirements, has an echo strength indicator and comes with intelligent probe recognition.

Multigauge 5300 GRP
The Multigauge 5300 GRP is designed to check the condition of engineering plastics or glass reinforced plastics. It can however be used on various uncoated metals and comes with wireless data transmission.

Multigauge 5350 GRP Datalogger
The 5350 is the next step up from the 5300, measurements can be stored on the gauge and wirelessly transferred to a PC from up to 1000m away.

Multigauge 6000 Drone Thickness Gauge
The NEW Multigauge 6000 mounts directly on to a UAV or Drone with all measurements transmitted wirelessly in real time up to 500 metres away. Its lightweight and comes with a plastic probe to further reduce weight.

Tritex NDT also offers a range of software to display measurement results from the Multigauge 3000 or the Multigauge 4000. It can also be used to store measurements in a string, grid or a combination of both.

Support

Tritex are always on hand in case of any questions or problems you may encounter, and you can contact us either by phone or e-mail. We will always do our best to make sure your gauge is always working to optimum performance levels.

www.tritexndt.com
Related Products and Services
Multigauge 5700 Datalogger

Multigauge 6000 Drone Thickness Gauge

Metal Thickness Gauge

Multigauge 5700 Gauge Body

Multigauge 5700 Kit

Multiple Echo 5600 Ultrasonic Thickness Gauge

Underwater Thickness Gauge

Diver Hand Held Thickness Gauge Kit

Ultrasonic Thickness Gauges

Diver Thickness Meter

Subsea Thickness Gauge

Multigauge Ultrasonic Thickness Meter

5

stars based on

7

customer reviews
Write a review
By Andrew Inkster , Shetland Islands Council
We are very happy with the underwater gauge. Its display is very easy to see in all conditions.
Was this review useful?


By Justin Green , J G Marine Services
Superb thickness gauge with excellent after sales service
Was this review useful?


By Ian Bolderson , Marine Inspection Services
We have been using the Multigauge 5500 in some very poor conditions here in Poland....rough steel, hot conditions & a really dusty environment & it is performing excellently. Tom does not like using the 'other' manufacturers gauge!!!"
Was this review useful?


By Jonathan Wamsteker , Sonometric
Tritex gauges are the best thickness gauges I have used (that exclude the paint) and they are less expensive than other makes that come close
Was this review useful?


By David Campbell , Pritchard-Gordon Tankers
Our need was urgent, your response matched our requirement and 48 hours after the phone call the thickness gauge was on a ship in the Caribbean and the job was completed successfully"
Was this review useful?


By Alan Minter , Valkyrie Diving
The Tritex Underwater Gauge is absolutely brilliant, we love it! If there was any problem we would tell you. Also, the service is excellent!"
Was this review useful?


By Denzil Oliver , Calor Gas Ltd
The Multigauge 5600 is a very robust gauge that will meet the demands of the modern workplace
Was this review useful?


Key Contacts

Jon Sharland
Sales & Marketing Manager
Tel: +44 (0) 1305 257160
Email: Sales

tritexndt.com
Payment Methods
Visa
Cash
Visa Debit
Cheque
BACS
MasterCard
Paypal
Maestro
American Express
Opening Hours
| | |
| --- | --- |
| Monday | - 09:00 to 17:00 |
| Tuesday | - 09:00 to 17:00 |
| Wednesday | - 09:00 to 17:00 |
| Thursday | - 09:00 to 17:00 |
| Friday | - 09:00 to 17:00 |
| Saturday | - Closed |
| Sunday | - Closed |