Todays Opening Hours
Wednesday : 9:00-5:00
Open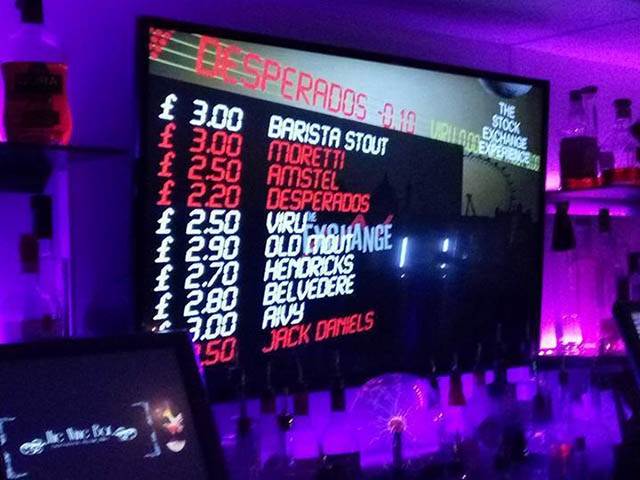 Turning bars into stock markets all over the world!

The Drink Exchange is an innovative concept that turns the standard bar environment into a stock market for one night and is designed to change the trading prices of drink and food every five minutes.

Created back in the nineties The Drink Exchange is now established over five continents and runs around every hour somewhere around the world.

It provides amazing fun for all of your customers not only in your bar but for letting other people know they are in the wrong one!

The prices change continually and are shown on a TV or other form of visual display and there's no need for additional hardware, just a compatible epos system.

This system is a highly cost effective way of boosting sales particularly on those otherwise struggling nights. It provides an engaging event night with all of the sophistication and intrigue that today's customers come to expect for a good night out.
Increased Revenue
With increased sales reported of up to 842% on certain products and all for just a minimal outlay of just £200 per month with unlimited usage this is a great way of bringing in customers so why not head over to the website where you'll find out what our customers say.
Set Up
Set up is extremely easy and can be carried out remotely including installation and configuration. We can get you up and running and trained within 90 minutes so to find out more why not visit our website or get in touch.
Full control
The whole system is completely controlled at the bar with products featured, MARKET CRASHES, maximum and minimum prices and even how quickly and how much the prices are changing.
Marketing
The Drink Exchange can even be linked to a bar's Twitter connection with insider tips that can be announced to your followers just minutes before the market crashes.
Your Sales
For those quiet times you can schedule market crashes to bring in customers because there's always something happening or about to resulting in increased sales.
How much does it cost?
The whole set up and training is absolutely free of charge, all you pay is £200 per month which includes unlimited use no matter where you are based. The price also includes full support and geographical exclusivity so why not take a look at the website to find out more.
www.jdp-worldwide.com
Related Products and Services
The Stock Exchange Experience

The Drink Exchange

Discounted High End Spirits

Buy LOW, drink PLENTY

Stock Market Drink

Stock Exchange Drinks Promotions

5

stars based on

5

customer reviews
Write a review
By Frankie's Sports Bar ,
Everything went great! In fact, we now have a liquor vendor (or two!) that wants his products to be featured weekly on THE EXCHANGE and is willing to subsidize part of our costs in return! Win Win!
Was this review useful?


By O'Dwyer's Bar ,
Thought I'd let you know, trial test going great. Amazing speaking point. Only problem is the darts match taking twice as long as they are watching the screens instead!
Was this review useful?


By Salt Nightclub ,
I can fully endorse THE EXCHANGE as a cost effective means to enhance an otherwise struggling night.
Was this review useful?


By The Litten Tree ,
Not only do our figures show an increase in revenue of almost 480% & a spend per head increase of almost 90% but GP also rose!
Was this review useful?


By Essex SU ,
It was brilliant. The best event we've ran and our highest takings for the whole of Freshers.
Was this review useful?


Key Contacts

Chris Dunkley
Managing Director
Tel: 01323 406237
Email: Chris

drinkexchange.co.uk
Opening Hours
| | |
| --- | --- |
| Monday | - 09:00 to 17:00 |
| Tuesday | - 09:00 to 17:00 |
| Wednesday | - 09:00 to 17:00 |
| Thursday | - 09:00 to 17:00 |
| Friday | - 09:00 to 17:00 |
| Saturday | - Closed |
| Sunday | - Closed |