Todays Opening Hours
Monday : 8:30-4:30
closed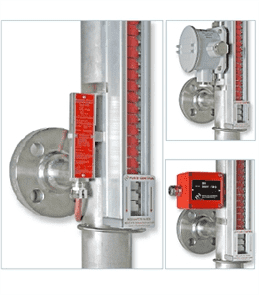 Leading Manufacturer of TCFC Magnetic Level Gauges
TC Fluid Controls are specialists in the design, manufacture and supply of Liquid Level Instrumentation.

Not only has TC Fluid controls gained a wealth of experience in this sector but have also a team of sales application engineers who are able to offer their depth of knowledge to ensure you are supplied with the correct level instrumentation product to meet your process requirements.

The products which have been developed at TC Fluid Controls are widely known throughout the world for their high quality and reliability.
Products
TC Fluid Controls offer a complete range of TC Klinger liquid level instrumentation including a range of level gauges for steam and process applications such as Reflex Level Gauges, Valves & Cocks and Transparent Level Gauges.

Additionally we are also able to supply a range of Guided Wave Radars, Level Switches, Combined Magnetic Level Gauges and Level Transmitters.

Magnetic Level Gauges:
TC Fluid Controls range of Magnetic Level Gauges provide immediate and accurate response to level changes with clear sharp legibility.

LevelSure Gauges:
The LevelSure Gauge from TC Fluid Controls offer continuous level indication across various liquid types such as steam and arduous chemicals.

Instrument Chambers:
Available with butt welded or slip-on welded flanges, in diameters up to 6" with unlimited length.

Remote Display System:
TC Fluid Control Remote Display Systems allow remote monitor instrument readings and can be mounted on carrier rails, surfaces and panels.

Process Level Gauges:
We offer both transparent and reflex types with ratings of up to ANSI 1500 Temperature Range – 196 to 400 C.

Steam Level Gauges:
TC Fluid Control provide a comprehensive range of Reflex, Transparent + Bi Colour types. Reflex Level Gauges are supplied with armoured reflex glass operating at 22 bars. Transparent Level Gauges are supplied with extra thick micas to operate up to 120 bars. Bi Colour Level Gauges are available with illuminators with pressure capability of 70 – 210 bars.

Immersion Level Instrumentation:
Applications include direct mounting to tanks or vessels with pressures up to 40 bars, temperatures up to 150 C.

Instrument Valves - Hand Operated Needle Valves:
We offer a range of Needle Valves and Stainless Steel Manifolds for pressures up to ANSI 2500 400 bars.

Glasses:
Glasses from TC Fluid Controls range of Glasses include Long and Circular types with High Quality Borosilicate and Aluminosilicate, Thermally Pre-stressed, Uniform Glass Quality and Reflex/Transparent and Circular Glasses.

If you would like further information about any of the products TC Fluid Controls are able to provide please contact us.
www.tc-fluidcontrol.com
Related Products and Services
Switches

Special Applications

Remote Display System

Process Level Gauges

Magnetostrictive Transmitter

Levelsure

Instrument Chambers

Immersion Level Instruments

Illuminators

Accessories

AB Cocks

Bi-Colour

0

stars based on

0

customer reviews
Write a review
Key Contacts

Paul Forrester
Sales Office Manager
Tel: Tel: +44 (0) 1322 622 400
Email: instruments

tc-fluidcontrol.com
Payment Methods
Visa
Visa Debit
BACS
MasterCard
Opening Hours
| | |
| --- | --- |
| Monday | - 08:30 to 16:30 |
| Tuesday | - 08:30 to 16:30 |
| Wednesday | - 08:30 to 16:30 |
| Thursday | - 08:30 to 16:30 |
| Friday | - 08:30 to 16:00 |
| Saturday | - Closed |
| Sunday | - Closed |