Todays Opening Hours
Sunday : Closed
closed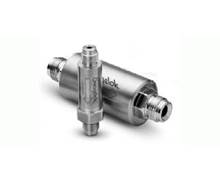 Swagelok Regulators, Valves, Hoses, Flexible Tubing & Fittings
Welcome to Swagelok Scotland, we have just completed four years as the authorized Swagelok sales and service centre in Scotland, however Swagelok has been present in Scotland for over 30 years supplying Swagelok Regulators, Valves, Hoses, Flexible Tubing & Medium Pressure Fittings. Swagelok Scotland being one of more than 200 authorised sales and service centres worldwide.

It has certainly been a very busy period where our initial emphasis was to drive operational excellence and optimize the supply chain side. This was accomplished with a rapid turnaround on requests for Valves & Fittings quotes, (now typically within 60 minutes for standard items), increased local inventory, and swift inventory replenishment.

The combination of these accomplishments enabling us to achieve next day delivery on most orders - the introduction of our Aberdeen delivery service being very well received. We have also introduced a number of new services including Assembly Services, a suite of Inventory Management Programmes and opened a Training Division with an expanding curriculum of training courses to meet local industry requirements.
Swagelok Regulators
Pressure Regulators and Gas Regulators
Regulators: Pressure Reducing, Back Pressure, Vaporizing, Ultrahigh-Purity, Modular

...• Instrumentation-grade and ultrahigh purity models
...• Unique design features such as metal-to-metal seal to atmosphere
...• Self-vent and captured-vent options

Swagelok® Pressure-Reducing Regulators
Pressure-reducing regulators control outlet pressure by balancing an adjustable spring force against the forces caused by inlet and outlet pressures. The spring force is adjusted by turning the stem/handle, which sets the desired outlet pressure. Swagelok pressure-reducing regulators offer reliable pressure control over a broad range of pressures, control ranges, and control requirements. Features...

...• Piston-sensing and diaphragm-sensing designs
...• Fine-pitch stem threads enable precise spring adjustment with low torque
...• Captured dual-gauze type filter
...• High-pressure and high-flow models
...• Two-stage regulators
...• Low-pressure models
...• Venting options available

Swagelok® Back-Pressure Regulators
Back-pressure regulators control inlet pressure by balancing an adjustable spring force against the force of the inlet pressure. The spring force is adjusted by turning the stem/handle, which sets the desired inlet pressure. When the force rises above the force of the spring, the regulator opens until the spring force and inlet pressure are balanced again.

Pressure Regulators - Specialty Models
Swagelok® specialty pressure regulators include a gas cylinder changeover model that automatically switches between two sources, as well as steam-heated and electrically heated gas vaporization models. Regulator Models...

...• Gas Cylinder Changeover (KCM Series)
...• Steam-Heated Vaporizing, Diaphragm-Sensing Pressure-Reducing (KSV Series)
...• Electrically Heated Vaporizing Pressure-Reducing (KEV Series)

Swagelok Valves, Gauges & Adapter Fittings
Swagelok® Valves
Ball, Bellows-Sealed, Bleed and Purge, Butterfly, Check, Diaphragm-Sealed, Excess Flow, Manifold, Metering, Modulating, Needle Shutoff and Regulating, Pinch, Plug, Relief, Single-Seat, and Stream-Select Valves

...• Instrumentation and process valves and manifolds
...• Wide variety of end connections, including gaugeable Swagelok tube fittings
...• Broad working pressure and temperature ranges
...• Standard and special cleaning options available for high-purity and ultrahigh-purity service

Swagelok Pressure Gauges
Swagelok gauges provide accurate pressure measurement for industrial, ultrahigh-purity, and sanitary applications. They are offered in a wide range of pressure ranges, dial sizes, connections, mountings, and options to support a wide range of customer requirements.

...• Industrial and Process Pressure Gauges
...• Ultrahigh-Purity Pressure Gauges
...• Sanitary Pressure Gauges

Swagelok® Gaugeable Tubing Fittings and Adapter Fittings
The live-loaded, two-ferrule tube fitting is easy to install, with no torque transmitted to tubing during installation. The Swagelok gap inspection gauge ensures sufficient pull-up upon initial installation.

Swagelok® Medium-Pressure, Gaugeable Tube Fittings and Adapter Fittings
The Swagelok medium-pressure tube fittings offer a leak-tight gas seal and vibration resistance in applications up to 15 000 psig (1034 bar).

Hoses and Flexible Tubing from Swagelok
Swagelok offers a wide range of hose and flexible tubing products for a variety of fluid handling system needs.

Hoses are available factory assembled or as individual components—bulk hose and end connections—ready for field assembly. Core materials include stainless steel, PTFE, PFA, nylon, polyethylene, and Buna N rubber. A complete range of industrial and sanitary end connections is available.

Flexible tubing is available in stainless steel, PFA, and vinyl. Select types are available as factory assemblies. Features...

...• Hose—multiple-layered flexible conduit
...• Tubing—single-layered flexible conduit
...• Static and dynamic applications
...• Vacuum service to working pressures up to 5000 psig (344 bar)
...• Temperature ranges –325 to 850°F (–200 to 454°C)
...• ECE R110-approved hoses available.

Swagelok® Tubing and Tube Supports
Tubing: Chemically-Cleaned and Passivated, Ultrahigh-Purity Stainless Steel, Sanitary, Medium-Pressure, Pre-Coned, Insulated, Jacketed, and Pre-Insulated Bundled

...• Stainless steel, SAF 2507¬™, and titanium alloyr tubing
...• Standard instrumentation and ultrahigh-purity tubing
...• Custom fabrications and skid-mounted systems
...• Tube supports for tube and hose sizes 1/4 to 6 in. and 6 to 25 mm
...• Tools and accessories for use with tubing

Hoses and Flexible Tubing from Swagelok
Swagelok® Liquid Leak Detectors, Lubricants, and Sealants
Products: Snoop® Liquid Leak Detectors, Goop® Thread Lubricants, Pipe Thread Sealants, Tube Plugs

...• Snoop and Real Cool Snoop liquid leak detectors
...• Blue GoopTM, Pure GoopTM, Silver GoopTM, and Vac Goop thread lubricants
...• SWAK® pipe thread sealant, PTFE Tape, and PTFE-Free pipe thread sealant
...• Heat exchanger tube plugs

Swagelok Quick-Connects
Quick-Connects: Instrumentation, Full-Flow, Miniature, PTFE-Sealed

...• Design minimizes spillage and air inclusion.
...• Push-to-connect design enables quick, simple operation. No twisting, turning, or wrenching
...• Wide variety of configurations, end connections, and stem and body connectors.
...• Available in single-end shutoff and double-end shutoff models.

Swagelok® Sample Cylinders
Cylinders: Transportation-Compliant (DOT, TPED, Transport Canada), Single- and Double-Ended, Miniature

...• Sizes from 10 to 3785 cm³ (1 gal)
...• 304L, 316, 316L, and alloy 400
...• Working pressures up to 5000 psig (344 bar)
...• Variety of options including integral valves, outage tubes, and specialty coatings

Swagelok Welding System
System Components: Welding Power Supplies, Weld Heads, Fixture Blocks, Side Plates, Plenum, and Collets

...• Cost effective and reliable gas tungsten arc welds
...• Lightweight, portable power supply
...• Selection of weld heads
...• Variety of tools and accessories

Find thousands of Swagelok products by utilising our enhanced product search on Swagelok.com click here for more information.
Company Video
www.swagelok.com
Related Products and Services
Filters

Fittings

Measurement Devices

Valves

Hoses and Flexible Tubing

Miniature Modular Systems

Quick-Connects

Regulators

Pre-Engineered Subsystems

Tubing and Tube Accessories

Sample Cylinders

Leak Detectors Lubricants, Sealants

0

stars based on

0

customer reviews
Write a review
Associations
Approvals & Certificates

ISO 14001 Environmental management systems – Requirements with guidance for use

BSi - British Standards Institute

OHSAS 18001

ISO 9001 Quality management systems
Events & Shows
Opening Hours
| | |
| --- | --- |
| Monday | - 8:30 to 5:30 |
| Tuesday | - 8:30 to 5:30 |
| Wednesday | - 8:30 to 5:30 |
| Thursday | - 8:30 to 5:30 |
| Friday | - 8:30 to 5:30 |
| Saturday | - Closed |
| Sunday | - Closed |