Todays Opening Hours
Sunday : Closed
closed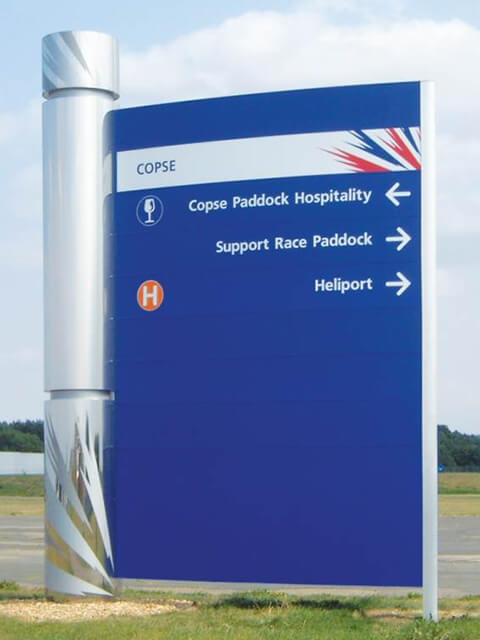 Create popular and unique Sign and Notice Board solutions
As a manufacturer of Sign Systems, External Notice Boards, Wayfinding Signage and Information Displays since 1973, we are a leading and long-standing supplier to the UK and European, Sign and Visual Communication industries, primarily supplying products through sign makers, trade resellers and specialist distributers. We are always looking to expand our network of resellers and distributors for our Sign Systems, notice board and Information Display products.

Renowned for quality, style and durability, we specialise in tailoring our sign and display products to suit the image, location and application of each client. As such we are often a first port of call for sign trade supplies and for more unique signage solutions, bespoke notice boards and printed whiteboards. With over 40 years' experience and expertise, we can also assist with larger national contracts, where additional expertise and technical support is required.
Sign Systems
Our modular and aluminium sign systems are chosen by many of the industry's leading sign makers, for their innovative design and functionality, flexibility, superior build quality, and ease of installation. The sign systems can be used in isolation, or combined to create popular and more unique signage solutions including: post and panel signs, flush panel signs, curved panel signs, wayfinding signage, desk, door and wall signs, directory signs, monolith signs, and finger-post signs. We can also manufacture other sign trade supplies as required including folded tray signs, street nameplate signs, lectern signs, sign panels and paper insert signs. Please click here to view our sign system brochure online

We can also manufacture other sign trade supplies as required including folded tray signs, street nameplate signs, lectern signs, sign panels and paper insert signs.
Premium and Bespoke Notice Boards
We pride ourselves on the premium nature of our notice board and poster case products, which are available for both interior and exterior use, in wall, post, stand, rail and monolith formats. We offer the widest range of mounting and tailoring options of any UK notice board manufacturer, allowing clients to order a notice board that suits both their image and their location.

From large glazed and post mounted, external notice boards, with custom headers and printed graphics right down to custom unframed pin boards with a specialist fabric, we are known for our ability to supply custom and bespoke notice boards for specific applications, including; employee photo boards, health and safety boards, public information boards, office memorandum boards, official document boards, bulletin boards, fire safety boards, roll call boards and much more.
Solar Powered Notice Boards
Our new 'EcoVision' notice boards provide a greener and cost sustainable method of illuminating an external notice board. Powered by daylight, our EcoVision boards use a combination of motion and time sensors to ensure they always have sufficient power to illuminate when required. This technology dramatically reduces installation and running costs when compared to traditionally illuminated boards, as well as being safer and maintenance free (comes with a 25 year guarantee).
Plain and Printed Whiteboards
We are a leading supplier of the highly innovative custom printed whiteboard solution, which provides an effective way of capturing large amounts, of constantly changing of information, which is often accessed by teams of people. A very popular solution for monitoring; patient healthcare in hospitals, production schedules in factories, company strategies and sales targets in office settings, and company health and safety performance.

Our custom printed whiteboards are available in magnetic and non-magnetic options, and can be tailored to extend their functionality with the use of poster holders, leaflet dispensers and/or printed magnetic pieces. Our plain whiteboards are also very popular due to their premium and long-lasting build quality, and our ability to offer made to measure sizes, even for low quantities.
Other information Displays
Our 'Econ Peg' letter boards have proved particularly popular in the last few years, with their retro design becoming desirable for many eateries and other retail settings, whilst our 'Variatex Groove' letter boards continue to be popular in hotel and conferencing locations. Our 'Papyrus' paper insert signs and Scroll poster and certificate frames provide an affordable, yet elegant and upmarket presentation for internal signage and notices that require regular change. Our 'Bannerfix' kits are ideal for fixing banners to walls, columns or round posts.
Areas Covered
Aberdeen
Andover
Ashford
Avon
Aylesbury
Banbury
Bangor
Basingstoke
Bath
Beaconsfield
Bedford
Bedfordshire
Belfast
Berkshire
Birmingham
Bishops Stortford
Borders
Bournemouth
Bracknell
Bradford
Bridgend
Brighton
Brighton and Hove
Bristol
Buckinghamshire
Camberley
Cambridge
Cambridgeshire
Canterbury
Cardiff
Carlisle
Central
Chelmsford
Cheltenham
Cheshire
Chester
Chichester
City of London
Cleveland
Clwyd
Colchester
Cornwall
Coventry
Crawley
Cumbria
Derby
Derbyshire
Devon
Dorchester
Dorset
Dover
Dumfries and Galloway
Dundee
Durham
Dyfed
East Sussex
Edinburgh
Ely

Essex
Exeter
Fife
Folkestone
Glasgow
Gloucester
Gloucestershire
Grampian
Greater Manchester
Guildford
Gwent
Gwynedd County
Hampshire
Hemel Hempstead
Henley
Henley-on-Thames
Hereford
Herefordshire
Hertford
Hertfordshire
High Wycombe
Highlands and Islands
Humberside
Inverness
Ipswich
Isle of Wight
Kent
Kingston upon Hull
Lancashire
Lancaster
Leeds
Leicester
Leicestershire
Lichfield
Lincoln
Lincolnshire
Lisbon
Liverpool
London
Lothian
Luton
Maidenhead
Maidstone
Manchester
Merseyside
Mid Glamorgan
Milton Keynes
Newbury
Newcastle upon Tyne
Newport
Newry
Norfolk
North Yorkshire
Northampton
Northamptonshire
Northumberland
Norwich
Nottingham

Nottinghamshire
Oxford
Oxfordshire
Peterborough
Plymouth
Poole
Portsmouth
Powys
Preston
Reading
Reigate
Ripon
Rutland
Salford
Salisbury
Sheffield
Shropshire
Slough
Somerset
South Glamorgan
South Yorkshire
Southampton
St Albans
St David's
Staffordshire
Staines
Stirling
Stoke-on-Trent
Strathclyde
Suffolk
Sunderland
Surrey
Swansea
Swindon
Taunton
Tayside
Telford
Truro
Tyne and Wear
Wakefield
Warwickshire
Watford
West Glamorgan
West Midlands
West Sussex
West Yorkshire
Westminster
Weymouth
Wiltshire
Winchester
Windsor
Wolverhampton
Worcester
Worcestershire
Wrexham
Yeovil
York
For further information on our company, our products, or becoming a reseller, please contact our sales team on 01934 852 888.
www.sign-making-supplies.co.uk
Related Products and Services
Curved monolith sign

Finger post signs

Large monolith signs

External notice boards

Post and panel sign

Curved directory sign

Notice board monolith

External poster cases

Solar notice boards

Printed whiteboards

Custom notice boards

Changeable letter boards

5

stars based on

3

customer reviews
Write a review
By Ann Ferguson , Dawlish Community Hospital
Just to let you know, our boards arrived today and they are perfect! Thank you very much for putting them together for us.
Was this review useful?


By Denise Aspland , Darent Valley Hospital
I just wanted to let you know how delighted I was with our new department whiteboard which arrived this week. It looks extremely professional and has obtained many 'Oooo's' and 'Arhs' from several staff (and may have produced a few more orders I feel!!) You have captured all my needs and exceeded my expectations of what the final product would look like. Thank you once again from a VERY satisfied customer.
Was this review useful?


By John McRae , Stand-up Marketing
I just want to compliment your company's production team for producing what is an outstanding product; the finish is superb. They also did it within agreed deadline. Also Jamie I would again thank yourself for your outstanding service. You were one of the main reasons for placing the order with your company even though one other quotation was marginally cheaper. Your product knowledge and advice was greatly appreciated and gave me the confidence to place the order with your company. Also your communication skills meant that I knew at every stage where the order was and this allowed me to plan ahead for the boards' installation. So a big 'thank you' to you and the team.
Was this review useful?


Payment Methods
Visa
Cash
Visa Debit
Cheque
BACS
MasterCard
Maestro
Payment Terms
Pro-Forma
15 days
30 days
60 days
Opening Hours
| | |
| --- | --- |
| Monday | - 08:30 to 17:30 |
| Tuesday | - 08:30 to 17:30 |
| Wednesday | - 08:30 to 17:30 |
| Thursday | - 08:30 to 17:30 |
| Friday | - 08:30 to 17:30 |
| Saturday | - Closed |
| Sunday | - Closed |