Todays Opening Hours
Sunday : Closed
closed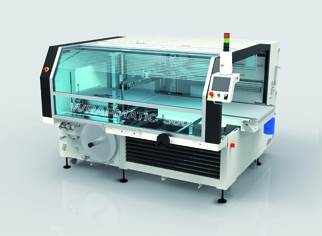 UK's leading independent supplier of mailing equipment
As a UK key supplier of mailing equipment and associated consumables AMS is able to provide support to a wide range of companies requiring efficient and cost effective mailing solutions.

We offer a range of quality machinery and equipment which has been designed and manufactured to save users time and money.

...• Mailing Equipment
...• Packaging & Label Equipment
...• Mailing Software
...• Mailing Supplies
...• Used Mailing Equipment
Packaging & Label Equipment
We have been providing our customers with poly wrapping equipment for over 20 years.

Today we have expanded our product range to include shrink wrapping machines and label printers which give that professional look to any printed labels on your products.

Shrink Wrapping Machines
Our new range of shrink wrapping machines allow your products packaging to remain clear and appealing whilst also adding protection. Shrink wrap can protect items from water damage and add additional strength to the items packaging.

Label Printers
Label printing has become an important aspect for many businesses as printing your own colour labels help increase profits and sales revenue. We provide an excellent range of label printers on our website.

To view our range of packaging equipment Click Here
Mailing Equipment
Envelope Printers
Our range of envelope printers have led the way for over two decades. All have been specifically designed to reduce your mailing time, saving you time and money.

Folder Inserter Machines
We all know that stuffing envelopes can be a long and tedious task. It is our aim to remove this tiresome task by supplying one of the most comprehensive ranges of folder inserter machines.

Envelope Wrapping Systems
Also known as the 3-in-1 mailing system this unique wrapping system can print fold, enclose and seal at the same time.

Poly Wrapping Systems
The range of poly wrapping systems from AMS is an extremely fast and efficient way to enclose and post magazines.

Tabbing Machines
AMS offers a range of cost effective alternatives to the usual envelopes by using a small adhesive tab on your folding mail.

Labelling Machines
Our great range of labelling machines are very economical and can save you time and money with your labelling tasks.

Envelope Sealing Machines
We supply an innovative range of envelope sealing machines.

Folding Machines
Why not take the labour out of the mailing process. Let us supply you with a folding machine that can duplicate your work in minutes rather than hours.

A4 Printers
AMS is able to supply a range of high quality A4 printing machines that offer exceptional colour print quality.

Printer Envelope Feeders
Our printer envelope feeders offer dependable feeding and collating solutions for mailing inserters, ink jet printers and labellers, offset presses, shrink poly wrap and many more applications so why not get in touch to find out more.

Conveyors
AMS also manufacture a great range of conveyors and dryers to further complement our other ranges of products.

Production Systems
Our range of production systems provides reassurance that mail pieces match every time while still satisfying an ever increasing need to ensure product integrity.

To view our range of mailing equipment Click Here
Mailing Software
We also offer a range of state of the art software systems so whether you need to maximise your postal discounts or present mailing in an eye catching way we will have the right software to meet both your requirements and budget.
Mailing Supplies
We offer a range of low cost high quality consumables including:

...• Envelopes
...• Poly & Shrink Film
...• Adhesive Tabs & Labels
...• Inkjet Cartridges

This is only a sample of the wide range of quality products and services available so why not visit our website to find out more.
Why AMS?
We have over twenty years of experience in the mailing house industry and as engineers are able to ensure we provide our customers with a service second to none. This is why many of our customers return to us time and time again for their mailing solutions.

AMS  is adaptable and flexible supplying a wide range of machinery and equipment from some of the industry's leading manufacturers. We also offer advice where needed, bespoke solutions and an efficient aftercare support service.

All of the products supplied by AMS come with a full onsite warranty with the option to purchase a maintenance package if you so wish. We also offer an `easy pay` payment system designed to spread the cost of your maintenance package.

All equipment can either be purchased or leased whichever suits your budget.
www.ams-gb.com
Related Products and Services
Shrink Wrapping Machines

Envelope Printers

Label Printers

Poly Bagging Systems

Folder Inserter Machines

Tabbing Machines

Labelling Machines

Envelope Sealing Machines

Machine Furniture

Conveyors

Mailing Supplies

Shrink Wrap

0

stars based on

0

customer reviews
Write a review
Key Contacts

Victoria Christen
Marketing Manager
Tel: 01992 460 111
Email: victoria.christen

ams-gb.com
Opening Hours
| | |
| --- | --- |
| Monday | - 09:00 to 17:00 |
| Tuesday | - 09:00 to 17:00 |
| Wednesday | - 09:00 to 17:00 |
| Thursday | - 09:00 to 17:00 |
| Friday | - 09:00 to 17:00 |
| Saturday | - Closed |
| Sunday | - Closed |