Todays Opening Hours
Monday : 8:30 - 5:30
Open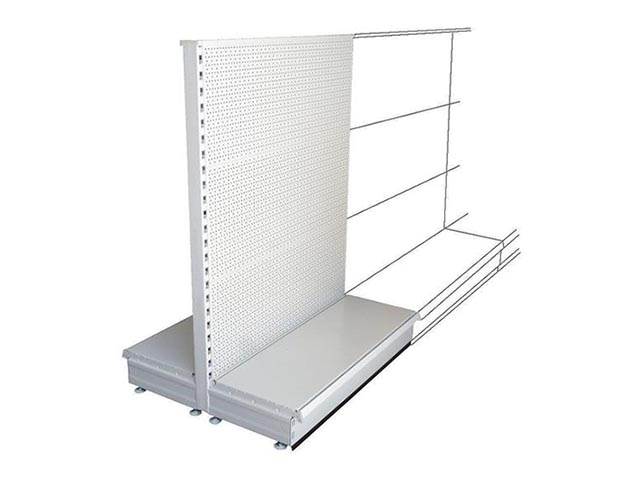 UK Supplier of Shopfittings & Display Equipment

KAS Shopfittings have been successfully supplying retailers with display equipment and Shop Shelving Systems on the internet for over 12 years. Whilst we mainly trade on-line we are a real company family-run with over £500k of stock in our own warehouse ready for Next Day delivery. We buy directly from factories in the Far East, Europe and the UK which enables us to offer very competitive pricing across our product range. Our origins date back beyond the web to 1984 when we originally started as shopfitters so we have extensive background knowledge to call on.
Shop Shelving Systems
We always have shelving in stock as we have been supplying shelving since the 1980s. Our system offers consistent quality, strength, flexibility & the ability to be customised. It is used by major supermarkets and small convenience stores, garden centres and DIY shops. Our website has comprehensive details including real-life examples to inspire, installation hints & tips, and customisation options.

For more information on Shop Shelving Systems Click Here
Chrome Wire Shelving
This is a simple but good looking and strong shelving system that combines practicality with contemporary looks. Often used in the kitchen for dry goods and utensils, popular with a wide range of retailers including homewares and cookware shops, it is also a great storage solution for offices. Also often used in industry for parts storage - we supply Chrome Wire Shelving to many companies in aerospace and motorsport for whom the strength, flexibility and high tech appearance are ideal. We import direct from the Far East so we have the lowest prices around.

To view our Chrome Shelving Click Here
Shop Counters
We have an excellent range of quality shop counters and joinery. Our standard range are well made fully-assembled counters that are a cut above cheap flat-pack offerings on the web but won't break the bank. Our counters are made in UK with efficient hi-tech machinery that keeps costs down and quality high, and also allows us to offer custom colours and sizes. Standard designs include Till Points, Cash/Wrap units, 1/3 Vision and Full Vision part-glass display counters, and corner units. If you require something not covered by a standard design we can produce custom counters in premium highly durable materials incorporating curves and other features. We also offer display cabinets in glass and aluminium. All counters arrive fully assembled via dedicated transport. Our website has examples of our work and colour charts as well as comprehensive pricing information. Options include counter tops in Marmoleum, Laminates or Solid Surfacing such as Corian or Hanex; Lighting in LED, halogen & fluorescent… Call us or email to discuss further!

For further information on Shop Counters Click Here
Slatwall Panels
Arguably the most widely used display system in non-food retailing. We are one of the few companies that hold slatwall panels in stock, and we have each finish in full sheet and half-sheet sizes. Big choice of finishes including solid colours such as white, cream, black & grey; wood finishes such as Oak, Ash, Maple and Beech; and a Granite patterned finish. We hold a choice of insert colours in pvc as well as timeless aluminium.

To take a look at our Slatwall Panels Click Here
Slatwall Accessories
The best thing about slatwall is the vast range of display accessories available. Whilst no single supplier can hope to stock every type of slat fitting we do hold a large variety in acrylic, plastic and chrome steel. Just about every shop with slatwall has some hooks and hold tens of thousand in a choice of sizes and designs. There is a trend toward hooks with an overhead arm that carries the price and barcode label and we stock both single prong and euro loop hooks with this arm.

To view our range of Slatwall Fittings Click Here
Grid Panel Display System
This system uses chrome wire grid panels in a choice of sizes. Can be wall-mounted or used on bases and legs, this system is a cost effective alternative to slatwall, is easily transported and quick to install. It's popular with mobile traders of all sorts - exhibitions, shows, markets as well as permanent installations in shops. There is a range of hooks, arms and shelves that enable most merchandise to be displayed.
Dump Bins, Stacking Baskets, Garment Rails and much more…
We can't mention every piece of retail display equipment here so please visit our website to view a comprehensive choice of shop fittings. We are often complemented on the ease of use of our website and the info provided, as well as the prices! Call us to discuss your project or place an order with a real human being - you won't be disappointed.
www.kasshopfitting.co.uk
Related Products and Services
Shelving Gondolas & Wall Bays

SlatGrid System

Shop Counters

Slatwall Gondolas

Traditional Garment Rails

Shopping Baskets

Concept Display System

Chrome Shelving

4 Arm Garment Stands

Card Units

Dump Bins

TwinSlot Shelving

Stacking Baskets

Grid Panel System

Halo Display System

Slatwall Panels

Wood Shelves

Slatwall Fittings - Acrylic

Pegboard Hooks

Glass Shelves

Garment Hangers

5

stars based on

14

customer reviews
Write a review
By Stv ,
Hi Simon and Steve, Wire Shelving arrived early - put together and in place and filled with stuff by 1.30pm. One of the easiest purchase I made in ages. Looks amazing and fits perfect - if you want your kitchen to look professional this is the right thing to get. Cheers
Was this review useful?


By Jonathan Skrine ,
Thank you, the posts were just what I wanted. I have been looking for some at a sensible price for over a year, but all the other suppliers were either not interested in selling 'spares' or wanted a fortune for them. I will be back in future for more 'stuff'. One more thing I must add, I usually order over the internet as I hate 'telephone salespeople' - I worked internal sales myself in my youth and feel like throttling most of them. It was a great pleasure to deal with a lady who did her job perfectly. I couldn't fault her. Thank you for excellent service and speedy delivery at a price that didn't break the bank.
Was this review useful?


By L Beardsley ,
Excellent service - received items yesterday. Many thanks
Was this review useful?


By Bragi ,
I wanted to let you and your colleagues know that not only were the products absolutely great, but we actually had the box in our hands 27 hours after I made the phonecall to order. From UK to Iceland, that has to be considered lightning-quick! Thank you ever so much - we'll be sure to buy all our shopfittings from you in the future. Bragi.
Was this review useful?


By Danny Abbondanza ,
Many thanks, all delivered and thank you for a great service, will be in touch. Kind regards to all,
Was this review useful?


By Sapphire Dog Training ,
I ordered some shopfitting items from you on Thursday last week, which I have received this morning. The items are brilliant, and just what we need. Thank you so much for a great service. .
Was this review useful?


By Sporting Choice ,
I would just like to say what a pleasure to do business with a new firm and to receive such excellent service! It is such a rare happening in this day so please accept this compliment!
Was this review useful?


By Pam Hoffman , London Guitar Studio
Just to let you know that the counters were delivered safe and sound yesterday. We are very pleased with them!
Was this review useful?


By Richard Wright , St John Ambulance Humberside
Received thank you. May I also thank you for your excellent service. Given the weather conditions - the fact that I only placed this order on Thursday afternoon and the items were delivered at 0930 the following morning, was outstanding. Well done to all concerned!
Was this review useful?


By Yvonne , Golden Castle
Thank you very much for the invoice - just to let you know that we are very happy with the counter and appreciate your help and speedy delivery of this item which exactly matches the furniture that we already have.
Was this review useful?


By Alex , Level Up Games
Thank you very much for my order. I have to say thanks very much for your friendliness and service, an absolute pleasure to deal with you folks :). My order arrived perfectly top marks all round! As and when I need any more fittings for the slat wall you will be the first place I come to.
Was this review useful?


By Carl , Plumsoles
I just want to say thank you for the exceptional service you have provided from sending the goods in super quick time through to responding to my email as well. I cannot wait to use your exceptional service again in the future.
Was this review useful?


By Vanessa Heath , The Moon and Sixpence
Hello KAS Shopfitting Ltd, I just wanted to say thank you very much for your speedy service - the parcel arrived almost before I had put the phone down!
Was this review useful?


By Stephanie , Bayview Garden Centre
Thanks for excellent service...my card racks arrived the following morning!
Was this review useful?