Todays Opening Hours
Sunday : Closed
closed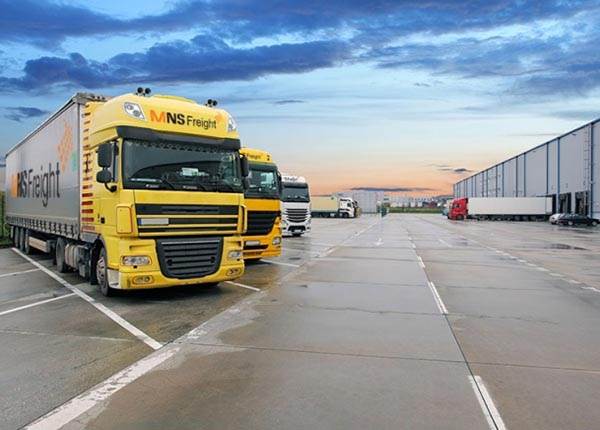 A UK Road, Sea and Air Freight Forwarding Company
MNS Freight is one of the UKs most independent and highly respected freight forwarding companies with many years of experience in global freight forwarding including fast air freight, safe road freight, reliable sea freight, quick courier service and more.

As one of the UKs longest established service providers in this sector MNS Freight is able to provide a quality freight forwarding service to its customers at a competitive rate all of which can be tailored to meet your exact requirements.

We will ensure that not only will your cargo arrive at the time you want it to, it will be delivered safely, economically and efficiently so why not call us today for a free quote.

Why MNS Freight
...• Competent and Experienced People
...• Excellent Sea Freight Shipping
...• Safe Road Freight
...• Complete Customs Clearance
...• Safe and Economical
...• Container Shipping Globally
...• Competitive Rates
...• Friendly & Flexible
...• We Listen
...• Single Point of Contact

For detailed information on all of our services Click Here

Our Mission
At MNS Freight our mission is simple!

We create benchmarks of consistency and quality with a commitment in the integrated logistics business around the globe. We will always strive to exceed our customers' expectations to simplify their lives through long term relationships and commitment and honesty.

To find out more about us Click Here

Sea Freight Shipping
We provide a highly reliable sea freight service through our respected network of International Freight Forwarding partners.

We offer our customers a one stop solution to include freight forwarding, cargo handling, storage and final shipment sea freight carrier.

For more on sea freight shipping Click Here

Air Freight Agent
As one of the UKs leading Air Freight Agents, MNS Freight offers a complete service to the public sector, commercial customers and freight forwarding agents and what's more at a competitive price.

So whatever your requirements whether precious one off goods or thousands of manufactured components we will get your goods delivered fast and safely to your destination.

...• Free & Fast Quotes
...• Low Cost Air Freight Rates
...• Consignment Tracking
...• Urgent Shipments
...• Entire Shipping Process Management
...• Storage Facilities

To find out more Click Here

Sea Freight Agent
Our highly reliable and safe sea freight service provides customers with the perfect solution to include freight forwarding, cargo handling, storage and final shipment from sea freight carrier.
Main areas covered by MNS Freight including Europe, India, China, Far East, Afghanistan, Pakistan, and the African Nations.

From tiny personal effects through to break bulk we will be more than happy to provide you with all of your container shipping requirements so why not contact us for a free quotation.

...• Goods Shipped All Over the World
...• Entire Consignment Management
...• Custom Clearance
...• Fast and Free Quotes
...• Great Rates

We are the company to get your freight to its destination, in good time and without impacting the environment and what's more we are very affordable so please get in touch to find out more.

To find out more Click Here

We cover the following areas plus the rest of the UK & Worldwide
We cover the following areas plus the rest of the UK & Worldwide:

Aberdeen
Andover
Ashford
Avon
Aylesbury
Banbury
Bangor
Basingstoke
Bath
Beaconsfield
Bedford
Bedfordshire
Belfast
Berkshire
Birmingham
Bishops Stortford
Borders
Bournemouth
Bracknell
Bradford
Bridgend
Brighton
Brighton and Hove
Bristol
Buckinghamshire
Camberley
Cambridge
Cambridgeshire
Canterbury
Cardiff
Carlisle
Central
Chelmsford
Cheltenham
Cheshire
Chester
Chichester
City of London
Cleveland
Clwyd
Colchester
Cornwall
Coventry
Crawley
Cumbria
Derby
Derbyshire
Devon
Dorchester
Dorset
Dover
Dumfries and Galloway
Dundee
Durham
Dyfed
East Sussex
Edinburgh
Ely

Essex
Exeter
Fife
Folkestone
Glasgow
Gloucester
Gloucestershire
Grampian
Greater Manchester
Guildford
Gwent
Gwynedd County
Hampshire
Hemel Hempstead
Henley
Henley-on-Thames
Hereford
Herefordshire
Hertford
Hertfordshire
High Wycombe
Highlands and Islands
Humberside
Inverness
Ipswich
Isle of Wight
Kent
Kingston upon Hull
Lancashire
Lancaster
Leeds
Leicester
Leicestershire
Lichfield
Lincoln
Lincolnshire
Lisbon
Liverpool
London
Lothian
Luton
Maidenhead
Maidstone
Manchester
Merseyside
Mid Glamorgan
Milton Keynes
Newbury
Newcastle upon Tyne
Newport
Newry
Norfolk
North Yorkshire
Northampton
Northamptonshire
Northumberland
Norwich
Nottingham

Nottinghamshire
Oxford
Oxfordshire
Peterborough
Plymouth
Poole
Portsmouth
Powys
Preston
Reading
Reigate
Ripon
Rutland
Salford
Salisbury
Sheffield
Shropshire
Slough
Somerset
South Glamorgan
South Yorkshire
Southampton
St Albans
St David's
Staffordshire
Staines
Stirling
Stoke-on-Trent
Strathclyde
Suffolk
Sunderland
Surrey
Swansea
Swindon
Taunton
Tayside
Telford
Truro
Tyne and Wear
Wakefield
Warwickshire
Watford
West Glamorgan
West Midlands
West Sussex
West Yorkshire
Westminster
Weymouth
Wiltshire
Winchester
Windsor
Wolverhampton
Worcester
Worcestershire
Wrexham
Yeovil
York
www.mnsfreight.co.uk
Related Products and Services
Road Freight

Sea Freight Shipping

Air Freight Agent

Secure Storage Facilities

Customs Clearance

Sea Freight Agent

Road Haulage

Freight Forwarders

Transporting Cargo Safely

Import Agent

Transporting Cargo Efficiently

Expertise & Experience

International Importing

Air Freight

Freight Forwarding Services

Door to Door Courier Service

Worldwide Shipping

Skilled and Competent

5

stars based on

4

customer reviews
Write a review
By AMANDA ,
Just had Michael Gallagher-Clark of MNS Freight Services Ltd send me a parcel to canada,great price, collected from my home address kept me well informed every part of the way, informed when it reached its destination,if you need any help sending parcels michael is your man thank you michael regards.
Was this review useful?


By ANDY ,
Thanks for your help & support. You were excellent in your services – helpful, easy to work with and knowledgeable. We'll surely come back to you for our importing needs in future
Was this review useful?


By MIKE ,
I am really very pleased with your service. You guys offered prompt deliveries, great service and great communication. And the best part about you was that I've even seen you going that extra mile on a few occasions for me and that's what I liked most.
Was this review useful?


By STEVE A ,
Thanks to Michael Gallagher-Clark, I am so glad that I chose to work with MNS Freight. Their reliable air and sea freight forwarding facilities allowed me to push my business more quickly than I had expected. The manufactured products reached my clients on time without any damage or loss. Thank you so much.
Was this review useful?


Key Contacts

Michael Gallagher
Owner
Tel: 0114 2363 185
Email: info

mnsfreight.co.uk
Opening Hours
| | |
| --- | --- |
| Monday | - 09:00 to 17:00 |
| Tuesday | - 09:00 to 17:00 |
| Wednesday | - 09:00 to 17:00 |
| Thursday | - 09:00 to 17:00 |
| Friday | - 09:00 to 17:00 |
| Saturday | - Closed |
| Sunday | - Closed |