Todays Opening Hours
Sunday : Closed
closed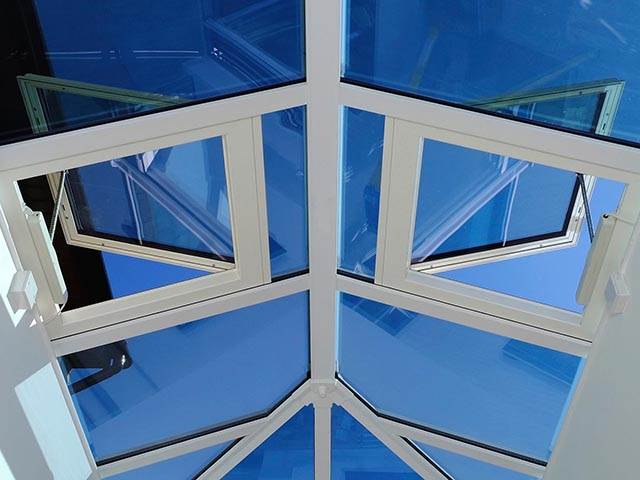 Smoke Ventilation and Natural Ventilation Control Systems
In the event of a fire in a building, occupants are more at risk from fatality from smoke inhalation than from the fire itself. This has lead to increasingly high safety standards for smoke control and ventilation in the construction of commercial and multi-occupancy buildings.

As leading specialists in electric and manual window ventilation systems, Rocburn is able to offer a range of high quality products which have been specifically designed to provide the safest and most efficient smoke ventilation possible for both domestic and commercial environments.

No two buildings or spaces are the same and our experienced staff would be happy to discuss your exact requirement. They can then suggest the best combination of products to combine to construct the most efficient and cost effective smoke ventilation solution for the area All of the smoke ventilation systems from Rocburn are governed by standards such as BSEN12101 and Approved Document B and are discreet and designed not to impede either access by emergency services or escape routes. We can also advise on the best system to comply with various opening distance requirements.
Smoke Ventilation and Control Systems
Rocburn can supply a range of electric window actuators and products to enable you to achieve the required free vent area as specified by the Fire Officer or Building Control.

We can supply single or multiple zone control panels. The 24V actuator is perfect for stairwells and lobbies.

Roof vents which open to 140 degrees are not only efficient smoke vents but also allow escape of personnel onto roof areas. The Rocburn access hatch smoke vent range fit all support types including wood, steel and concrete and can be controlled by thermofuse or electric. They are compliant with European regulation EN12101-2.

The Rocburn standard louvre smoke vent range can be wall or glazed mounted to fit all surface types and come in a range of finishes to match the architecture of the building or structure. They are to EN 12101-2 and NFS 61 937-1 standards.

The NSHEV flat roof louvre vents are also to EN 12101-2 and NFS 61 937-1 standards and fit any roof structure.

The facade casement ventilator is for wall installation and can be bottom, top or side hung and opening inwards or outwards.

Digital smoke and natural ventilation controls are programmable for auto opening windows, roof vents and smoke dampers. They are ideal for day to day ventilation as well as smoke and CO2 and environmental control such as temperature.

For more information on these products please Click Here to visit our website.

If you're looking for a system that best suits your application talk to one of the knowledgeable and experienced team at Rocburn today.

At Rocburn we are passionate about making commercial and domestic buildings safe for your protection. We are also proud of the fact that we only supply the best smoke and ventilation systems around. Our experienced team will make sure you receive the best advice possible along with a high quality installation service. As the fastest growing electric and manual window opening and ventilation specialists we can offer an excellent bespoke service and supply a range of electric window openers to meet the all the necessary law requirements.

If you would like to find out more information about Rocburn Ltd and our products please contact our team now.

Rocburn also offer a range of manual and electric window opening products. To find out more please Click Here.
Smoke Ventilation Video
www.window-openers.com
Related Products and Services
Screwjacks

Telescopic Screwjack With Handle

MB08 Temperature Control Panel

Roof Smoke Vent

Roof Hatch (Smoke Vent)

800mm Supermaster Window Opener

Smoke Detector

Firemans Override

Smoke Vent - Break Glass

Digital Panel

Single Zone Control Panel

Ventilation Control Panel

Ventilation Installation Service

Multi Zone 24v DC Panel

5

stars based on

2

customer reviews
Write a review
By Dipak ,
Your system is so straightforward and simple to install and use. You have made the instructions very easy to follow and when I did have to call you for support, I realised it was my fault not following a page of your instructions.
Was this review useful?


By Michael , www.365tickets.co.uk
Hi Adam, Just wanted to drop you a line and say that the system has all been fitted and passed by the fire service, just waiting on confirmation from planning that its ok but can't see that being a problem. Thanks for all your help with this, been really impressed with your service and will definitely recommend you to anyone I come across looking for fire systems.
Was this review useful?


Key Contacts

Ben Green
Director
Tel: 07855281880
Email: sales

rocburn.co.uk

Lyndsay Davis
Accounts
Tel: 07855281880
Email: sales

rocburn.co.uk

Adam Green
Technical Sales
Tel: 07855281880
Email: sales

rocburn.co.uk

Matt Boyd
Technical Sales
Tel: 07855281880
Email: sales

rocburn.co.uk
Payment Methods
Visa
Cash
Visa Debit
Cheque
BACS
MasterCard
Paypal
Maestro
Opening Hours
| | |
| --- | --- |
| Monday | - 8:30 to 5:30 |
| Tuesday | - 8:30 to 5:30 |
| Wednesday | - 8:30 to 5:30 |
| Thursday | - 8:30 to 5:30 |
| Friday | - 8:30 to 5:30 |
| Saturday | - Closed |
| Sunday | - Closed |
Specialising In