Todays Opening Hours
Wednesday : 9:00-5:00
closed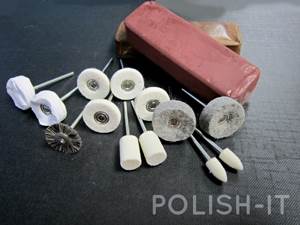 Leaders in Tooling and Equipment for Jewellers
Polishing Jewellery also known as Moleroda Finishing Systems offers one of them most comprehensive ranges of Jewellers polishing products.

From an up to date manufacturing facility based I n Wiltshire we design and manufacture a large range of jewellery, goldsmiths and silversmiths tools and associated consumables including:

...• Mounted Tools
...• Wheels, Mops & Cones
...• Hand Tools
...• Polishing Compounds
...• Polishing Equipment
...• Ultrasonic Cleaning & Laser Welding
...• Polishing Kits
...• Magnifiers, Lights, Aprons
...• Special Offers

To further compliment this range of high quality products we also offer a range of other well-known brands including:

...• Fordom
...• Faro
...• Milbro Pendant Motors
...• Compounds from Dialux & Cannings and Menzerna
...• Abrasives from Matador, Artifex and Cratex
Mounted Tools
The large range of mounted tool products we have to offer is too vast to list here but briefly includes products such as Flick Wheels, Radial Discs, Mounted Cotton, Yarn and Chamois, Mounted Polishing Felts, Abrasive Nylon Mounted Wheels, Mounted Calico & Mini Stitched Mops, Self-Adhesive Discs, Mandrels, Mounted Polishing Kits, Abrasive Rubber Points, Wheels, Cups & Pencils, Diamond Points and many more.
Wheels, Mops and Cones
Polishing and Buffing Mops, Bristle, Brass, Steel, Hair and Radial Discs, Abrasive Nylon Sateen Polishing Mops, Abrasive Rubber Wheels and Tapers, Mounted Ring Felts and Unmounted Felt Products are just a small sample of the wide range of high quality polishing products that can be found at our online shop.
Hand Tools
Polishing Jewellery by Moleroda offers one of the widest ranges of Hand Tools for the Jewellery industry, from Stones, Hand-E-Files and Ceramic Stones through to Degussit Stones, GarryFlex Abrasive Blocks, Hand Brushes and Bench Stones.
Polishing Compounds
Polishing Compounds available from our online shop includes Polishing Bars, Menzerna Compounds, Dialux & Rouge Compounds, Ceramic Sprays, Powders and Pastes so to find out more please visit our online shop.
Polishing Equipment
The range of Polishing Equipment supplied by Polishing Jewellery has been designed and manufactured by some of the industry's leading brands including Foredom, Faro & Milbro and Proxxon.

Whether you're a hobbyist or a professional jewellery manufacturer this range has been chosen to suit a wide range of polishing applications.
Ultrasonic Cleaning & Laser Welding
We offer a range of Ultrasonic Jewellery Cleaning Systems incorporating features such as time and temperature control. Our easy to operate equipment is perfect for all types of ultrasonic cleaning operations including optics, dental, laboratory, watches and electronic components.

With the very latest in Laser Technology, Polishing Jewellery by Moleroda offers a range of Laser Welding and Laser Engraving products, more information of which may be found at our online shop.
Magnifiers, Lights and Aprons
Our Optivisor lenses are ground and polished to precision ophthalmic standards and set in a lightweight yet durable impact resistant headband. Interchangeable lens plates are available to order for a wide range of applications.

We also offer a range of Dust Masks, Safety Glasses and Workshop Leather Aprons.

For more information about any of the products mentioned here please visit our online shop.
www.polishingjewellery.co.uk
Related Products and Services
This is our Mounted Points and wheels polishing ki

Foredom

Unmounted Wheels

Menzerna

Polishing motors, mops and compounds

Radial Discs for all gold and silver polishing

5

stars based on

3

customer reviews
Write a review
By stephen bell-ryott ,
Good stuff, fast delivery. Feedback for you: Excellent. For your product Diamond File - DS - 3mm - ROUND - MEDIUM : Excellent
Was this review useful?


By Rhonda Macleod ,
Feedback for you: Excellent. For your product: Excellent Service rating : Order dispatched promptly. Product : Tremendously useful product.
Was this review useful?


By S Mitchell ,
Feedback for you: Excellent. For your product: Excellent Service rating : great company Product : very good products, long lasting
Was this review useful?


News & PR
Key Contacts

Lizzie Dunkerley
Sales
Tel: 01722 711988
Email: Lizzie

moleroda.com
Payment Methods
Visa
Cash
Visa Debit
BACS
MasterCard
Paypal
Direct Debit
Maestro
Opening Hours
| | |
| --- | --- |
| Monday | - 09:00 to 17:00 |
| Tuesday | - 09:00 to 17:00 |
| Wednesday | - 09:00 to 17:00 |
| Thursday | - 09:00 to 17:00 |
| Friday | - 09:00 to 17:00 |
| Saturday | - Closed |
| Sunday | - Closed |