Todays Opening Hours
Saturday : Closed
closed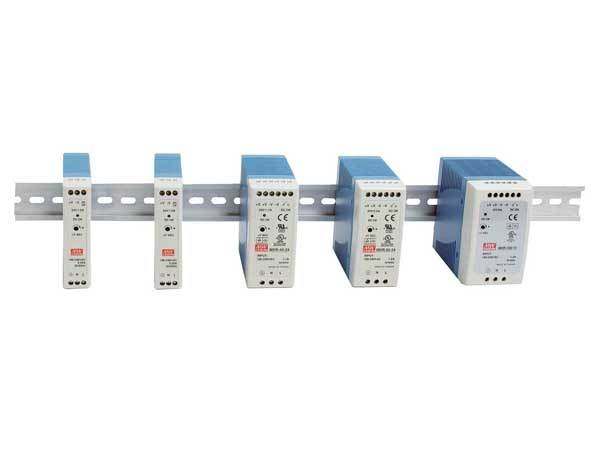 LED Lighting & Mean Well Power Supplies
Ecopac Power Ltd supplies over 4000 different AC-DC power supplies from External to Open Frame, DIN Rail to Battery Chargers, DC-DC Converters to DC-AC Inverters. Our objective is to continue to offer excellent products with outstanding value for money. Established 14 years ago Ecopac Power Ltd is the largest Mean Well distributor in Europe with an unrivalled reputation for service, technical backup, stock and delivery.

In addition Ecopac Power are authorised distributors for Motion, Powermate, and Vox Power. We can also source and provide a comprehensive range of power supplies and DC-DC converters for custom applications. Our range of power products meets worldwide requirements, with product approvals up to UL, CE, CSA, VDE and EN.

Ecopac Power offers the UKís largest range of AC-DC power supplies, with products starting at 1 Watt and increasing to over 11,000 Watts. Many of our power products are world firsts, providing a large variety of mechanical formats including open-frame, chassis mount, PCB mount, encapsulated, rack mount, external and DIN rail.

From 1 Watt to 365 Watts in PCB mount, and 15 Watts to 11,000 Watts in chassis mount and 15 watt to 960 watt Din Rails. With our extensive range of Ecopac DC/DC converters we can offer you the choice of regulated or unregulated, standard or high isolation, standard or extra wide input voltages, all in industry standard plastic or metal packages.

Ecopac Power continues to offer the widest ranges of power products available in the industry today. Product applications that use Ecopac Power include: Lighting, Telecomm, Control systems, Medical, Military, Audio/Visual industry, Broadcasting Networking, Security and Automation
Mean Well Power Supplies

Mean Well is one of the leading switching power supply manufacturers in Taiwan. Established in 1982, Mean Well gained ISO-9001 certification in 1994. Their product lines include AC/DC switching power supplies, DC/DC converters, DC/AC inverters and battery chargers.

Every product in the Mean Well range is the result of rigid procedures governing design, design verification test, design quality test, component selection, pilot-run production, and mass production. Mean Well has recently implemented a new and highly efficient computerized management system. This system allows improved administration of sales, manufacturing, purchasing, fabrication management, shipping, customer service, and quality analysis.

Mean Well have around 4,500 standard models widely used in the manufacture of automation, communication, medical, moving sign, and office equipment. Their modern facilities and intelligent information management system allows them to keep stock for 95% of standard models, enabling very prompt delivery.
Vox Power Ltd
Vox Power Ltd design and deliver sophisticated switch mode power supplies but specialise in cutting-edge and miniature AC/DC power converters with the highest power densities on the market today.

Their latest product the NEVO600 sets a new benchmark in AC/DC power conversion and supplies a massive 600 watts in a 5Ē x 3Ē x 1U chassis. Thatís a record-breaking 25W/in≥; almost double the power density of other available products.

The NEVO600ís modular and user configurable architecture allows custom power solutions to be designed in minutes and with up to four medically isolated outputs, the NEVO600 series is truly the ultimate high performance power solution for system designers.
Power Mate Technology Co

Power Mate Technology Co is a technology company that offers single, dual and triple output DC/DC converters as standard products from 1 watt to 150 watt for on-time delivery. In addition they are able to provide OEM products and also to develop customised products.

Power Mateís goal is to best serve its international customers base with continuously innovation, consistent improvement in all aspects, quality products and cost reduction.

Power Mate is qualified for ISO 9001, and the majority of products are certified by CE, UL, VDE etc, they provide customers with quality products that are reliable, delivered on-time and competitively priced.
Motien Technology

Motien Technology established since 1998 has grown from a small company with some design engineers into a firm with approx 240 employees. Their punctual delivery, competitive pricing and perfect quality have gained them a very good reputation from clients all over the world.

Products are widely used by Industries such as: Automation equipment, Telecommunication, Instruments, Transportation Systems, Medical Equipment etc.

If you fail to find a suitable product on the website, Ecopac Power offer companies added value and a complete solution to all their power supply requirements. We would welcome the opportunity to help you in your sourcing requirements.

For more information on our complete range of products, including full technical specifications and ordering information, please visit our website.
www.ecopacpower.co.uk
Related Products and Services
MDR Series

RCP

Inverters

Din Rail

Varied PSU

DR Series

SDR Series

Open Frames

HRP Series

External Power Supplies

SPV Series

0

stars based on

0

customer reviews
Write a review
Payment Methods
Visa
Visa Debit
BACS
MasterCard
Online Bill Payments
Opening Hours
| | |
| --- | --- |
| Monday | - 08:30 to 17:00 |
| Tuesday | - 08:30 to 17:00 |
| Wednesday | - 08:30 to 17:00 |
| Thursday | - 08:30 to 17:00 |
| Friday | - 08:30 to 17:00 |
| Saturday | - Closed |
| Sunday | - Closed |