Todays Opening Hours
Monday : 9:00-5:30
closed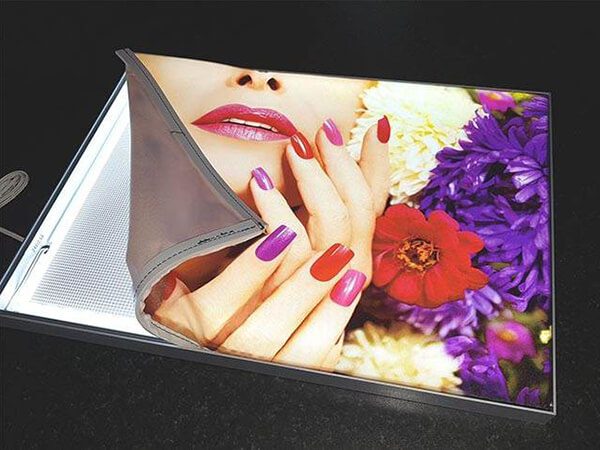 World Class leading LED light boxes & LED light boards
Artillus started trading fourteen years ago bringing to market ultra slim edge lit light boxes for display advertising and signage. We specialise in the manufacture of custom sizes, allowing us to take LED edge lighting and backlighting to its limits with confidence and surety.

Working in partnership with a World Class manufacturer of LED illumination products, we provide high quality LED light boxes and light boards to the UK market.
Products
Our LED illumination provides designers and display makers with unlimited scope.

Diamond LED Light Boxes
Our 20mm deep Diamond LED light boxes provide the ideal solution for quick changing graphics with its 25mm snap frame front profile and rounded corners for safety. High brightness and uniformity of light without shadows or hotspots in sizes up to 3000mm x 1500mm provide low power consumption, long life and are maintenance free.

Garnet LED Edge Lit Board
The Garnet LED edge-lit light board is only 8mm deep and also available in custom sizes up to 3000 x 1500mm. This product is ideal for where illumination is required and where space is limited. Its use as a backlight source has been used in a wide variety of applications, from back illuminating of stained glass to grouping as a large illuminated wall.

Textile Display Solutions
We also provide textile display solutions. The current market is growing enormously for this type of display. Our Simplicity fabric tensioning system offers a frameless display for illuminated and non-illuminated displays. Large graphics up to 4m high by whatever wide is easily achievable. Ideal for theming in rooms or exhibition display, the dye sublimation printed graphics with its silicone grip edging can be changed in little or no time and requires no tools or skill to replace the fabric.

Lumiwall® Light Box
Our Lumiwall® flexible faced lightbox uses a PVC coated digital printed fabric and its own internal spring tensioning, is ideal where an extra tough display system is required, such as in heavy footfall areas in retail stores, or where exposure to the environment might be a problem such as signage or advertising in multi-storey car parks.

We have a 110% commitment to quality and are relentless in our search for new and exciting products that we can take to our ever-growing customer base.
www.artillus.com
Related Products and Services
25mm Deep Fabric Light boxes

Bespoke 20mm deep LED Light boxes

20mm deep 25mm snap frame LED Light Boxes

10mm deep 22mm snap frame LED Light Boxes

LED light sheet single colour or RGB colour

Bespoke LED boards upto 1500 x 2500mm

LED edge lit furniture light boards

LED edge lit light boards for back lighting

Lumiwall Back Lit LED light boxes

Frameless LED Fabric light boxes

Diamond LED light box 20mm deep 25mm snap front

LUMIWALL® - T8 or LED Back Lit Illuminated Décor

0

stars based on

0

customer reviews
Write a review
News & PR
Ultra Slim Fabric Displays
A new super bright fabric light box only 25mm deep and available in bespoke sizes up to 3000 x 1500mm are produced by Ways2display.
Events & Shows
Key Contacts

Tony Jaeger
Director
Tel: 0333 123 0345
Email: tonyjaeger

ways2display.com
Payment Methods
Visa
Visa Debit
Cheque
BACS
MasterCard
Maestro
Postal Orders
Opening Hours
| | |
| --- | --- |
| Monday | - 09:00 to 17:30 |
| Tuesday | - 09:00 to 17:30 |
| Wednesday | - 09:00 to 17:30 |
| Thursday | - 09:00 to 17:30 |
| Friday | - 09:00 to 17:30 |
| Saturday | - Closed |
| Sunday | - Closed |