Todays Opening Hours
Sunday : Closed
closed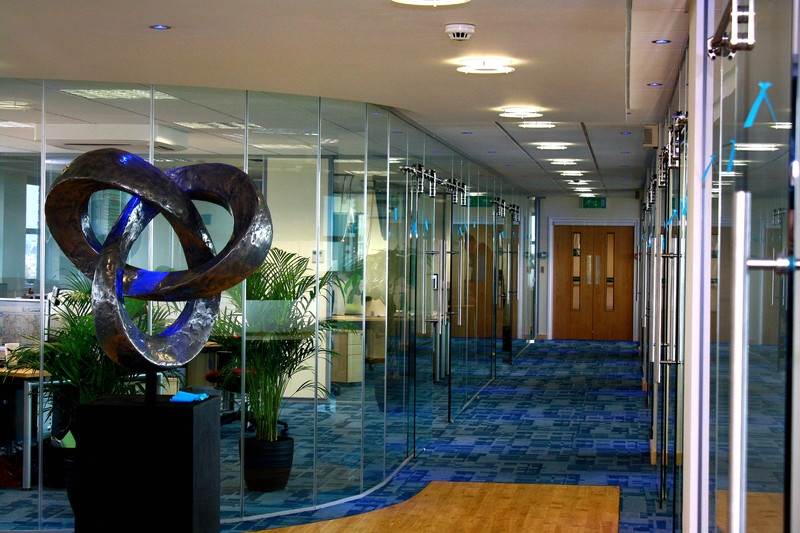 Partitioning Systems Including Office and Glass Wall Partitions
PSL Workplace Limited is a trade supplier of high quality, innovative office partitioning systems supplying the Invotek range of office partitions and environmentally friendly Invotek Strawboard through a network of approved distributors throughout the UK and Ireland. The company was formed in 1981 by the Principal Shareholder Stuart Burton and has established an enviable reputation with specifiers, architects, designers and end-users.

An Invotek installation incorporating Invotek 75 and Invotek Strawboards at Winton Primary School was recently awarded a Gold award for Partitioning Projects up to £100000. Invotek Glasswall and Invotek office partitions combine state of the art design features with top quality materials to create flexible working environments for the end user which are practical yet highly aesthetically pleasing.

Invotek 75 is one of the quickest partitioning systems to install and relocate as the monobloc sealed one piece double glazed units are delivered with blinds already in position complete with knobs attached and are just as quick to erect as the solid units. The doorframes are also delivered in one piece and the welded joints are perfect every time. The company also offers fire rated and acoustically uprated systems.

New Glasswall Mood with clear PTEG dry joints and integral LED programmable coloured lighting has the wow factor for the modern office.
Invotek Product Range
Invotek Glasswall
Invotek Glasswall partitions provide discreet office division, yet they maintain excellent levels of natural light and create a feeling of visual continuity and space. The innovative glass panels can incorporate corporate colours and company logos. They are joined by clear dry pteg joints which create seamless contours. Thee are many design options available that will coordinate with any interior. These include Manet glass sliding doors, frameless glass pivoted doors and veneered timber doors with aluminium or wood frames. The glass can feature a wide range of manifestations, film and screen printing.

Invotek Glasswall Mood
Invotek Glasswall Mood is Glasswall partitioning incorporating integral low voltage multi-coloured lighting. RGB LED lights are positioned within the headtrack which have a rated life of 30 years (100000 hours) and come with a remote control to choose individual colours, fading or strobe effects. The lights can flash in thirty two speed settings.

Invotek 75 and 100
Invotek 75 and Invotek 100 partitioning systems are non load-bearing systems based on a polyester powder coated steel framework in solid, single and sealed double glazed panels. They offer excellent fire resistance and sound reduction. The glazed monobloc and solid bi-bloc units are fast and easy to install and fineblinds can be incorporated within the double glazed units. Doors can be glass, veneered or laminate.

Invotek Element
Invotek Element has been developed to create modern corporate environments that display quality and attention to detail. It is a premium, monobloc wood veneer system which utilises a variety of fully relocatable modules. It can incorporate curved units and glazed hung panels in oak, maple ash and beech finishes.
We cover the following areas:
Poole, Bournemouth, London, Southampton, Dorset, Hampshire and Wiltshire
www.invotek.co.uk
Related Products and Services
Bespoke Glasswalls

Office Glasswall

Glasswalls for Conference Rooms

Invotek 75 Strawboard Partition

Invotek 75 Double Glazed Partition

Invotek Glasswall a clear advantage.

0

stars based on

0

customer reviews
Write a review
Key Contacts

Colin Fisher
Director
Tel: 01202 777 818
Email: colin

invotek.co.uk

Yin Burton
Accounts
Tel: 01202 777 818
Email: yin

invotek.co.uk

David Fisher
Estimator
Tel: 01202 777 818
Email: david

invotek.co.uk
Payment Methods
Payment Terms
Pro-Forma
15 days
30 days
Opening Hours
| | |
| --- | --- |
| Monday | - 08:00 to 17:00 |
| Tuesday | - 08:00 to 17:00 |
| Wednesday | - 08:00 to 17:00 |
| Thursday | - 08:00 to 17:00 |
| Friday | - 08:00 to 17:00 |
| Saturday | - Closed |
| Sunday | - Closed |