Todays Opening Hours
Wednesday : 9:00-5:00
Open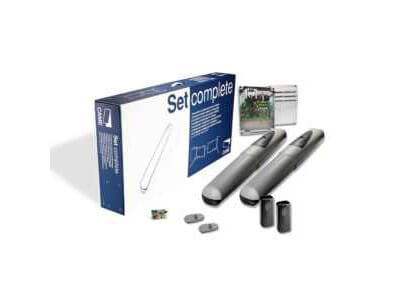 Welcome to Innovate Electrical Supplies Ltd
FREE Delivery on all order over £100 ex VAT

Innovate Electrical Supplies Ltd, is an independent electrical distributor located in Braishfield in Romsey, which is just outside of Southampton, supplying a whole range of electric gate openers and other electric goods, including lighting, data, hand tools, fans, air conditioning units; and a whole lot more besides. With over 12 years experience in this industry, we understand the requirements of our customers and the importance of providing first class customer service, whilst remaining competitive in a very competitive market. We can supply goods to anywhere within the UK; and can obtain costings to ship abroad when requirements occur.

One of our most popular items is our electric gate openers, of whom we specialise in supplying CAME Automatic Gates, who are The UK's premier supplier of automatic gates, parking barriers, retractable bollards, turnstiles and tubular motors.

CAME Automatic Gates have an excellent range of Swing Gate Automation Kits, which are complete kits for swing gates with leaves measuring between 1.3m and 8m in length.

CAME's range of Swing Gate Automation Kits, includes their Frog kits, Frog-J Kits, Ati kits, Amico kits, Ferni kits, Fast kits, Krono kits; and Axo kits. You would normally find a swing gate automation system in high end residential dwellings, country estates; and other places where you would like to add that little bit of extra security to a building.

CAME also have an excellent range of Sliding Gate Automation Kits, which are complete kits for sliding gates weighing between 200kg and 2200kg.
CAME's range of Sliding Gate Automation Kits
A typical installation for electric gate openers would be in order to make your premises more secure and a deterrent for criminals who are always looking for easy open access and escape routes. Having a closed off drive with electric gate openers will be a first line deterrent to these criminals. You would normally find a sliding gate automation system in high end residential dwellings, country estates; and other places where you would like to add that little bit of extra security to a building.

CAME also supply their VER range of Garage Door Automation Kits, which are complete kits for overhead and sectional doors of up to 9m2 and 14m2.

Having a built in courtesy light in these Garage Door Openers make them perfect for being able to enter your garage already lit up in complete safety. As well as all this, CAME also supply a high quality range of Parking Barrier Kits, including their Gard, Gard4, Gard6 and Gard8 barrier kits, which are Complete parking barrier kits for road widths of between 2.5m and 7.6m

A typical application for the use of these Parking Barrier Kits would be to control access to roads and parking areas in industrial and public areas.
Flexible LED Strip
Flexible LED Strip Light is becoming more widely used these days as it has so many different applications. One of the main advantages of using Flexible LED Strip, is the fact that flexible LED Strip is much easier to fit in awkward places, such as in between floor tiles. This LED Strip normally comes supplied complete with a double sided sticky tape, which makes fixing this down very easy indeed. This LED Strip can bend easily round corners and curves, making lighting difficult areas a lot easier. Typical applications include, use lighting up bar areas; and use in restaurants lighting up desired areas to achieve an effective look.

Flexible LED Strips give a very bright, sharp lighting effect, allowing you to use fewer LEDís than what you would normally use, whilst still achieving the desired finished effect.

To view our full range of LED Light Fittings please visit our specialist LED Lighting website: www.discountledlighting.co.uk where we have a wide range of indoor and outdoor LED Lights.
LED Lighting - Indoors & Outdoors
With the latest development in LED technology, LED Lighting can be up to ten times more efficient than incandescent lights. They also keep very close to room temperature, which will help to cut down on energy use. LEDís are also a lot more durable than many other forms of lighting, and are resistant to heat, cold, vibration and shock. They can also last tens of thousands of hours when used at the rated current.

As well as this on the lighting front we have a fantastic range of indoor and outdoor lighting, including, low voltage and mains voltage downlights, indoor and outdoor wall lights, chandeliers, track lighting, trapeze lighting, ground buried uplighters, outdoor bollards; and a whole lot more on the LED Lighting front.

To view our Outdoor Lighting Click Here
Commercial Lighting
We also cover commercial and industrial lighting, including lighting columns, floodlights, lowbays, recessed and surface modular's; and non corrosive vapour proof fittings as well. As well as all this we have an excellent range of electrical hand tools, ideal for any electrician or electrical tradesman. We also have an excellent range of air conditioning units, boxed fixed and portable units; and also swimming pool heaters as well.

To view our Commercial Lighting Click Here
Air Conditioning
Our range of air conditioning units are an easy fit split system, which are all pre-gassed up to 6 metres. This means that unless you are going over the 6 metre run you will not need to have the gas topped up by an air conditioning engineer.

To view our Air Conditioning Units Click Here
Heating, Fire Places and Other Products
We also supply pipe extension kits for all of our air conditioning units, as well as wall mounting brackets for the outdoor condenser units. Our data networking products include Cat5e cable, patch panels, Cat5e module, faceplates, data cabinets; and patch panels. Another product we sell to compliment our data range is our popular range of dado trunking and skirting trunking, ideal for use in offices and computer rooms, to provide an easy solution for situation all of your data and power sockets.

We supply all of the accessories and boxes to mount inside the dado and skirting trunking, of which you can then attach your data sockets to. On the ventilation front we supply both commercial and industrial fans and can also supply heat recovery systems as well. We also have a fantastic range on the heating front, including, storage heaters, panel heaters, air curtains, over door heaters, oil filled radiators and towel rails.

To view our full range of products Click Here
www.innovateelectricalsupplies.co.uk
Related Products and Services
Electric Gate Openers

Garage Door Automation

Gate Automation Control Panels

Remote Control Radio Accessories

Gate Automation Safety Accessories

Sliding Gate Automation

Parking Barrier Kits

Swing Gate Automation

Lighting - 2D Bulkheads

Emergency Lighting

Indoor Lighting

Lamps and Tubes

Outdoor Lighting

Saxby Lighting

Lighting - Transformers

Easy-Fit KFR33

Commercial Air Curtains

Commercial Wall Heaters

Data and Networking Cabinets

CAT5E Modules & Accessories

Powerbreaker RCD Accessories

5

stars based on

1

customer reviews
Write a review
By Elizabeth Shand ,
Delighted with your service--delivery reached us next day.many thanks
Was this review useful?


Payment Methods
Visa
Cash
Visa Debit
Cheque
BACS
MasterCard
Online Bill Payments
Paypal
Maestro
Payment Terms
Pro-Forma
15 days
30 days
Opening Hours
| | |
| --- | --- |
| Monday | - 09:00 to 17:00 |
| Tuesday | - 09:00 to 17:00 |
| Wednesday | - 09:00 to 17:00 |
| Thursday | - 09:00 to 17:00 |
| Friday | - 09:00 to 17:00 |
| Saturday | - Closed |
| Sunday | - Closed |