Todays Opening Hours
Sunday : Closed
closed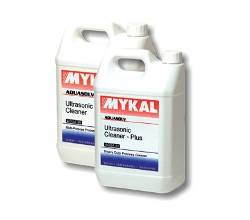 A Definitive Range of Industial Degreasing Products
MykalŪ are manufacturers of a definitive range of industrial degreasing products designed to cover every aspect of cleaning processes.

From regular maintenance to sophisticated cleaning processes, MykalŪ range of cleaning products is essential for anyone carrying out degreasing and industrial cleaning operations.

We offer a wide range of products as an alternative to some of the more traditional and hazardous solvents available such as Trichloroethane, Methylene Chloride and Acetone. These products include aqueous cleaners for spray and ultrasonic systems, citrus degreasers, adhesives, special blended products for PU, a comprehensive range of wet wipes and resins and inks.

With a network of carefully chosen distribution partners both in the UK and Europe Mykal Industries are able to ensure customers with continuous product availability.
Products
Solvent Cleaning
MykalŪ range of cold, hot and semi-aqueous solvent cleaning products are high powered natural solvents and biodegradable cleaners which are designed for the removal of oils, waxes, greases and adhesives at a variety of temperatures. All are specially formulated and can be used in a wide range of industrial applications with non-chlorinated, non-aromatic and non-toxic properties.
Aqueous Cleaning
These highly concentrated products are available in spray, soak and ultrasonic forms. They are solvent free and can be used on ferrous and non-ferrous metals in automated cleaning systems including spray washers and ultrasonic tanks.
Specialist Adhesive, Ink and Paint Cleaning
These products are for use on specialist soils that require a more dedicated cleaning solution, including PU, resins and adhesives. Each are individually formulated and designed to clean up and remove difficult contaminants.
Degreasing Hand Wipes
These wipes are powerful, safe and efficient solvent cleaners presented in convenient pack sizes for use in repair and maintenance operations. Powerful on oils, greases, carbon and other engineering contaminants.
Electrical Cleaning
For the maintenance and cleaning of electrical equipment and components. They provide non chlorinated, non-aromatic and non-toxic use in situ or in the field. Ideal for contractors and service engineers.
Surface Cleaning
These products provide non- chlorinated, no-toxic and non-aromatic use for in situ or in the field and perfect for maintenance engineers and contractors. Efficient cleaning of nuisance contaminants and the anti-bacterial protection of food surfaces in the cleaning of floors, windows and walls.

The MykalŪ range of stainless Steel industrial degreasers are extremely efficient and affordable and can be used in workshops and manufacturing operations in conjunction with Mykal Cleaning Technology Products.

For more information about the MykalŪ range of products please visit our website.
www.mykal.co.uk
Related Products and Services
Degreasing - Cold Solvent Cleaning

Degreasing - Hot Solvent Cleaning

Degreasing - Semi-Aqueous Degreasing

Maintenance - Degreasing and Hand Cleaning Wipes

Degreasing - Aqueous Ultrasonic Cleaning

Specialist - Adhesive, Ink and Paint Cleaning

Degreasing - Aqueous Soak Cleaning

Maintenance - Electrical Cleaning

Maintenance - Surface Cleaning

Degreasing - Aqueous Spray Cleaning

Private Label

0

stars based on

0

customer reviews
Write a review
Opening Hours
| | |
| --- | --- |
| Monday | - 08:30 to 17:00 |
| Tuesday | - 08:30 to 17:00 |
| Wednesday | - 08:30 to 17:00 |
| Thursday | - 08:30 to 17:00 |
| Friday | - 08:30 to 17:00 |
| Saturday | - Closed |
| Sunday | - Closed |