Todays Opening Hours
Monday : 9:00-5:00
Open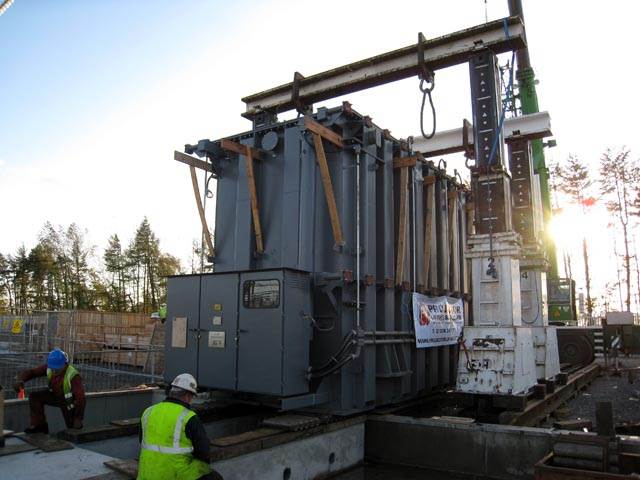 Leading Industrial Handling Solutions Contractor

Projector Lifting Services provides one of the most comprehensive Heavy Lifting Services around so whatever your requirements are, whether it's heavy machinery removal, the relocation of a machine from one side of your workshop to another or you need a 300 tonne transformer moved across an International border we offer you a specialised lifting service second to none.

We also have the facility to store machinery on a short, medium or long term basis.
Heavy Lifting Services
Our heavy lifting service has been created in order to meet every outcome possible including moving, relocation and installation and includes:
Hydraulic Gantry Rental
We offer a hydraulic gantry rental service which is available for both short term leasing and long term leasing to enable you to achieve your heavy lifting objectives. Projector Lifting Service has a range of hydraulic gantry's available with capacity's ranging from 100 to 500 tonne loading and capable of extending 40 feet in the air. Much more information about this service may be found on our website.
Machine Relocation / Factory Removal
Whether you need a machine relocated or just moved to the other side of your factory Projector Lifting Service will ensure that everything goes smoothly and exactly to plan. We have all of the necessary equipment, our own skilled workforce, experience and knowledge to carry out your project to the highest standards so please contact us if you need help with your machinery removals.
Industrial Assembly & Dismantling
Where there is a need for your industrial site to be dismantled rather than just demolished or perhaps the need to methodically work through heavy and awkward machinery in order to reconstruct we will help you with planning, lifting and the moving of your equipment to ensure your project goes to plan and runs as smoothly as possible.
Plant & Equipment Handling
At Projector Lifting Service we have the ability to listen and respond to your needs in order to provide you with a flexible plan that meets your equipment and plant handling requirements.

Once we both have a sound understanding of your objectives we will create a bespoke movement plan which can include complete dismantling, reassembly, modification, electrical and mechanical work and more so to find out more about this service please get in touch or go to our website.
Contract Lifting & CPA Hire
Projector Lifting Service provides both Contract Hire and CPA Hire services.

With Contract Hire we will choose the most appropriate lifting equipment and take full responsibility of the entire lifting operation.

When you use our CPA Hire Service you hire the equipment and operator and your own personnel do the planning, supervision and control, although Projector Lifting Service can also provide you with the personnel who can take care of the planning, control and supervision, the choice is yours!
Project Cargo Services
We also offer a specialised Cargo Transportation Service for clients with heavy plant and over dimensional equipment requirements. This service provides fully integrated project logistics management for certain industries such as construction, petrochemical, energy, pipeline etc.
For more information about this service please get in touch.

When you choose Projector Lifting Service you know that you're in good hands. In the past we have undertaken projects for some of industries leading names including Rolls Royce, Nissan, Guinness, British Airways and more so you know you'll be in good company.

Why not get in touch now for a quote, we'll be more than happy to help.
Company Videos
Installation of 2500kg Penthouse Unit on Rooftop
Company Video - Installing 157 tonne transformer
www.projectorlifting.co.uk
Related Products and Services
Hydraulic Gantry Rental, Leasing, Hire

Installation and Plant Handling

Loading Equipment into an Antanov Cargo Aircraft

Complete Factory Relocations

Industrial Dismantling or Assembly

Heavy Lifting With A Hydraulic Gantry

Versalift – 3 Different Sizes and Capacities

Machine Relocation Using Hydraulic Gantry

Health & Safety

5

stars based on

6

customer reviews
Write a review
By Steve Hardeman , Clevedon Fasteners Ltd
I would like to thank you and your team for the excellent and professional way they approached the job today as they did in the previous move, the team today have been a credit to your company. I have no hesitation in using Projector Lifting in the future and I will be certainly recommending you to companies I deal with. Once again, thank you.
Was this review useful?


By Gary Hainsworth , Premier Galvanizing
Thank you for installing our new galvanising tank today, you did an excellent job and it's great to see another project go smoothly. Looking forward to working with you again.
Was this review useful?


By Andy Tidmarsh , Clevedon Fasteners Ltd
Your lads made the move problem free and did it with ease, I will have no problems in choosing your company for future use and passing on your details, thank you for the professional way the move was handled.
Was this review useful?


By Trevor Joyce, EngD , Cinetic Landis
Just wanted to say a quick thank you for the job your guys did for us at Landis. The people at Landis were really impressed with your capabilities and everything went together well.
Was this review useful?


By Roger Larcombe , Magna Interiors
I just wanted to pass on how pleased I am with the transfer of the Engel machine over the last few weeks; your whole team have worked really hard, helping each other out to get the job completed to the highest standard. It is second to none the level of cooperation, skill and flexibility and it is much appreciated.
Was this review useful?


By Andy Dixon , Engel
Having worked with you for many years, just a note to say we know we can always expect professionalism and high standards when you install our machinery across Europe and beyond. We are looking forward to many more successful installations with you.
Was this review useful?


Opening Hours
| | |
| --- | --- |
| Monday | - 09:00 to 17:00 |
| Tuesday | - 09:00 to 17:00 |
| Wednesday | - 09:00 to 17:00 |
| Thursday | - 09:00 to 17:00 |
| Friday | - 09:00 to 17:00 |
| Saturday | - Closed |
| Sunday | - Closed |