Todays Opening Hours
Wednesday : 8:30 - 5:30
closed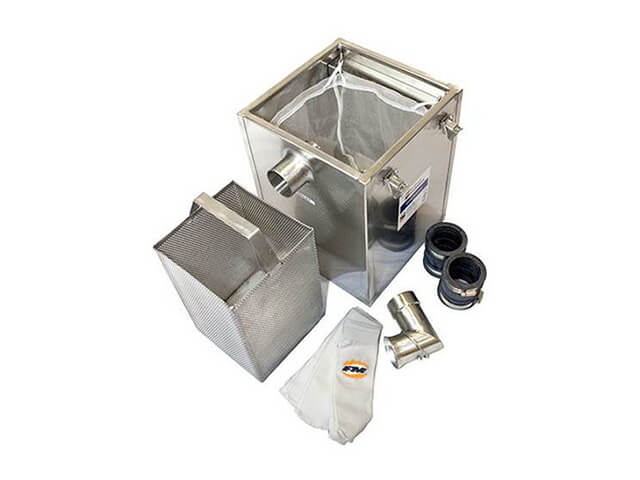 Suppliers of Commercial Grease Trap Equipment
RGR Facilities are specialists in the supply of grease traps. We offer a comprehensive range of equipment to cover the various applications that are carried out by our customers all of which take into account space availability and budget.

Our wealth of experience in this sector enables us to offer advice to clients helping them to achieve good housekeeping practices that will not only bring value to their business but reduce maintenance costs saving time and money. Our range of grease traps have also been designed to enable our customers to recycle their waste products thereby providing ongoing revenue for their business as well as being environmentally friendly.

In today's `green world` fast food outlets and restaurants are being heavily penalised for not adhering to the health and safety regulations regarding waste management and bad housekeeping. Don't let your establishment fall into this category, just contact RGR who are here with advice and a range of solutions designed to solve your waste problem.

RGR offers a range of effective solutions to cover a variety of applications with products including:
Stainless Steel Grease Trap
RGR supply a range of effective automatic grease removal products that offer various benefits including easy central installation, automatic action, remote control monitoring, no pumping or dosing and all grease can be collected for recycling purposes to create bio-fuel.

To find out more Click Here
Food/ Coffee Filter Traps
Food Traps
RGR Facilities provide an effective range of waste traps that reduce the level of sediment going to drain. It is not just grease that causes blockages in these pipes, food does too and in a busy kitchen food waste gets scraped all the time. Our range of Food traps separate the waste food that would usually go down the drain.

Coffee Traps
Blockages in drainage systems can often be caused by coffee granules. We provide a coffee filtration unit where the granules are caught in stock in turn preventing them from ever entering the drainage system.

To find out more Click Here
Grease Trap Installation, Servicing and Maintenance Specialists
RGR Facilities are able to carry out a wide range of grease trap and maintenance services including the emptying of grease traps and servicing of the grease separation equipment. This can be carried out in one visit. We also provide repair services to grease taps, and operate a 24 hour emergency call out service.

RGR Facilities can provide extensive investigation work and carry out any CCTV surveys required. This service includes a DVD being sent to the customer containing images of before and after cleaning. Additional services can also include steam cleaning and extractor cleaning with a certification on completion.

For more on installation Click Here
Biological Drain Dosing
RGR recommends and supplies a premium liquid formulation that contains non-pathogenic, naturally occurring enzyme and bacteria in a buffer solution which is intended for use in automatic dosing systems.

These can be used in drain runs, grease traps and pumping stations either automatically or manually in powder formulation.

Benefits include:

...• Biological grease digestion solution is a concentrated enzyme to break down FOG`s
...• Can be wall mounted and takes up little space
...• Can discharge into the grease trap or directly into the drain
...• Either mains or battery powered
...• Easy to install and to maintain

For further information on the Biological Dosing Systems from RGR Facilities Click Here.
Biofluid Grease Treatment
Today it is now possible to treat fats, oils and greases (FOGs) using biological grease treatment dosing systems that benefit from the advances made in biotechnology which uses multi-strain micro-organisms that allow the fat, oil and grease molecules to be broken down and digested finally leading to molecules being a mixture of H2O and CO2.
The Biofluid grease treatment products from RGR Facilities have been developed to work in two distinctive ways on the FOGs in grease traps and pipe work.

Firstly the enzymes break the long chain molecule FOGs into fluid solution then the active micro-organisms get to work digesting both long and short chain components.
Related Products and Services
Food Filter Traps

Commercial Grease Trap Equipment London

Floor Standing Traps

Grease Traps for Commercial Kitchens

Grease Traps for Resturants, Hotels & Hospitals

Grease Removal Systems UK

Grease Guardian D5 & D10 Models

Stainless Steel Grease Trap

Sink and Floor Strainers

Floor Strainers

Coffee Filter Traps

Automatic Grease Removal Range

0

stars based on

0

customer reviews
Write a review