Todays Opening Hours
Sunday : Closed
closed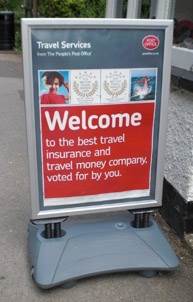 Welcome to GPS - Graphic Pavement Signs
Graphic Pavement Signs Ltd have been specialising in the supply of Notice Boards Pavement Signs, A-Boards, Snap Frames, Poster Frames, Display stands, Exhibition Stands since 1989.
Supplying a range of display equipment to over 100 local authorities and the retail trade and leisure industry we offer well priced and quality products to display your promotional and informational literature in and on.
Below are some examples of the great products we supply:
Notice Boards - Blutack or Pin Fixing
Notice Board/Locking Notice Boards
Notice Board Ideal for indoor or outdoor use. Offers outstanding value for money and excellent waterproof poster security. High spec construction in anodised silver aluminium with key locks (two on A1 and larger sizes). Stabilising arms hold the door open for poster changing. Unbreakable glazing (polycarbonate). Only 30mm deep from wall. 45mm wide profile.
When used as a notice board we suggest blue tack or flat headed drawing pins. The backing sheet is white corrugated plastic. Our locking poster cases and notice boards provide a professional and low cost alternative to many traditional notice boards which can be over-engineered and over-priced. Our notice boards are dual purpose - use as a poster case for one poster or as notice boards for several smaller sheets.

With classic notice boards around 10mm of the poster is hidden from view on all sides. For OVERALL DIMENSIONS add 70mm to total height and 70mm to total width to above sizes.

A spare key is provided for each lock so on the larger cases (A1 and bigger) there are two locks and four keys. The keys are all the same - useful for multi key holders.

For pole mounted notice boards we suggest a somewhat DIY approach. Wooden fence posts with separate metal spikes, both available from DIY stores/garden centres and a sheet of Marine Plywood screwed to the posts provides a sturdy support. Then simply screw our notice board to the sheet.

Magnetic Notice Boards - Magnets Included
Magnetic Notice Boards

can be used landscape or portrait, they are 4mm deeper and sturdier than the classic range of notice boards above. They come with a solid metal backing sheet, magnets are supplied for free to attach your posters / notices to the board.
They are ideal for offices, schools, churches etc, The sizes available reflect the number of A4 sheets which can be displayed (portrait) ie 4 x A4, 6 x A4, 9x A4, 12 x A4
Stock Items come in Silver Finish Only
Pavement Signs, A-Boards and Forecourt Signs
Windproof Pavement Sign
These are a brand new product of ours, these pavement signs contain 4 springs that allow them to flex in the wind, they are not only Windproof but also Waterproof making them perfect for outside use.

These signs have a non slip base, the base can be filled with sand or water to achieve maximum stability, 2 wheels are positioned along the single axis so the sign can be positioned easily and the base dimensions will fit through any door.

Snap Frame A-Boards
A quality manufactured product with a modern look in silver anodised aluminium. We have supplied these A-Boards to many prestige customers and they are ideal for indoor and outdoor use.

The frame simply snaps open on all four sides. Place your posters beneath the clear anti-glare protective sheet and snap the frame closed again.

These double sided A-boards (all our products are double sided) have lock out stays and fold flat for easy storage.

A1 size weighs 12 kilos, Height 110cm (43")

Snap Frames
Low Price Snap Frames - Huge Discounts - H

uge Stocks For Next Day Delivery
Attractive 25mm curved profile snap opening snap frames in natural anodised silver finish aluminium. Posters are protected by an anti-glare/scratch resistant PVC cover sheet and are held in place by a spring clip frame for fast poster/notice change. Just screw to the wall - holes towards each corner. Frames are bagged and include screws/wall plugs Sizes: A4, A3, A2, A1, A5.

For larger poster sizes we use a wider 32mm profile frame for poster sizes 40" X 30", A0 and 60" x 40".

Vandal Resistant Snap Frames
42mm vandal resistant profile snap frame notice boards for outdoor and indoor use. Sizes from A0 - 60" x 40". A really heavy duty profile frame for vulnerable positions or where poster theft could be a problem. These flat profile snap frames are virtually impossible to open the notice board without the special lever tool supplied. A 25mm semi-curved profile is also available for sizes A4 - A1.

Locking Snap Frames
We also offer snap frames which lock with a security allen key in all sizes.

Coloured Snap Frames
Most frames are also available in black at an additional price and brass (gold) and silver (chrome) are also available in the smaller sizes.


Or view our website...
Visit our website now to find out more about what we can offer
Related Products and Services
Windproof Pavement Sign

Classic Landscape Notice Board

Swinging Pavement Sign

A1 Snap Frame A-Board

Single Door Single Sided Magnetic Notice Board

Replacement Snap Frame Sheets

Heavy Duty Black A-Board

5

stars based on

9

customer reviews
Write a review
By Donald Cox , Skipsea Village Hall
Many thanks for your excellent after sales service. The replacement board arrived yesterday as promised and is now fixed as you can see from the attached.
Was this review useful?


By Eleanor Plant , St Peters Church Centre
Thank you for the prompt delivery of our A2 black A board. We are very pleased with it indeed. It is a great improvement on our existing sign and will enable us to display a wide variety of posters advertising our community café and events in the church centre.
Was this review useful?


By D Blench , Ludlow Assembly Rooms
Thank you, they have just arrived and I've unpacked them. They were beautifully packed and the windproof board went together very easily. Congrats on great design AND service.
Was this review useful?


By Steven Jones , Olive City Music
Dear Jon - it's arrived - looks great - thank you so much for getting it here so quickly - excellent service.
Was this review useful?


By Mike Robins , Classic Odeon 1936
Sir/Madam, Just a line to say what fantastic service I received after ordering the poster frames. Great product, good value, speedy delivery. What more could you want?
Was this review useful?


By Jim Swan , Dysary Sailing Club
I am writing to thank you for your kindness in sending spare keys for our notice board. It is service like this that will get you our business should we ever need any of your products in the future.
Was this review useful?


By Kenny , Buymobilephones.net
Thanks for the rapid service. I have checked the frames, they are fine, look great also! Thanks for your assistance yesterday regarding ordering, nice to deal with a company who actually wants to do business.
Was this review useful?


By Joe McKenna , Sedgefield Village Crime Watch Panel
We thank you for the excellent service and prompt delivery provided. Your excellent notice board is already in use, mounted prominently outside the village Police Station in Sedgefield.
Was this review useful?


By Danny , Cairndow Community Council
Just to let you know we received the notice board today. Looks great and great service!
Was this review useful?


Payment Methods
Visa
Visa Debit
BACS
MasterCard
Opening Hours
| | |
| --- | --- |
| Monday | - 9:00 to 6:00 |
| Tuesday | - 9:00 to 6:00 |
| Wednesday | - 9:00 to 6:00 |
| Thursday | - 9:00 to 6:00 |
| Friday | - 9:00 to 6:00 |
| Saturday | - Closed |
| Sunday | - Closed |
Promotions
Showing of 10 Promotions
Specialising In