Todays Opening Hours
Wednesday : 8:30 - 5:30
closed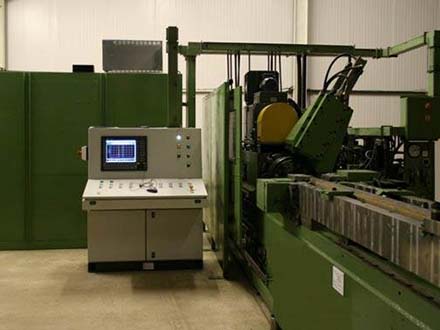 Welcome to Ashberry UK Ltd - Specialists in Friction Welding
ASHBERRY UK Ltd., located in Hoar Cross, England, is a business specializing in Friction Welding Machines, and the Friction Welding Process and Technology.

The company was formed in the early eighties to provide a support service to existing users of Friction Welding Machines, which have been supplied by a number of manufacturers.
Ashberry initially concentrated in the area of machine servicing, Installation, Commissioning, and modification of machines to the latest standards and control systems, re – tooling for new components, re – sitting of equipment and the training of both operators and maintenance personnel.

Ashberry quickly became established as a major provider of service to users of Friction Welding Machines throughout the world, and at times of overload have provided Test, Installation & Commissioning support to other Friction Welding Machine Manufacturers.

All of the key Ashberry personnel and Associates have worked with Friction Welding for two decades and have considerable expertise in the Friction Welding Process, Machine Design, Metallurgy, Hydraulics, Electronic Control Systems and Project Management, and are used to dealing with a wide variety of customers and cultures World Wide.

Ashberry recognised that there was an increasing need within a variety of industries for competitively priced Friction Welding Machines, which led to a new phase of expansion.

Ashberry now offer a wide range of second hand and re manufactured Friction Welding Machines.
Re manufactured Friction Welding Machines
The re-manufactured friction welding machines are completely stripped to base level, all of the working surfaces are brought to the ordinal drawing tolerance.

The machines are then rebuilt, and any special customers requirements are incorporated as are the latest improvements where applicable.

Invariable Hydraulic Systems and Electronic Control Equipment are provided, the Ashberry PLC standard is Telemechanique / Modicon which would have a Xycom style industrial terminal built into the control desk to provide the operator with an easy to use visual display, which display's machine status, machine parameters and a fault finding facility.

Whilst Telemechanique / Modicon are the Ashberry Standards, Ashbery are prepared to discuss & fit other control systems, for example :- Allen Bradley SLC7 or a Siemens Plc system to suit the customers requirements.
Corporate Videos
Friction Welding: The Process
Friction welding is "a method for making welds in which one component is moved relative to and in pressure contact with the mating component to produce heat at the faying surfaces, the weld being completed by the application of a forge force during or after the cessation of relative motion." (BS 6223:1982).

It is a completely mechanical solid-phase process in which head generated by friction is used to create the ideal conditions for a high-integrity welded joint between similar and dissimilar metals, and even thermoplastics.

In its simplest form friction welding involves holding two components in axial alignment.

One component is rotated and either one is advanced into pressure contact with the other.

A light, 'first' frictional load is applied to minimise initial torque and smooth surface imperfections. A higher, 'second' frictional load is then applied to increase the temperature of the faying surfaces until they reach a plastic state at which both the coefficient of friction and the interfacial temperature are stabilised. The weld zone temperature is always stabilised at a point below the melting point of the metals so that they can never become over-heated using this process.

During this heating phase, softened material begins to extrude in response to the applied pressure creating an annular upset. Because pressure must be maintained at the predetermined level, relative axial movement results and a predictable amount of material (called 'burn-off') is extruded. The rate of 'burn-off' is generally uniform. Surface contaminants not previously removed by mechanical action are by this means also expressed from the interface.

Heat is conducted away from the interfacial area to metal behind the faying surfaces to impart adequate 'deep ductility' for forging of the components to take place.

At the optimum moment, the rotating component is brought to a controlled stop. Bonding can now take place by the application of a 'forging force'.

The original axial load is either maintained or increased, hot working to joint to form a homogeneous full-surface, full-diameter high-integrity weld.
Ashberry Friction Welding
New Business Opportunities
Friction welding offers unique opportunities to reduce both material costs and manufacturing costs of components without any compromise of quality and reliability. In fact, friction welding can mean an improvement of quality and reliability in many applications where standards of performance and safety are crucial.

It does this by offering a way of making high-integrity welds that is efficient, economical and capable of a high degree of automation and high volumes of production and by creating new opportunities to re-specify both the materials and the forms from which a component may be made.

World Beating Process
Friction Welding is widely accepted as a competitive and effective process which is a valid and proven alternative to complex forging and CO2 / fusion and flash-butt / resistance welding techniques.

From Axle cases to anodes and drill pipe to twist drills, friction welding has proved itself a world beating industrial process. Today, it is used in a tremendous variety of applications in every industry. Companies of major international standing, including Ford, General Mosators, Rolls Royce and Fiat have exploited the opportunities offered by Friction Welding – using Thompson machines.

In the oil industry, friction welding is the preferred technique used by Hughes Tool Co and Mannesmann, to weld API drill pipe. In the automotive industry, virtually every important manufacturer in the world has adopted the process as standard for the production of axle housings. Many automotive industry applications are on safety-critical components, such as friction-welded steering links.

In the hydraulics industry, all of the main manufacturers use friction welding for the production of cylinders and pistons, for example as incorporated in J.C.B's earth moving equipment. In every instance, the decision to adopt friction welding technology has resulted in substantial benefits.

The process has a proven capability to inspire manufacturing and valve engineering decisions, such as flexible manufacturing systems, with significant potential for radical changes in product concepts.

ASHBERRY FRICTION WELDING maintains an on-going close relationship with all users of Thompson machines, and provides a comprehensive after-sales service consisting of installation, technical advice, servicing and maintenance documentation and support, service back-up and full spares supply.
Please visit our website or call us for further details
Related Products and Services
Friction Welding Machines

Used Friction Welding Machines

Friction Welding Machine Servicing

Friction Welding Machine Spares

For Sale Used M50 S. Sliding Head Friction Welde

For Sale M25 Double Head Axle/driveshaft F.Welder

M60 ton Operator Load/Working Position

M60 ton Rear of machine hot swarf shoot

M60 ton Hydraulic Power Pack & coolers

M60 ton 3 Jaw Front Operated Self gripping Chuck

M60 ton Front operated 3 jaw self gripping chuck.

M60 ton Chuck component run out test Test Rotatio

M60 ton Self centring clamp 140.7 mm Diameter grip

M60 N.C. Servo Controlled 2 axis Ext Flash Removal

M60 ton Machine at Friction Limit Friction Welder

M60 to 140.3 mm Diameter drill pipe Machine

Model 60 ton N.C. Control Flash Removal F. Welder

M60 140.3 Drill Pipe being polished after Welding.

M60 Vertical Axis Flash Removal Unit. Machine.

For sale M15 ton Sliding Head Friction welder.

Model 50 ton Used Machine Re-Manufactured

0

stars based on

0

customer reviews
Write a review