Todays Opening Hours
Tuesday : 9:00-4:30
closed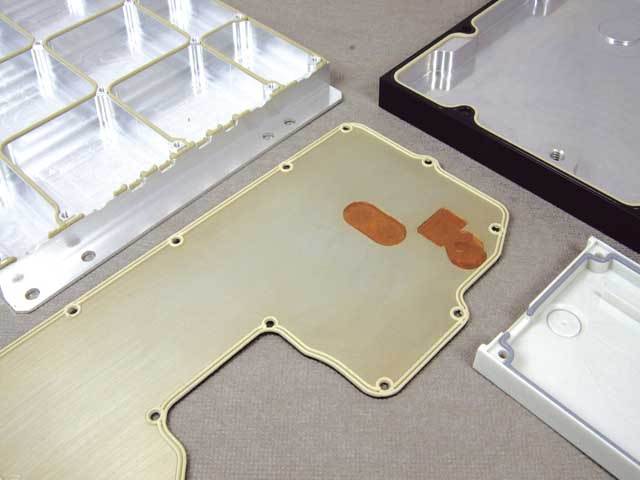 Manufacturer of RFI / EMI Shielding, Gaskets & Components
Kemtron is a leading manufacturer of EMI shielding and environmental sealing products not only in the UK but throughout the world. We have been providing solutions in this specialised field for over 30 years and to date work with blue chip customers in more than 35 countries and have achieved a global reputation for our quality, performance and reliability. We are also proud to be associated with some of the top names in industries such as aerospace, defence, communications, information technology and electronics. At Kemtron we work closely with our customerís right from the early stages using our expertise and unparalleled experience to ensure we provide them with the perfect shielding solution. Our RFI Shielding products and EMI Shielding products are all manufactured to the highest quality possible and supplied to the customer using our rapid supply service. We believe quality is everything and continue to invest in the stringent quality control process we have in place which begins at concept and follows right through production to delivery. Our manufacturing and warehouse facility at our headquarters in Braintree Essex provides in house design, development, engineering and manufacture of our products which means we have complete control over the entire process ensuring the high levels of quality and reliability which we are renowned for. Our accreditation includes ISO 9001:2008, ISO 14001:2004 and OHSAS 18001:2007.
Company Video - Proven EMC Shielding Performance
Kemtrons main product range includes:
EMI Shielding Products
Manufactured to be used for inspection panels or other display devices and provide optimum transparency and EMI shielding. Manufactured from stainless steel or copper wire mesh and laminated or embedded within a range of optical substrates. These can be made to order in various sizes ranging from small to large architectural window size. These are also available with clear ITO coatings.
RFI Shielding
RFI Shielding or Attenuvents are manufactured from either Aluminium or Steel Honey Comb mounted into a frame. We have many frame styles available together with varying thicknesses and configurations of honey comb so as to cope with different shielding requirements. Protective grilles are also available for vulnerable areas with dust filtration foams all of which can be plated or painted to customers own specification.
Conductive Elastomers
These are fully cured silicones of fluorosilicone loaded with a variety of highly conductive particles giving superior EMI/RFI shielding performance combined with excellent environmental sealing from water and dust. The various conductive fillers are designed to ensure galvanic compatibility and at the same time giving low contact resistance between mating surfaces.
Knitted Wire Mesh
Our knitted wire mesh gasket products provide and excellent cost effective EMI gasket which provides shielding in both electric and magnetic fields. We knit four wire types including Stainless Steel, Monel, Aluminium and Tin Plated Copper /Clad Steel. These products can be supplied as solid mesh or knitted over elastomeric cores with or without environmental seal in continuous lengths or made to the customersí own requireme nts.
Conductive Fabric Over Foam Gaskets
These are highly conductive nickel/copper or silver plated polyester or nylon fabric over open celled urethane core. They are also available in many profiles such as rectangular, D-shaped and low compression/deflection C-shaped seals. They provide an excellent EMI gasket with low compression set and excellent abrasion resistance for wiping and high cycling applications. Most of these products meet UL94V-0 and can be supplied in strips cut to length or die cut.
Form In Place Gaskets
Our conductive or non-conductive elastomer compounds are deposited as a gasket directly to the enclosure using CNC technology and can be very intricate small sections which makes them suitable for enclosures with no space for a normal gasket such as thin walled multi-compartment housings providing an EMI and environmental seal.
Beryllium Copper Finger Stocks
These products possess superior mechanical spring characteristics and high electrical conductivity which makes them suitable for shielding applications where frequent access is needed such as shielded room doors. Available in profiles to suit most EMI shielding requirements such as grounding. A wide range of plating finishes are also available so as to address galvanic compatibility concerns and enhance shielding performance.
Conductive Adhesives
Single component room temperature, vulcanising electrically conductive silicone available in fillers from silver to nickel coated graphite and designed to be used as a thin bond between two components. We can also supply caulking compound for larger gaps and two component epoxy systems.

The products displayed here represent our main products only, but our full product list and more information and detailed product data may be found by viewing our main website.

If you would like to learn more about our products and services or you require technical assistance please give us a call. Alternatively you can fill in the online enquiry form.
www.kemtron.co.uk
Related Products and Services
Form in place gaskets

Fabric over foam

EMI shielding ventilation panels

EMI shielded windows

Conductive adhesives

Beryllium copper

Conductive elastomers

Knitted wire mesh

0

stars based on

0

customer reviews
Write a review
Opening Hours
| | |
| --- | --- |
| Monday | - 09:00 to 16:30 |
| Tuesday | - 09:00 to 16:30 |
| Wednesday | - 09:00 to 16:30 |
| Thursday | - 09:00 to 16:30 |
| Friday | - 09:00 to 16:30 |
| Saturday | - Closed |
| Sunday | - Closed |