Todays Opening Hours
Wednesday : 8:30-5:00
closed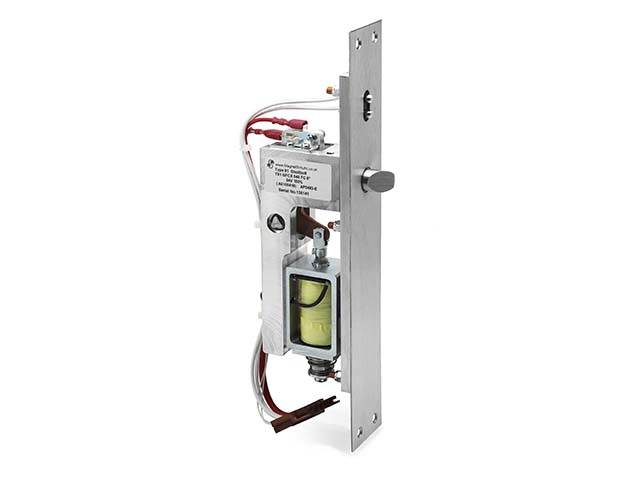 Electromagnet Suppliers | Electromagnet Manufacturers | Electric Door Locks | High Security Door Locks
Welcome to Magnet-Schultz: Solenoid Based Engineering Solutions, Design & Assembly specialist Electric Door Locks, High Security Door Locks, Electromagnet Suppliers and Electromagnet Manufacturers. We have been serving customers around the world in many different types of industries for over 90 years and are the UK arm of the Magnet-Schultz Group. As Electromagnet Manufacturers we are the best around, our long history and proven quality give us a reputation we are proud of, no other Electromagnet Suppliers can match our level of service.
Magnet Schultz Ltd is a leader in the design and development of special-purpose electric locking & holding mechanisms and bespoke electromagnet assemblies for a broad range of demanding applications. Our unequalled knowledge and design expertise helps eliminate the risk and costs of in-house solenoid development projects.

We offer a unique total service that extends from concept to prototype to production , all backed by a proven reputation for quality and on-time delivery. Our award-winning products and innovative solenoid-based solutions are used in a variety of markets including security, transport, medical & pharmaceutical, marine, fire, industrial control, automotive and aerospace. Our solenoid expertise has led to the creation of technologically advanced products such as ATEX certified shot bolts, patented locks for high security cabinets, special purpose electric gate locks, plus innovative degaussing and actuation control solutions to optimise performance.

As the UK arm of the Magnet-Schultz Group, the world's leading solenoid manufacturer, we also supply a wide range of solenoids and off-the-shelf components.
Company Videos
Electric Mini Bolt
Industrial Load Release
Electric Bolt Lock (Industrial)
GFC Solenoid and Spring Return Attachment
www.magnetschultz.co.uk
Related Products and Services
Electric Door Locks

Electric Mini Bolt

Housed Door Bolts

Electric Door Bolts

Electric Cabinet Lock

Heavy Duty Electric Gate Lock

Electric Load Release

Electric Shotbolts

Weatherproof Shotbolts

Linear Solenoids

Enclosed Solenoids

Latching Solenoids

ATEX Solenoids

Rotary Solenoids

Electromagnets

LVDT Position Sensors

Hydraulic Solenoids

Solenoid Force Amplifiers

0

stars based on

0

customer reviews
Write a review
Approvals & Certificates

ISO 9001 Quality management systems
Opening Hours
| | |
| --- | --- |
| Monday | - 08:30 to 17:00 |
| Tuesday | - 08:30 to 17:00 |
| Wednesday | - 08:30 to 17:00 |
| Thursday | - 08:30 to 17:00 |
| Friday | - 08:30 to 17:00 |
| Saturday | - Closed |
| Sunday | - Closed |