Todays Opening Hours
Monday : 8:30-5:30
Open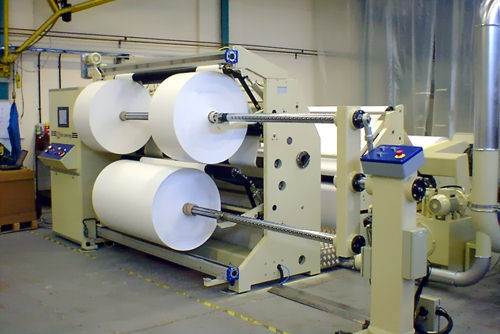 Manufacturers of Slitting, Winding and Spooling Machinery
Covering both the UK and worldwide markets Alpha Converting is a converting machinery manufacturer of a wide range of converting equipment such as slitter rewinders, winding machines, spooling equipment, salvage doctors, trim winders and associated bespoke machinery.

...• Slitter Rewinders
...• Unwinds/Rewinders
...• Spoolers
...• Trim Winders
...• Automatic Winders
...• Special Projects

Our customer's demands are extremely varied so we always take time to listen to their exact requirements whatever they may be.

At Alpha Converting we are also proud of our flexible approach and our ability to understand our customers' existing production techniques and methods to provide them with a piece of equipment that will totally fulfil their needs.

There is no doubt that our innovation and high standards of technical engineering sets us apart within this industry along with our ability to continually exceed our customers expectations.
Slitting Machines and Rewinding Machinery
Our range of centre and surface slitting machines and winding equipment is able to slit and rewind a vast range of materials, from thin films to heavy board and medical films through to industrial fibreglass.

Our standard range of models can be custom manufactured to meet the specific needs of every one of our customers.

From simple slitting machines to fully automatic custom machines, and from 4mm list widths to 3000mm master webs we offer one of the most comprehensive services anywhere.

To view our Slitting Machines Click Here
Unwinds/Rewinders
From simple manual operation to fully automated, either shafted or shaftless.

Whether fixed height or pick up from the floor, braked or driven, continuous duty or stop roll change and single position turret, Alpha Converting is here waiting to offer advice on the best unwind or rewinder for your particular application.

To view our Unwinds/Rewinders Click Here
Spoolers
Alpha Converting is able to design and manufacture a range of spooling machinery including:

Pancake Spooling Machines
stand-alone spoolers - bench top models - heavy duty spoolers

Non-stop spooling machines
integrating with a wide range of tape and filament production lines

Multi-head Spooling machines
72 station slit spoolers, heavy duty slitter spoolers

To view our Spoolers Click Here
Trim Winders
We supply a wide range of trim winding machines for an equally wide range of applications all of which are available with either traverse winding for spooling of narrow width trims or for straight winding with wider trims.

To view our Trim Winders Click Here
Automatic Winders
The ALPAHAMATIC range of automatic winding machines are capable of covering every type of material from 50um LDPE to thick 10mm foams.

Whether you require a semi-automatic or fully automatic machine we can customise your equipment to meet your exact requirements.

To view our Automatic Winders Click Here
Special Projects Machine Range
At Alpha Converting we have the expertise, experience and manufacturing facility to provide our customers with a complete customisation service so if you have a specific requirement we will work with you from initial concept through to delivery.

If you would like further information about Alpha Converting please either visit our website of get in touch directly.
www.alpha-converting.co.uk
Related Products and Services
Duplex Slitter Rewinders

Slitter Rewinders

Duplex HR Slitter Rewinders

HR Slitter Rewinders

Individual Arm Slitter Rewinders

Centre Surface Slitter Rewinders

Centre Slitter Rewinders

Shaftless Unwind Rewinders

Salvage Rewinders and Inspection

Shafted Unwind Rewinders

Cantilevered Shafted Unwind Rewinders

Slit Spooling Machines

Stand Alone Pancake Spoolers

Non-Stop Spooling Machines

TWM Trim Winders

Pneumatic Trim Winders

Automatic Slitter Rewinders

Turret Winding Machines

Web Handling Print Platforms

Custom Built Unwind Rewinders

Custom Special Purpose Machines

0

stars based on

0

customer reviews
Write a review
Opening Hours
| | |
| --- | --- |
| Monday | - 08:30 to 17:30 |
| Tuesday | - 08:30 to 17:30 |
| Wednesday | - 08:30 to 17:30 |
| Thursday | - 08:30 to 17:30 |
| Friday | - 08:30 to 17:30 |
| Saturday | - Closed |
| Sunday | - Closed |