Todays Opening Hours
Wednesday : 9:00-5:00
Open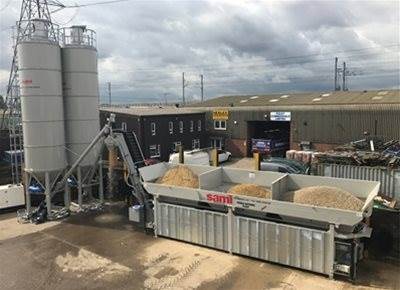 UK's largest range of new and used concrete equipment for hire or sale

Utranazz has been providing its customers with both new and used concrete equipment for over fifty years either on a sales or hire basis.

Utranazz also offers an excellent after sales service to include spare parts and shipping.

...• New Equipment
...• Used Equipment
...• Hire
...• Sales
...• After Sales
...• Spare Parts
...• Shipping

For hire equipment Click Here

Concrete Batching Plant
Utranazz offers a range of both dry and wet concrete batching plants which are fully transportable, fully automated and have their own hydraulic off-loading legs with capacity outputs of up to 80m3 per hour!

We offer a choice of three sizes including 2, 3 and 4 bin with each unit having its own specially designed conveyor belt for shifting raw materials.

Load cells, digital displays and printers are also incorporated in their design for the continuous control of your raw materials. More information on the range of concrete batching plant from Utranazz may be found on our website.

Dry Concrete Batching Plants
Our dry concrete batching plants are fully automated, transportable and unrivalled by any of its competitors. They are capable of producing outputs of 80m3 per hour and have their own hydraulic off-loading legs

For dry concrete batching plants Click Here

Wet Concrete Batching Plants
Our wet range come in three varieties, with 3 or 4 bins and are capable of producing 50m3 of wet concrete per hour. The TecnoMix LT actually has the capability to produce 100m3 per hour when a special accessory is fitted.

For wet concrete batching plants Click Here

New Equipment
With one of the largest ranges of new concrete equipment available Utranazz is able to provide a vast range of products from some of the industry's leading concrete equipment manufacturers all of which carry twelve months warranty as standard.

Our new equipment supply service also includes guaranteed buy back and hire with option to purchase scheme service along with an exceptional part exchange allowance.

We can also provide you with hire purchase and a lease agreement; these too are very competitive so why not head over to our website to find out more.

For new equipment Click Here

Standard Transit Concrete Mixer Trucks
Designed to deliver concrete to job sites our standard concrete mixer trucks are available in a range of sizes varying from 2 to 9 cubic metres.

We offer a range of makes and models to suit the individual needs of customers and can even supply articulated standard concrete trucks with outputs of up to 14 cubic metres.

We have a huge range of used concrete mixer trucks available for both sale and hire.

Cement Silos
Utranazz supply both static upright and low-level mobile silos to purchase both new and used. We also have a wide range available for hire.

Our range of mobile cement silos store in capacities from around 10 to 75 tons, they are easy to set up on site, simple to transport and come equipped with an electronic weighing system with printer and digital display.

For new cement silos Click Here

Truck Mounted Concrete Pumps
The Utranazz range of truck mounted concrete pumps from the leading manufacturer Sermac are world renowned for their functionality and reliability.

They are also available in a range of sizes and boom lengths from 20-65 meters with concrete outputs of up to 185m3 per hour and pressures of up to 76 bars.

Every single truck mounted concrete pump is manufactured from high quality, wear resistant materials ensuring a long working life with minimal operating costs so to find out more please visit the Utranazz website.

The line-up of top quality and reliable concrete equipment from Utranazz continues with Placing Booms and Accessories, Remix Agitators, Screed and Mortar Mixers and Pumps, Self-Loading Batching Plants, Cement Silos Low-Level Upright, Trailer Mounted Concrete Pumps and Placing Booms.

Utranazz is also able to supply a wide range of spares and accessories along with a range of top quality auxiliary equipment such as Pan Mixers, Weigh Hoppers & Bags Breakers and Electronic Weighbatching instrumentation.

This is only a small sample of the wide range of concrete equipment available from Utranazz. If you would like to find our more please visit our website or get in touch, thank you.

Areas Covered
We cover the following areas and the rest of the UK:

Aberdeen
Andover
Ashford
Avon
Aylesbury
Banbury
Bangor
Basingstoke
Bath
Beaconsfield
Bedford
Bedfordshire
Belfast
Berkshire
Birmingham
Bishops Stortford
Borders
Bournemouth
Bracknell
Bradford
Bridgend
Brighton
Brighton and Hove
Bristol
Buckinghamshire
Camberley
Cambridge
Cambridgeshire
Canterbury
Cardiff
Carlisle
Central
Chelmsford
Cheltenham
Cheshire
Chester
Chichester
City of London
Cleveland
Clwyd
Colchester
Cornwall
Coventry
Crawley
Cumbria
Derby
Derbyshire
Devon
Dorchester
Dorset
Dover
Dumfries and Galloway
Dundee
Durham
Dyfed
East Sussex
Edinburgh
Ely

Essex
Exeter
Fife
Folkestone
Glasgow
Gloucester
Gloucestershire
Grampian
Greater Manchester
Guildford
Gwent
Gwynedd County
Hampshire
Hemel Hempstead
Henley
Henley-on-Thames
Hereford
Herefordshire
Hertford
Hertfordshire
High Wycombe
Highlands and Islands
Humberside
Inverness
Ipswich
Isle of Wight
Kent
Kingston upon Hull
Lancashire
Lancaster
Leeds
Leicester
Leicestershire
Lichfield
Lincoln
Lincolnshire
Lisbon
Liverpool
London
Lothian
Luton
Maidenhead
Maidstone
Manchester
Merseyside
Mid Glamorgan
Milton Keynes
Newbury
Newcastle upon Tyne
Newport
Newry
Norfolk
North Yorkshire
Northampton
Northamptonshire
Northumberland
Norwich
Nottingham

Nottinghamshire
Oxford
Oxfordshire
Peterborough
Plymouth
Poole
Portsmouth
Powys
Preston
Reading
Reigate
Ripon
Rutland
Salford
Salisbury
Sheffield
Shropshire
Slough
Somerset
South Glamorgan
South Yorkshire
Southampton
St Albans
St David's
Staffordshire
Staines
Stirling
Stoke-on-Trent
Strathclyde
Suffolk
Sunderland
Surrey
Swansea
Swindon
Taunton
Tayside
Telford
Truro
Tyne and Wear
Wakefield
Warwickshire
Watford
West Glamorgan
West Midlands
West Sussex
West Yorkshire
Westminster
Weymouth
Wiltshire
Winchester
Windsor
Wolverhampton
Worcester
Worcestershire
Wrexham
Yeovil
York
Related Products and Services
Dry Concrete Batching Plants

Wet Concrete Batching Plants

Self-Loading Concrete Batching Plants

Standard Transit Concrete Mixer Trucks

Volumetric Concrete Mixers

Truck-Mounted Concrete Pumps

Self-Loading Rough Terrain Concrete Mixers

Trailer-Mounted Boom Pumps

Cement Silo

Self-Loading Concrete Truck Mixers

Weigh Hoppers & Bag Breakers

Used Equipment

5

stars based on

6

customer reviews
Write a review
By Sue Delnevo ,
The only place to go to for all your concrete equipment requirements be it short or long term hire, purchase of new or used machines or service/repair of equipment.
Was this review useful?


By Verity Harfield ,
Excellent Service - Great company to do business with. I would highly recommend Utranazz. The engineers all have an excellent knowledge of all the concrete equipment and are always willing to help. The ladies in the office that deal with the spare parts also have a good understanding and have always gone the extra mile to help me.
Was this review useful?


By Simon Smith ,
Very prompt service, part arrived next day.
Was this review useful?


By Finn Holroyd ,
Outstanding service and very knowledgeable with a good understanding of meeting our very specific requirements for a difficult construction project.
Was this review useful?


By Steven Thain ,
A good company who provide a professional service.
Was this review useful?


By Sue Delnevo ,
Extremely professional company with courteous staff.
Was this review useful?


Opening Hours
| | |
| --- | --- |
| Monday | - 09:00 to 17:00 |
| Tuesday | - 09:00 to 17:00 |
| Wednesday | - 09:00 to 17:00 |
| Thursday | - 09:00 to 17:00 |
| Friday | - 09:00 to 17:00 |
| Saturday | - Closed |
| Sunday | - Closed |