Todays Opening Hours
Saturday : 9:00-12:30
closed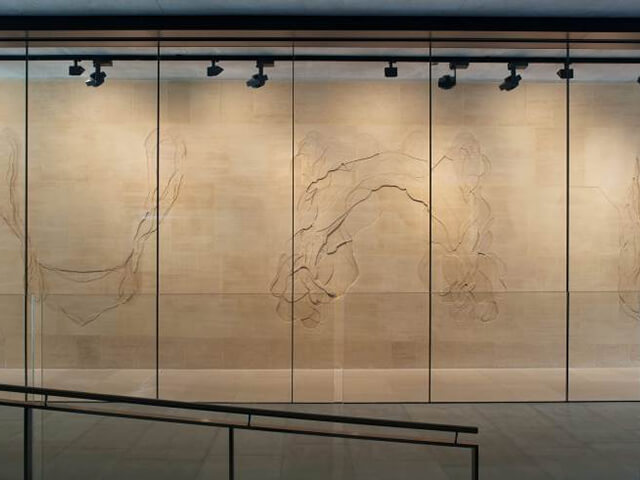 stoneCIRCLE - Manufacturing Stone for Contracts across the UK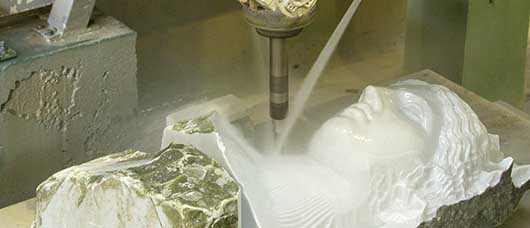 stoneCIRCLE has been manufacturing stone products for commercial and domestic products across the UK for the last 50 years, both as a sub-contractor to the major stone contracting companies and directly to the client, via specification by architects and designers. The company is the largest stonemason in the south of England, with a CNC equipped factory which includes a 5-axis machine and water jet cutter. They also use traditional hand finishing where appropriate.
Services
Work undertaken varies from commercial projects such as the bathrooms of the Royal Suite in a top London hotel, a set of 12 staircases for a major retail brands' flagship store, and onyx bar tops for Emirate Airlines fleet of A380 planes through granite worktops and other stone for residential interiors to producing artworks for installations by some of Britain's most well-known artists.

The factory and showroom are located in Basingstoke handily close to central London, with a second showroom in Newbury where there is an indoor slab gallery featuring hundreds of different slabs. All work is bespoke: produced to the client's specification in the stone of their choice, with technical advice available to assist in making sure that the stone chosen is appropriate for the intended use, be that interior or exterior.
Materials
Natural Stone
stoneCIRCLE is able to source and supply hundreds of types of natural stone from around the world such as limestones, marbles, granites, travertine and onyx. Where necessary, the precise slab from which the product will be manufactured, can be chosen to ensure that the veining is as desired.

The company can also work from free issue stone materials supplied by the contractor where this is required.
Quartz & Sintered Stone
The company is an approved fabricator for all major brands of quartz and sintered stone, including Silestone, Caesarstone, Dekton, Neolith and Lapitec. These composite stones are more regular in appearance than natural stone, and are used where uniformity is desired.
Granite
stoneCIRCLE has manufactured a vast range of granite products for contractors and architects including bar tops for hotels, granite fireplaces, water features, monuments and granite worktops for the residential market.

Full sized slabs of granite are also available to view in the indoor gallery located at our Newbury showroom where of course our expert and knowledgeable staff are on hand to offer advice on your selection.
Marble
For many years now stoneCIRCLE have been crafting marble products to architects and contractors alike for their specific stone product needs.

We use the latest stone industry technology to bring their visions to reality. Our extremely accurate and precise CNC cutting machines are capable of 3D stone machining, and water jet cutting.

Recent projects undertaken include twisted string staircases for a new store in Shanghai and a beautiful marble Mihrab for the Oxford Centre for Islamic Studies.
Company Video
www.stone-circle.com
Related Products and Services
Jaumont Yellow Limestone Frieze by Susanna Heron

Bespoke Arabescato Marble Staircase

Curved Portland Stone Wall for Office Development

Hotel bathroom in Giallo Sienna & Sivec Marble

Rhona Smith's Portland Stone & Bronze Art Wall

Onyx Bar Top in Airbus A380

Bianco Lhasa Quartzite Counter Tops

Crema Grey Light Marble Swimming Pool Steps

Travertine & Zimbabwe black granite bathroom

Zimbabwe Black Brushed Bar Top

Bookmatched Arabescato Marble Bathroom

Machining a Statuary Marble Statue

Granite water feature for Hardiman Square

Corinthian Marble Staircases

Stone Carving

Trevisan Engineered Stone Bath Surround

Contemporary Emperador Marble Fireplace

Granite Garden Ornaments

Portland Stone and Pietra Serena Stone Patio

Travertine Classico Church Furniture

Statuary Marble Carved Plinth

5

stars based on

7

customer reviews
Write a review
By Christine W. ,
I just wanted to thank you for your help in getting my kitchen finished. Your efficiency and helpfulness did not go unnoticed and I am very grateful. I am thrilled with the finished result and would like to add how nice your "boys" are and what a lovely job they did. It was a pleasure dealing with Stone Circle
Was this review useful?


By P. Massingham ,
Excellent in all respects From first visit to Basingstoke showroom things could not have been better. New granite worktops and splash-backs, Floor tiles, reworking old granite top for utility room. Everyone we met was helpful with advice, timings could not be faulted, installers were excellent. A very pleasing result. Thanks to all. P.Massingham
Was this review useful?


By Ian Mooney ,
Lovely new worktops Excellent service and excellent product. Highly recommended.
Was this review useful?


By Mr Chris Smith ,
Have done a great job and would definitely use Stone Circle again.
Was this review useful?


By Pat Balfour ,
Kathy was truly excellent, guiding me through the whole process. She was guenuinely interested and patiently answered all my questions. She kept it all simple and made it very easy to buy. My kitchen is spectacular and the granite is the icing on the cake. The templating and fitting couldn't have been more straightforward. I would use Kathy again and can't recommend her highly enough. Always bright cheerful and only to happy to help.
Was this review useful?


By Mrs W ,
5 star experience with Stone Circle. It is my pleasure to give Stone Circle a resounding endorsement for the work they did for me recently. I had been really concerned about the procedure and cost involved in choosing worktops for our large kitchen project as it is such a major expense. However Stone Circle could not have made the process any easier. It started with friendly and knowledgeable advice from Sue in the Newbury showroom where there is a stunning display of beautiful natural stone and quartz worktops. We chose Silestone Lagoon for the look of marble without the drawbacks of porosity, staining etc. The on-site measuring was carefully performed with the latest laser technology ensuring millimetre-perfect fitting of the worktops. On the day of installation, the fitters transformed the room from a building site to a working kitchen in a matter of hours. The quality of the finished work is outstanding with incredible attention to detail and perfect accuracy. I am absolutely t
Was this review useful?


By DG , Reardonsmith Architects
I would also like to thank you for your assistance on site from yourself and your team, it has been difficult but the result is fantastic. We will definitely stay in touch for future projects and I would also like to try to coordinate a CPD for our office in order for you to teach us a couple of things about stone and meet the rest of the people.
Was this review useful?


Key Contacts
Steve Vanhinsbergh
Director
Tel:
Email: steve

stone-circle.com
Opening Hours
| | |
| --- | --- |
| Monday | - 08:00 to 17:00 |
| Tuesday | - 08:00 to 17:00 |
| Wednesday | - 08:00 to 17:00 |
| Thursday | - 08:00 to 17:00 |
| Friday | - 08:00 to 17:00 |
| Saturday | - 09:00 to 12:30 |
| Sunday | - Closed |