Todays Opening Hours
Monday : 8:30 - 5:30
closed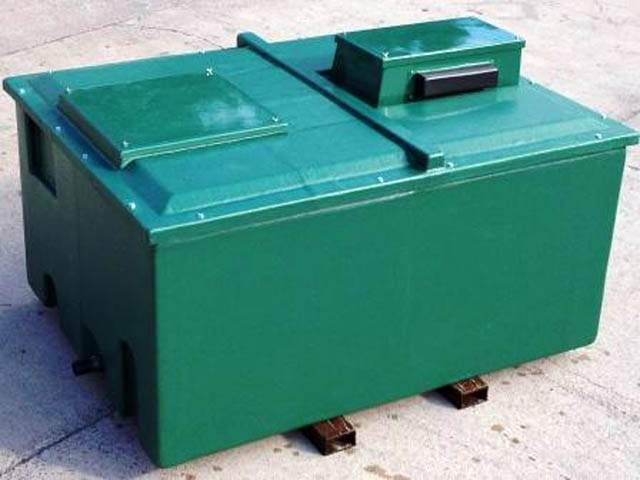 GRP Products | Chemical Storage Tanks
We are specialists in manufacturing GRP (Fibreglass) water and chemical storage tanks.

Precolor water and chemical storage tanks can be supplied as one piece tanks, two piece tanks (semi sectional) or full sectional tanks. Bespoke sized water storage tanks and chemical storage tanks can also be manufactured to special requirements.

Tanks are free standing and only require a flat fully supporting base either internal or external. They are supplied with a standard bolted lid to suit as part of the main structure but can also be made open top with extra reinforcement or support straps across the tank.

They are suitable for holding water – hot or cold, potable or not and for a variety of chemicals such as glycol for chiller tanks. They can be utilised for various operations, from feeding hotels to being installed as fire sprinkler tanks.

We have over 30 years trading experience making our tanks some of the highest quality on the market. All of our GRP water storage tanks are built to last and are fully WRAS approved. The maintenance of quality is of major importance to us and all our internal systems are fully compliant with BS EN ISO 9001 : 2008. Delivery available throughout the UK.

For more about us Click Here
GRP One Piece Storage Tanks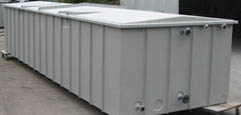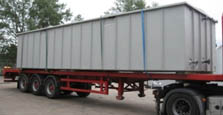 Precolor's GRP One Piece Tanks have been specifically designed to meet the stringent requirements of BS EN 13280 : 2001, they are also fully WRAS Approved. They are light in weight, easily handled and resistant to corrosion and attack from bacteria which may normally be expected in cold water systems. GRP is easily cut and drilled with ordinary plumbers tools. We can also manufacture standard specialist tanks for storing a wide range of chemicals. Tanks can be manufactured in our standard grey colour or to a specific RAL colour as per the customers requirements, popular options are British Racing Green and Blue

Pre-insulated tanks protect contents from extremes of heat and cold, thereby reducing excessive temperature fluctuations which increase the risk of bacteria growth. To restrict microbiological growth the temperatures in the tank should be kept as low as possible and below 20 °C. Insulation is available in either 25mm, 50mm, 75mm or 100mm expanded HCFC and CFC free polyurethane foam encapsulated in both the lid and tank sides. Tanks supported on a flat base do not normally require insulation underneath. Standard positioned pre-formed cutouts to accommodate tank connections and fittings are provided on all special and standard tanks. If required, we can position the cutouts to the customers specification.

Precolor's standard Rigid One Piece tanks can be supplied in Metric and Imperial sizes from 10 - 11,250 Gallons or 45 - 90,000 Litres. Special sizes and shapes including irregular shapes such as 'L' shaped or tapered tanks and cisterns can also be manufactured to customers own requirements.

These tanks make a cost effective alternative to traditional sectional tanks where there are no access restrictions.

For one piece tanks Click Here
GRP
Sectional Storage Tanks
These tanks are for use where access is restricted or if replacement of a defective tank involves extensive structural alteration to the building. These tanks are manufactured in panels and then bolted and sealed at site by our qualified technicians. We can install throughout the UK and all of our installers are CSCS card holders.

Panels are 1m x 1m as standard, although different sizes can be manufactured should access be particularly tight. Access of 500mm is usually required around the tank to install. These tanks are ideal for tanks that need a larger capacity but do not have the access to get a one piece or semi sectional tank through.

Often, one piece or semi sectional tanks can be installed instead of the more costly sectional tanks. We would always advise our customers to consider these options before deciding on installing a sectional tank.

We offer three different types of sectional tanks depending on site conditions and access restrictions.

Externally Flanged Base (E.F.B)
Externally Flanged Base tanks are designed for installation on dwarf walls or steel beams.

Internally Flanged Base (I.F.B)
Internally Flanged Base tanks are designed to be installed on fully flat supporting bases.

Totally Internally Flanged (T.I.F)
Totally Internally Flanged tanks are designed with all flanges on the inside of the tank, which allow maximum size and installation in areas with extremely restricted assembly space around the tank.
All of our one piece, semi sectional and sectional tanks are manufactured to BS EN 13280: 2001 and fully approved by the Water Regulations Advisory Scheme (WRAS)

For sectional water tanks Click Here
GRP
Semi Sectional Storage Tanks
These GRP Tanks basically have the same specification as a one piece tank except they have a single horizontal joint which splits the height of the tank, separating it into two halves. This then allows the tank to be passed through a doorway or similar access restrictions allowing them to be easily assembled on the other side. Two piece semi-sectional tanks can be used as an alternative to the conventional sectional types of tanks, saving expensive installation and future maintenance costs.

These two piece tanks can easily be erected by the customer and are supplied complete with nuts, bolts, washers and sealer.

For semi sectional tanks Click Here
Tank Accessories
Precolor can supply most tank fittings and accessories as listed below: -



Screened Overflows, Warning Pipes, Tank Breathers and Vents

PN16 Stub Flanges with Galvanised Backing Ring

Equilibrium Ball Valves

Aylesbury Float Valves

AD52 Magnetic Float Switches

Screened spillover weirs for Type AB Airgaps - for Fluid Category 5 Back Flow Prevention

Raised Ball Valve Housings

Access hatches - circular or rectangular

GRP Drip Trays

Centre, Baffle & Weir Plates

Brass BSP Essex Connectors
For tank accessories Click Here
GRP Housings
Precolor's GRP Housings, Kiosks and Enclosures are designed to protect and insulate tanks, pipework, pumps, meters and associated equipment against the weather, accidental damage and vandalism. Our housings can be supplied in one piece or in sections for assembly on site.Our housings are very versatile and can be sited on the ground, a flat roof or any other level and even surface as required. They can also be manufactured plain or with encapsulated insulation. Custom made to your particular requirements.

Available with any of the following features:-



Single or Double Doors

Lockable Handles

Louvered Vents

Plywood Internal Back Boards

Fire Retardant resin on application

Boltable down

Available in a variety of external colours

Smooth External Surface

Custom made to any sizes
Case Studies
www.precolortankdivision.co.uk
Related Products and Services
3000 Litre Pre-insulated Water Storage Tank

Range of Cold Water Storage Tanks

60,000 Litre Large One Piece Water Storage Tank

One Piece GRP Storage Tanks

Semi Sectional Cold Water Storage Tanks

Two Piece Sectional Water Tank

Precolor Tank Division

1000 Litre Semi Sectional

Precolor Tank Division

Precolor Tank Division

Split Lid with Weather Strip

GRP Water Tank with Spigot Pipes

0

stars based on

0

customer reviews
Write a review