Todays Opening Hours
Thursday : 8:30 - 5:30
closed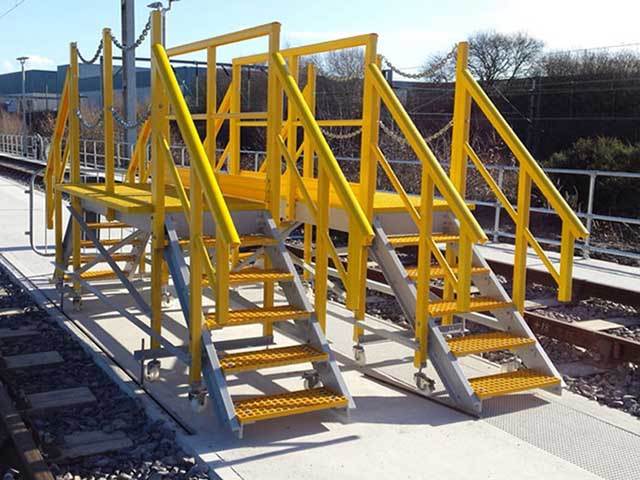 Standard & Tailored GRP Products & Services to a Wide Client Base
For over 24 years Chemglass has been providing both standard and tailored GRP products and services to a wide client base some of which have included the chemical, water, civil engineering, food and electrical industries.

At Chemglass we are proud of our ability to respond to the ever changing needs of our customers by utilising our flexibility, imagination and fabrication capabilities.

These attributes are due to our continual program of investment, improvement in our staff, systems and manufacturing processes. Chemglass also has the ability to offer a wide range of tailored solutions for its customer's specific needs.
Products
Standard
Chemglass is able to provide a comprehensive manufacturing and installation service for some of the more standard products including:

...• Flooring
...• Ladders
...• Access Platforms & Walkways
...• Handrail Sections
Flooring
Our flooring capacity includes a range of innovative products such as open mesh grating which has a silica impregnated surface for sure footing in certain weather conditions. It's lightweight, chemical resistant, fire retardant and easy to cut for installation. It's also self-draining and has been designed to stop gas build up by allowing improved air circulation.

For ladders Click Here
Ladders
The ladders designed and manufactured by Chemglass have been created with safety as paramount. All products are anti-slip, strong yet lightweight and virtually maintenance free.

We can also supply safety cages that affix to the ladder stringers and specialised brackets and fittings to suit your specific installation. All ladders from Chemglass are either available in stock lengths or can be tailored for your particular application.

For ladders Click Here
Access Platforms & Walkways
Once again the range of innovative access platforms and walkways from Chemglass are lightweight, strong, anti-slip and fire retardant. Applications are many so please visit our website or contact us for more information.

For access platforms Click Here
Handrail Sections
All handrail products manufactured by Chemglass are built to BS6399 Part 1-1996 standards for handrail heights etc.

Chemglass GRP handrail sections combine toe guards in straight or `W` forms, box section uprights in either 50mm or 60mm square section, 38mm Diameter mid rails and either continuous `U` section or 38mm diameter handrails, however any combination is possible so please contact us with your specific requirements.

For handrail sections Click Here
Bespoke Products
At Chemglass we have the ability to design and fabricate `one off` products to meet our customers specific needs including but not limited to:

...• GRP Guards
...• GRP Rail Steps
...• GRP Lightweight Bridges

Much further information about our bespoke design and fabrication service may be found by visiting our website or getting in touch. The Chemglass website also contains a range of downloads containing more specific information and data.

For bespoke products Click Here
Services
At Chemglass we offer a full range of services for all of your GRP fabrication requirements including:

...• Design
...• Manufacture
...• Fabrication
...• Installation

All of the above services are dependent on the level of your particular application so whatever your requirements are here at Chemglass we have the expertise and skills to provide you with the perfect solution.

If you would like to find out more about Chemglass or you need a quotation we would be more than happy to hear from you.
Related Products and Services
Access Platforms & Walkways

GRP Access Platforms

Bespoke Access Platforms

Industrial GRP Access

GRP Design, Manufacture & Installation

Bespoke GRP Walkways

Industrial GRP Projects

GRP Design

GRP Walkways

GRP Stairways

GRP Installation

GRP Structure Manufacture

0

stars based on

0

customer reviews
Write a review