Todays Opening Hours
Thursday : 8:30 - 5:30
closed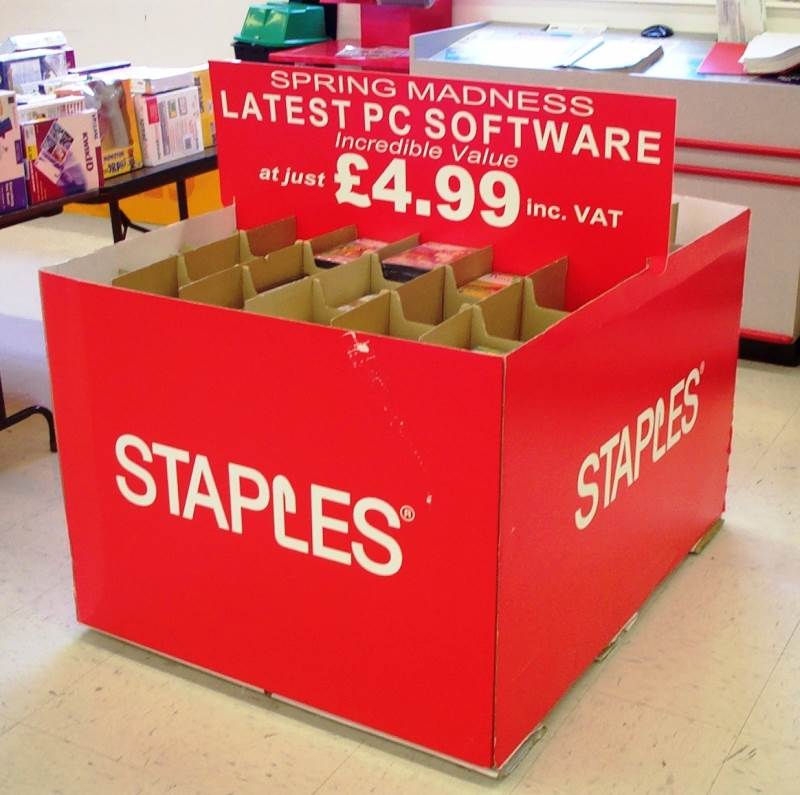 Welcome To Display Cor Limited - Cardboard POS Displays
Display Cor design and manufacture cardboard Floorstands, Dumpbins, Counter Tops, Pallet Shippers, Standees and Retail Display Packaging used at the Point of Sale.

Our spectrum of clients range from SMEís to large established businesses with well-known products and household brands. Our displays can be found in most high street retail chains.

Established in 1989, supplying throughout the UK and beyond from our manufacturing plant located close to the A1 in Hertfordshire, our cardboard point of sale displays open up a whole range of marketing opportunities for many products.

As an owner-run company we pride ourselves with the dedication of our whole team in ensuring our customerís expectations are exceeded.
Why use Cardboard POS Displays?
Cardboard point of sale displays are able to promote your product in a way that other marketing mediums simply cannot. They offer the ability to:



Increase impulse purchases

Provide additional merchandising space

Show vivid graphical communication

Raise brand awareness

Communicate special offers, promotions, product awareness and launches

Create in store theatre

They are also:




A cost effective temporary display solution

Environmentally friendly and easily recycled

Compact and easy to implement
We specialise in the following cardboard displays:
Environmentally Friendly Displays
Our Cardboard Displays are fully recyclable and printed using water based inks. We only source cardboard from suppliers that produce from recycled material and from fully sustained forests accredited by FSC and PEFC certification. Managed forests help address climate change by absorbing carbon dioxide from the atmosphere.
Floor Displays
During busy selling seasons, shelf space is at a premium and product presence on the shelf can be limited. The obvious solution is to exploit floor space in store by introducing attention grabbing floor displays.

Dump Bins
Cardboard Dump Bins have been very successful in the retail launch of many consumer goods and are particularly effective for creating a casual temptation to drive impulse buying on lower cost products.

Easier product fill and refills make Dump Bins a favourite amongst store merchandising staff.

Counter Displays
Counter displays in particular are an excellent way to capture last minute impulse-buy decisions and are able to be sited in prime locations close to till points.

Our range of point-of-purchase displays can help strengthen brand image and increase sales. It reduces the chance of customers buying rival products.

Pallet Shippers
Pallet shippers can be used to ship bulk quantities straight onto the shop-floor using hand pallet trucks and fork-lifts. This makes it easier and more convenient for retailers to display your products and improves the chances of prime location placement of your products in-store.

Miscellaneous Products Provided




Contract Packing

Full Size Colour Proofs

Dispensers

Hanging Boards

Presentation Boxes

Wobblers

Shelf Strips

Showcards

Sun Visors

Transit Packing/Carton & Fittings
Stock and Standard Items
If you can be flexible with the design, you could use one of our standard units-thereby eliminating tooling costs.
Examples of some of the standard tools we hold are:



Books & Greeting Cards Stands

Leaflet Dispensers

Box files

Magazine Counter Displays

Carry Home Wine Boxes

Magazine Stands

CD Counter Displays

Pallet Shipper/Displays

CD Stands

Pet Carriers

Computer Software Stands

Showcard Struts

Greeting Card Counter Displays

Square Dump Bins

Greeting Card Floor Stands

Storage Boxes

Hexagonal Dump Bins

Video/DVD Stands
Please visit our website to find out more
Related Products and Services
Pallet Shipper

Standee

Floorstand

Bespoke Floor Display

Dump Bin

Free Standing Display Unit (FSDU)

Cardboard Floor Stand

Bespoke Counter Displays

0

stars based on

0

customer reviews
Write a review