Todays Opening Hours
Friday : 8:00-3:30
closed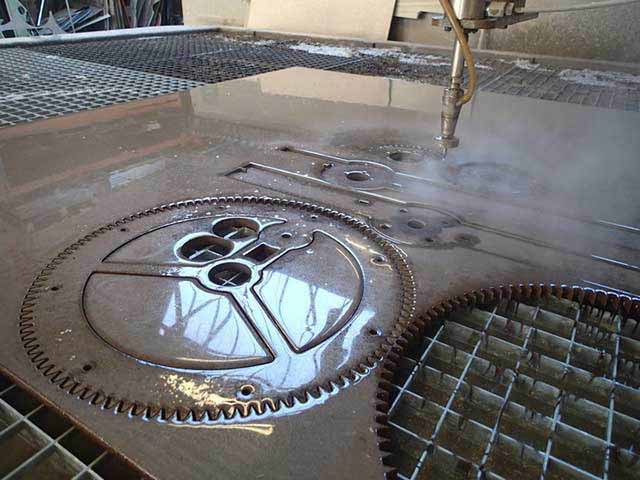 Fibrefusion – Abrasive Waterjet Machining
Fibrefusion Ltd designs, develops and manufactures composite panels out of carbon fibre, GRP, fibreglass and other high-performance fibre-reinforced resins for a variety of industries and clients. The versatility, strength and aesthetic properties of carbon fibre, GRP and fibreglass composite materials lend them to a wide range of applications and environments from packaging and medical equipment to aerospace, motor sport, and yachting. The nature of the materials used in the manufacture of these composite panels means they are extremely rigid, reliable and durable.

Fibrefusion offer the very best CNC routing and abrasive water jet cutting services. Our services include CNC routing and abrasive water jet cutting and profiling of carbon fibre panels in Cornwall and the south west. To compliment this, they also have a CNC flat bed router, meaning our CNC routing services allow the precision cutting and routing of plastics, timber, metal and foam. Both machines have 3m by 2m cutting tables. Abrasive water jet cutting and CNC routing are services that require a skilled professional, all of our staff and fully trained to the highest level to give you peace of mind.

For information on our Waterjet Cutting Services Click Here
History
Fibrefusion Ltd was founded in 2002 by our two enthusiastic directors; Steve Neal and Paul Browning. They quickly moved to Falmouth, Cornwall and invested in a CNC abrasive water jet cutting machine to service their own panel shaping requirements. The company grew in size and word spread rapidly. After a short while, lots of people knew about their subcontract capabilities, the fast and efficient service and friendly and professional manner.

Fibrefusion are constantly investing in software and equipment and can boast state of the art CAD and CAM facilities to ensure that our Abrasive Water Jet Cutting Services & CNC Routing Services are the best around. They have they very latest profiling software and solid modelling and precision machining on tap and have solid and trusted relationships with their suppliers providing rapid material deliveries for those rare and uncommon requests.

To find out information on Composite Panels Click Here
Capacity
Fibrefusion have the following capacity at your disposal;

...- Two 8' by 4' heated, 100 tonne presses and an oven for composites work
...- Abrasive waterjet cutting services
...- Two Flow CNC waterjet profiling machines, each with a 3m x 2m cutting envelope
...- Advanced nesting software and small cutting beam minimises material wastage
...- Tekcel flatbed CNC router for 2D and 3D cutting and engraving
...- Comprehensive software capabilities for 2D and 3D machining
...- Surface finishing equipment
...- Carbon Fibre Panel
...- An ideal service for fabricators in all industries
...- Full CAD/CAM integration and design flexibility
...- Service speed unmatched locally or nationally
...- Large material stocks

To read about CNC Routing Click Here
www.fibrefusion.com
Related Products and Services
Waterjet Cutting Services

CNC Router

3D CNC Milling

Thick metal waterjet cutting

CNC Routing

Waterjet Cutting

CNC Routing Services

Abrasive Waterjet Machining

CAD CAM integration and design flexibility

Waterjet Cutting Services

CNC Waterjet Profiling Machine

Waterjet Cutting

4.5

stars based on

2

customer reviews
Write a review
By Steve Preston , Allen & Heath Ltd
I have been using the services of Fibrefusion for many years now. The nature of my work, and indeed our products, demands that my suppliers are experts in their field and give me excellent quality, short lead times and good value. Steve Neal and his friendly team exceed these expectations, and I intend to continue using their skills and knowledge well into the future
Was this review useful?


By Paul , Cranford Engineering Ltd
First class waterjet cutting service! I send this company my DXF data and they send me the parts. I have had one or two issues with them but they've always sorted them out straight away, corrected parts arriving the next day! brilliant!.
Was this review useful?


Key Contacts

Steve Neal
Managing Director
Tel: 01326 378787
Email: steve

fibrefusion.conm

Simon Dodd
Manager
Tel: 01326 378787
Email: simon

fibrefusion.com
Payment Methods
Visa
Cash
Visa Debit
Cheque
BACS
MasterCard
Maestro
Opening Hours
| | |
| --- | --- |
| Monday | - 08:00 to 17:00 |
| Tuesday | - 08:00 to 17:00 |
| Wednesday | - 08:00 to 17:00 |
| Thursday | - 08:00 to 17:00 |
| Friday | - 08:00 to 15:30 |
| Saturday | - Closed |
| Sunday | - Closed |