Todays Opening Hours
Tuesday : 8:00-5:00
Open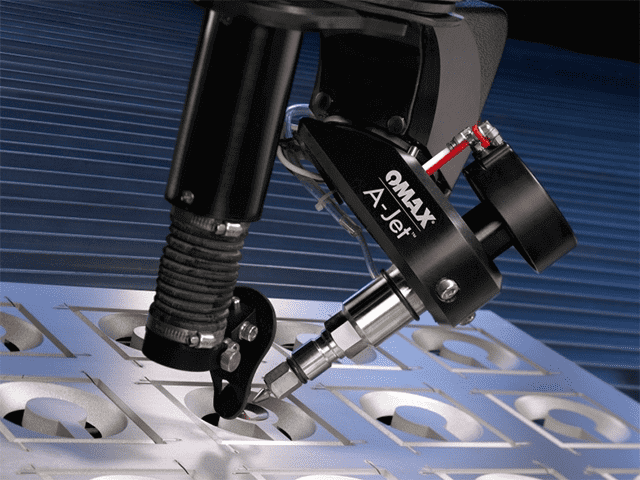 Waterjet Cutting Services to a Wide Range of Industries
As a long established and highly innovated company AMS Water Jet is able to provide a wide range of professional waterjet cutting services to an equally wide range of industries including off-shore, defence, aerospace, automotive and medical to name but a few.

With a state of the art manufacturing facility based in Chorley AMS Water Jet uses the most advanced jet machining technology combined with a highly skilled and experienced team to provide customers everywhere with a diverse range of sub-contract waterjet cutting and precision engineering services.
Services
AMS Water Jet can profile any type of material including stainless steel, aluminium, rubber, silicone, brass, wood, composites, glass, plastic, marble, tool steel, granite and more in fact there are no limits to the capabilities of Waterjet cutting technology.

We also have the capabilities to cater for both 5 and 6 axis machining operations and can produce complex 3D shapes in round formats such as bars, tubes and pipes so to find out more please get in touch.

...• Waterjet Metal Cutting
...• Waterjet Cutting Services
...• Waterjet Machining
...• Precision Engineering
...• Architectural Design
...• Rotary Tube Cutting
...• 5 Axis Cutting (A- Jet)
Advantages
Advantages of Water Jet Cutting include:

...• Minimum Waste
...• Tolerances of +/- 0.05mm
...• No Heat Emissions = No Thermal Stress
...• Most Advanced Software
...• Taper Free Cutting up to 200mm in Thickness
Material Capabilities
Aluminium
We can cut waterjet aluminium in a wide range of grades quickly and cleanly without any thermal stress or distortion.

Titanium
Considerable cost savings could be made by using our Waterjet Cutting Service when compared to more traditional methods of machining such as milling and turning which create swarf, chippings and waste.

Brass/Copper Cutting
Quick, clean cutting with no gumming and reflecting as with laser cutting techniques.

Stainless Steel
AMS Water Jet caters for all grades of stainless steel making this service highly attractive to industries such as aerospace, medical and automotive.

Further materials include but not limited to include:

...• Marble
...• Granite
...• Glass
...• Hardened Tool Steel
...• Bronze
...• Carbon and Mild Steel
...• Steel Alloys of All Types

This is only a tiny sample of the wide range of professional waterjet cutting services AMS Water Jet is able to provide so to find out more please visit our website or get in touch directly.
www.amswaterjet.co.uk
Related Products and Services
5 Axis Cutting (A-Jet)

Water Jet Machining

Rotary Tube Cutting (Rotary Axis)

Precision Engineering

Water Jet Metal Cutting

Water Jet Cutting Services

0

stars based on

0

customer reviews
Write a review
Approvals & Certificates

ISO 9001 Quality management systems
Key Contacts

David Dixon
Sub Contract
Tel: 01257 248487
Email: david

aquajet.co.uk
Opening Hours
| | |
| --- | --- |
| Monday | - 08:00 to 17:00 |
| Tuesday | - 08:00 to 17:00 |
| Wednesday | - 08:00 to 17:00 |
| Thursday | - 08:00 to 17:00 |
| Friday | - 08:00 to 17:00 |
| Saturday | - Closed |
| Sunday | - Closed |