Todays Opening Hours
Sunday : 8:30 - 5:30
Open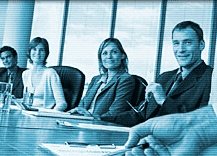 Leadermans is a general accountancy practice based in Hertfordshire
Leadermans is a general accountancy practice based in the popular town centre of Letchworth Garden City, Hertfordshire.

Our broad client base consists of businesses of varying size, ranging from sole traders and partnerships to privately owned limited companies with turnovers of several million pounds. They cover most business sectors and include subcontractors of all trades, consultants, manufacturers, distributors, designers, engineers, estate agents, solicitors, shops and restaurants to name but a few.

The principal of the practice Dale Dewing, has over 15 years public practice experience and throughout his career has formed close connections with many other accountants, financial advisers, solicitors, banks, tax offices etc.

Leadermans was originally established by Dale in 1998 and has seen significant growth since these early days, especially following the timely arrival of a further qualified accountant to the team, namely Sandeep Shah, who has now subsequently become a partner since January 2003.
www.leadermans.co.uk
Related Products and Services

0

stars based on

0

customer reviews
Write a review