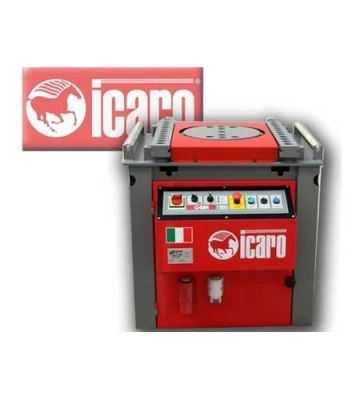 Bar Bending Machines
We are proud to be the sole UK dealers for Icaro Rebar Bar Bending Machines. The Icaro range are manufactured in Italy, they are high quality & robust bar bending machines that are primarily designed for the construction industry.

These machines are very versatile and can easily be adapted to suit many applications like General Fabrication, Flat Bar Bending, Bow-Tops, Boat Shackles, Gates & Railings.

To view our full range of Bar Bending Machines why not take a look at our website.
Unique Product Information:
Icaro Rebar Bar Bending Machines: Stirrup Bender ST16, Icaro P52 Bar Bender, Icaro P42 Bar Bender, Icaro P36 Bar Bender
Bend And Shear Combi Machines: Bend 38mm- Cuts 45mm, Bend 35mm-Cuts 30mm, Bend 26mm Cuts 22mm
Areas Covered: Colchester, Chelmsford, Southend-on-Sea, Clacton-on-Sea, Ipswich, Felixstowe, Bury St Edmunds, Cambridge, London, Croydon, Maidstone, Luton, Bedofrd, Milton Keynes, Reading and the rest of the UK